Last updated on December 17th, 2022 at 08:50 pm
Marilyn Monroe was one of the most iconic actresses of all time, but she was also known for her tumultuous personal life. Monroe had three marriages that ended in divorce, and all of them were highly publicized. Her first marriage to James Dougherty was annulled after becoming a star. She then married Joe DiMaggio, but they divorced soon after. Her third marriage to Arthur Miller lasted the longest, but it ultimately didn't last either. So, what contributed to this unfortunate trend in Monroe's life?
Norma Jeane Mortenson (Marilyn Monroe)
Marilyn Monroe is one of American history's most iconic and tragic figures, but before she was famous, she was born Norma Jeane Mortenson in Los Angeles in 1926. She was a model and an actress who achieved fame and fortune, but her personal life was unstable and full of tragedy. Even though Marilyn Monroe was one of her generation's most beautiful and talented actresses, she was also troubled.
She was born on June 1st and was baptized as Norma Jeane Baker, taking her mother's name. Her troubles undoubtedly stemmed from her childhood; she was raised in a series of foster homes and an orphanage.
As a result, she never really had a stable family life or role models. In 1937, her mother entrusted her to a family friend, Grace, and her husband, Doc Goddard. They took care of her for a few years and were paid $25 weekly for her care.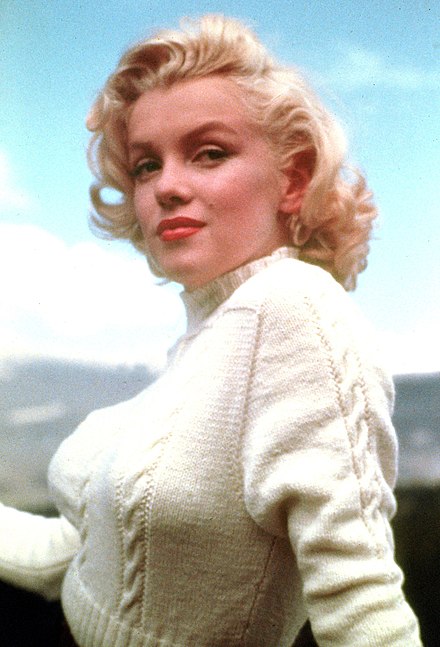 Unfortunately, Monroe never knew her father, despite the rumor that Clark Gable may have been with her mother, Gladys. At some point during her childhood, her mother was committed to a mental institution for paranoid schizophrenia.
The couple was profoundly religious and prohibited Monroe from doing many activities, including watching movies. While this may not have been such a bad environment for her, the arrangement did not last. Doc's job moved to the East Coast, and the couple could not afford to take Monroe.
So, she returned to the foster care system, where her life turned for the worst. While she went back through the foster care system, she suffered several sexual assaults on more than one occasion.
Furthermore, she dropped out of high school at 15 and married at 16 to escape her foster parents. Her first husband, James Dougherty, was a merchant marine; the two had met during her difficult childhood, and it's rumored that she married him to get out of the foster care system and at the behest of her guardian Grace Goddard. 
Norma Jean Baker Becomes Marilyn Monroe
When Jimmy went overseas, Monroe got a job at a factory in Van Nuys, California, and there she was discovered by a photographer. It was her dream to be an actress like those of her time that she saw in the movies; by the time Jimmy returned from his tour, she had a successful modeling career.
That same year, the actress signed her first movie contract, where she changed her name and image. She became Marilyn Monroe, the blonde bombshell the world would come to know and love.
Initially, she wasn't thought to have the acting chops to make it in Hollywood; however, she proved the naysayers wrong and took the industry by storm. With her good looks and natural talent, she quickly rose to fame. In no time, she was one of the most popular and highest-paid actresses in Hollywood.
Yet, despite all her success, Monroe was still a troubled soul; she suffered from pre-performance anxiety, most likely contributing to her renowned tardiness on film sets.
The Tragic Marriages of Marilyn Monroe
Around the time Monroe began her modeling career is when her first marriage ended; the two didn't speak, and it was evident that they had nothing in common. Monroe was a rising star, and there was nothing more between them.
She was quoted in a Donald Spoto biography claiming, "My marriage didn't make me sad, but it didn't make me happy, either. My husband and I hardly spoke to each other," Monroe said later. "This wasn't because we were angry. We had nothing to say. I was dying of boredom."
No abuse or infidelity contributed to the divorce; Monroe moved to New York and attended the Actor's Studio wanting more out of her dream. Here she would meet her last future husband, Arthur Miller, but despite the obvious attraction between the two, they didn't act on their feelings.
Her Second Marriage
In 1954, after her Gentleman Prefer Blondes movie role, she married New York Yankees baseball star Joe DiMaggio after two years of dating each other. In an interview, she claimed to be surprised by her intense feelings for Joe and enjoyed the fact that he treated her like something special.
However, sources determined later that their relationship was far from perfect. Joe was jealous and often controlling, which began to wear on Monroe. The Spoto biography cites physical abuse throughout the relationship.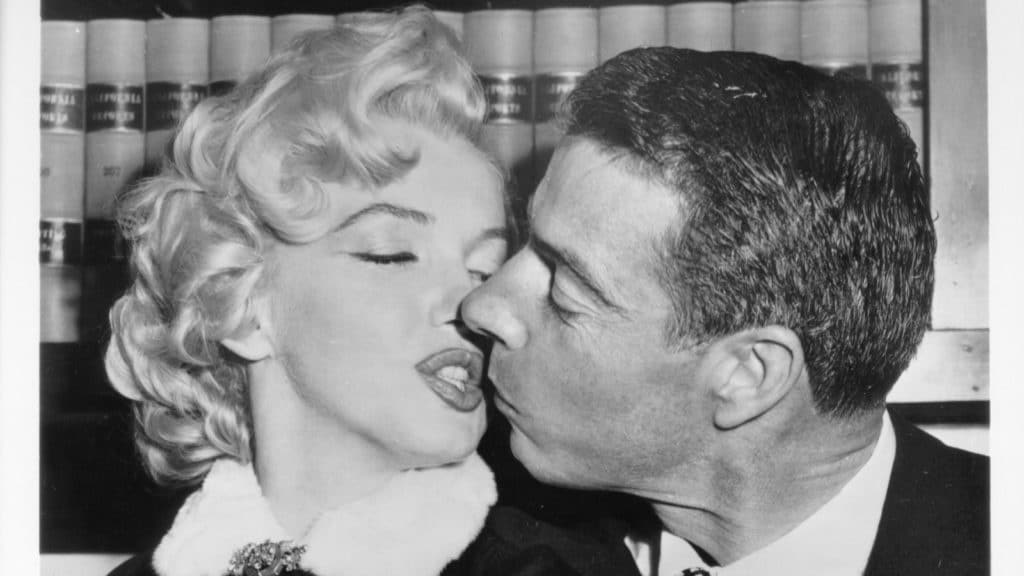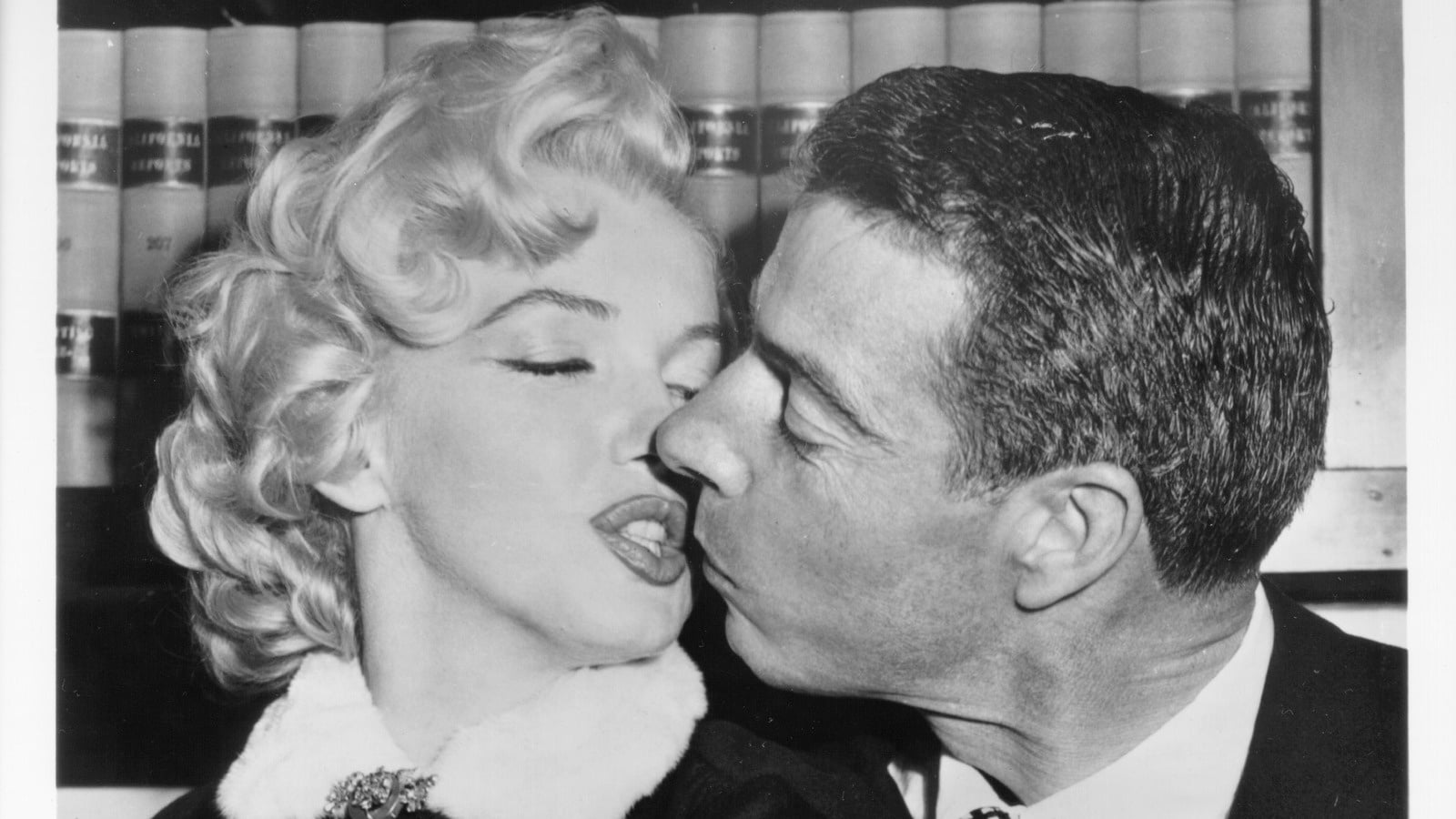 Unfortunately, the pair only made it nine months, and then it seems that the main issues in her relationship stem from her movie scenes, but one during the movie The Seven Year Itch.
The movie scene features Monroe's iconic scene where she is standing over a subway grate with her white dress blowing up, and it was this scene that caused problems in their relationship. Joe became insanely jealous, and their marriage couldn't recover. Monroe cited "mental cruelty" as the reason for their divorce, but it was likely his rage over her publicity scene.
Arthur Miller: The Final Attempt at Love
A few years after her divorce from Joe, she married playwright Arthur Miller in 1956. They had known each other for a while and worked on The Misfits together.
He had two children Jane and a son Robert. Monroe was married to Miller much longer than any of her other husbands. Just like her previous marriages, Monroe's marriage to Miller was fraught with problems from the start.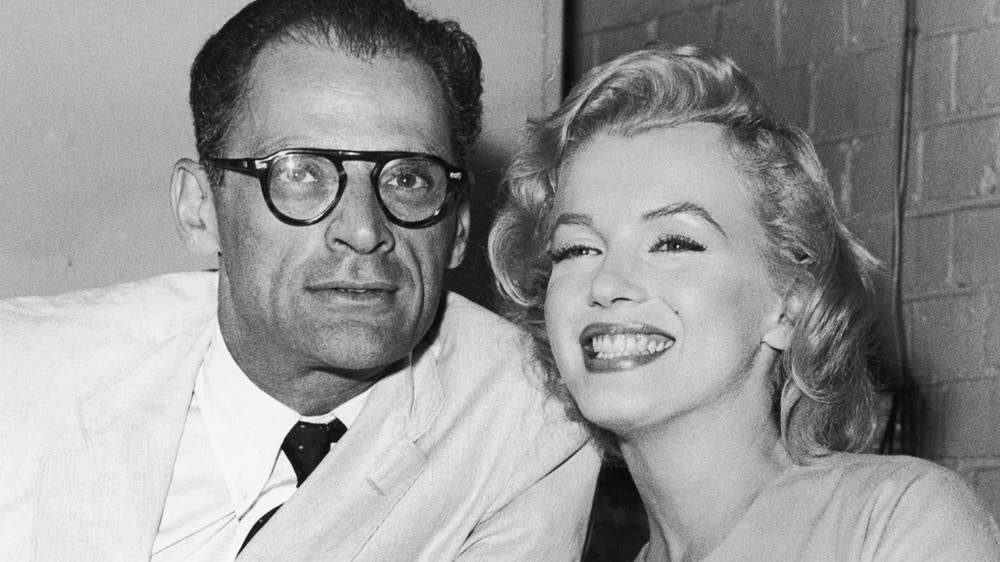 Miller was a very successful playwright, and Monroe was determined to be taken seriously as an actress; they lived very contrasting lifestyles. Unfortunately, this was the least of their problems.
During their time together, Monroe had several miscarriages, and Miller was accused of being a communist sympathizer. Apparently, he was also embarrassed by her and disappointed in her as a wife.
Undoubtedly, this put a strain on their marriage, as did Monroe's well-publicized battle with depression and substance abuse. As their relationship deteriorated, she had an affair with a costar, Yves Montand. It was something that Miller was aware of, but it didn't affect him. In 1961, the couple separated, and their divorce was finalized in 1962. 
Marilyn Monroe's Influence Still Exists Today
Although Monroe was married three times, she never had any children. A quote that could describe her would be that she was good at loving but bad at marriage.
And this quote seems to sum up her tragic marriages perfectly. Despite her beauty, talent, and fame, she was still an insecure woman who craved love and attention. Many considered her one of the most relatable Hollywood stars of the time.
Monroe was looking for something that she had never found in her marriages: true happiness. Monroe died of a drug overdose in 1962 at the age of 36.
Her legacy continues to live on, and she is considered one of the most iconic actresses in Hollywood history. Monroe's tragic marriages are a reminder that even the most beautiful and talented people can have difficulty finding happiness. Monroe showed us that fame and fortune don't automatically make a person happy.
Recent influences of Monroe's contribution to Hollywood show up in 2022's Blonde starring Ana de Armas as Monroe. However, some critics are unhappy about the choice, saying that the movie portrays a fictional version of Monroe since it's based on the novel and not her biography. Nevertheless, the controversy over this show proves that Monroe's legacy is still as relevant today as it was 60 years ago.