In 1876, the world witnessed one of the most bizarre crimes in history. Graverobbers attempted to steal the corpse of Abraham Lincoln, the 16th President of the United States.
Lincoln had died over ten years before, raising several important questions. Why would anyone try to steal his body after such a long time? Why did his dead body reach an unmarked tomb 25 years later?
Of all these, the pertinent question is, who would want to steal the body of a most phenomenal U.S. president from his Tomb?
What Happened to Lincoln's Body?
You, of course, know that John Wilkes booth assassinated President Abe Lincoln on April 14, 1865, shortly after the civil war ended.
Weeks later, he was laid in repose in twelve different cities before reaching a vault at Oak Ridge Cemetery near his home in Springfield, Illinois, pending the completion of the Lincoln Tomb.
What was supposed to be a long rest didn't last long. His body was moved seventeen times, and the coffin opened five times before he could rest in peace 36 years later inside a steel cage under two tons of concrete poured ten feet above his coffin.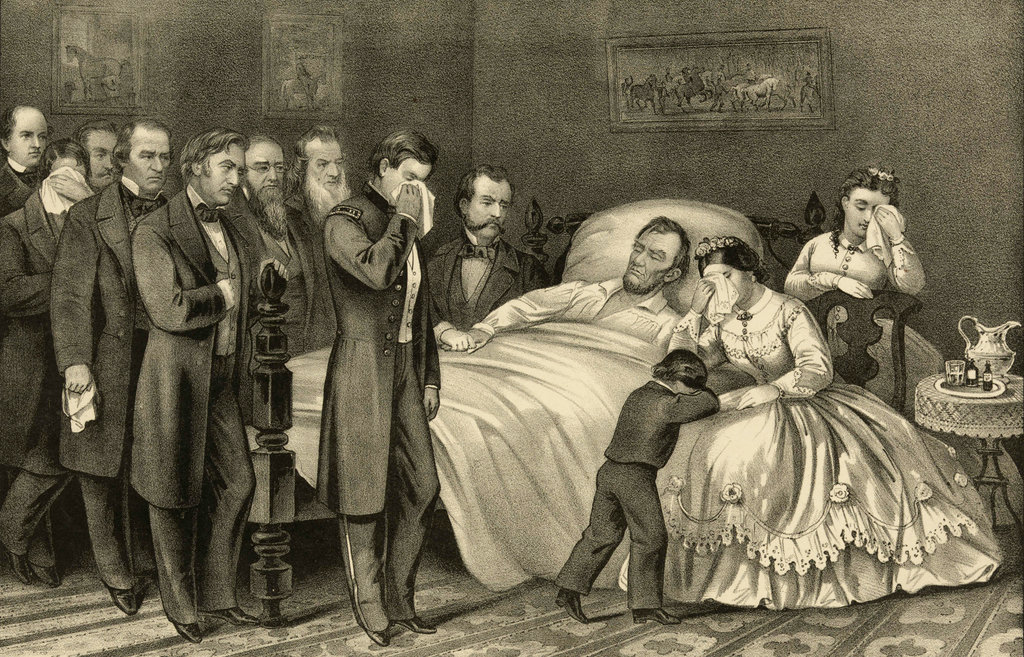 Why did his body change locations so often?
The reason for this chaotic series of events dates back to the morning of his assassination. He signed legislation that created the U.S. Secret Service and empowered them to capture counterfeiters. 
In those days, Benjamin Boyd was the best engraver of counterfeit plates, who worked for an organized crime syndicate in Chicago run by Jim Kennally.
On the back of the last law signed by Lincoln, the Secret Service captured Boyd, and in 1876, he was sentenced to imprisonment in the Illinois state prison in Joliet.
With time, it became evident that Boyd's capture had almost wrecked Jim's counterfeiting business, so he devised a plan to pressure the state government to release Boyd. The plan was to steal the body of Abraham Lincoln and use it as leverage.
He hired two of his gang members, one a saloon keeper called Terence Mullen and the other a producer of counterfeit nickels called Jack Hughes.
The projected outcome of the plan was to kidnap Lincoln's corpse and demand the release of Benjamin plus $200,000 (close to $5 million today).
The Plot to Kidnap Lincoln's Body
For Terrence Mullen and Jack Hughes, the goal was simple: snatch Lincoln's body from his Springfield tomb on election night while everyone was waiting for election results.
They would move the body by a horse-drawn wagon to southeast Chicago and bury him in dunes hundreds of meters away from Lake Michigan. And when the news of the robbery broke, they would announce the kidnapping, then demand their ransom and Boyd's release.
Both henchmen had zero knowledge about body snatching, so Jim hired Louis Swegles, an expert grave robber, and Bill Nealy to drive the wagon.
On the night of November 6, 18756, the four men joined a train to Springfield with a carpetbag full of body-snatching tools.
Some unexpected guests boarded the train as well. These men were Chicago Secret Service chief Patrick Tyrrell, former U.S. Secret Service chief Elmer Washburn, and two Pinkerton detectives.
It would later become evident that Jim's latest recruits, Swegles and Nealy, were two Secret Service informants.
Swegles was convincing in his double role as he convinced the robbers that he could help them steal the body, referring to his past resume. While he was at it, he reported the details of the robbery plot to his boss, Patrick Tyrrell.
The Night of the Heist
The following night, Tyrrell and his team hid inside Lincoln's Tomb two miles outside Springfield, waiting in the darkness.
As planned, everyone in the area was visibly engrossed in the election, which allowed them to get through the city unnoticed.
Two hours later, the body snatchers and the Secret Service informants arrived at the Tomb.
They found Lincoln's sarcophagus resting inside a barred door chained by a single padlock, which they filed through to gain entry. They opened the sarcophagus lid but could not lift the coffin, as it weighed 500 pounds and was lead-lined.
So instead, they cut out the sarcophagus's rear and dragged Lincoln's coffin out. Then, suddenly, they heard a gunshot. 
The Plotters are Arrested
One of Tyrrell's men accidentally discharged his pistol, as he'd nervously hidden in the dark for hours. Tyrrell bolted into the burial chamber and found Lincoln's coffin intact, but no snatchers were there.
Soon, he saw two moving silhouettes and fired. They fired back at him, and after Tyrell yelled to Washburn to attack as he'd found the "devils," Washburn yelled back at him to withdraw his gunfire. They'd been shooting at each other while the criminals escaped.
Tyrrell said it was one of the most unfortunate nights he'd ever experienced. But not for long, as the culprits, Hughes and Mullen, were later apprehended in Chicago 10 days after the failed robbery attempt. Robert Lincoln.
Abraham Lincoln's eldest son recruited the best Chicago lawyers to prosecute Jim Kennelly's gang. For more than eight months, the grave robbery case awaited trial.
However, at the time, body snatching was neither a crime in Illinois nor in federal laws, so they were convicted of an attempt to steal Abraham Lincoln's coffin, which cost $75, so they only spent a year in Illinois state prison. Finally, on June 22, 1877, the grave robbers were imprisoned.
But for Abe himself, the end is far from sight.
Abe Lincoln's Fails to Get a Much-Deserved Rest
After the failed attempt to kidnap Lincoln's body, John Carroll Power, the Tomb's caretaker, and some volunteers opted to safeguard Lincoln by burying him in the Tomb's basement.
However, as they dug, they found that the water table was much higher than imagined, so they laid the coffin on wood and covered it with lumber. Before leaving the site, they swore to keep it secret.
This Great Emancipator was left beneath a woodpile in a damp basement for two years before a secret group touted as the Lincoln Guard of Honor buried the ex-president's body in an unmarked area where the water table was much lower.
After two days, they dug him up again to ensure he was still inside. Finally, they reburied him and laid him there for four years.
Mary, Lincoln's wife, died in 1882, and her coffin was laid inside Lincoln Tomb. After her burial, the Lincoln Guard moved the coffin and buried it in a basement beside her husband, Abraham Lincoln.
The men of the Guard then covered both graves with debris until five years later. In 1887, Lincoln and his wife were again moved from one basement to another and many others.
At a point in 1889, their coffins were laid inside a concrete-lined pit outside the Tomb when Lincoln Tomb and its massive obelisk were dismantled as it became evident it was built on a faulty foundation.
Final Resting Place
A new Lincoln Tomb was erected in 1901 when Robert Lincoln, Abe Lincoln's oldest son, could no longer stand the obnoxiously impermanent gravesites.
So, he insisted that his father's coffin was laid inside a steel cage, lowered into a chamber ten-foot-wide, and covered to the brim with two tons of concrete.
There is a massive granite cenotaph bearing Lincoln's name on a marble floor above him. One hundred twenty-one years later, Abraham Lincoln's body still rests underneath 4,000 pounds of steel and concrete.