Nannie Doss was known as the "Giggling Granny" because of her penchant for giggling and laughing whenever people talk to her about murdering her husbands. She had five partners. Four of them suffered untimely and premature deaths.
So, why did she kill them?
Nannie dreamed of the love she often read about in romance magazines. Every time her husband failed to give her the love she craved, she killed him.
But then again, she also killed her mother and was suspected of killing her two children. Nannie had serious psychological issues, which she claimed started because of an accident when she was just seven years old.
The alias Giggling Granny may sound adorable, but Nannie was anything but. She killed 12 people between 1920 and 1954. However, she was only convicted for one murder.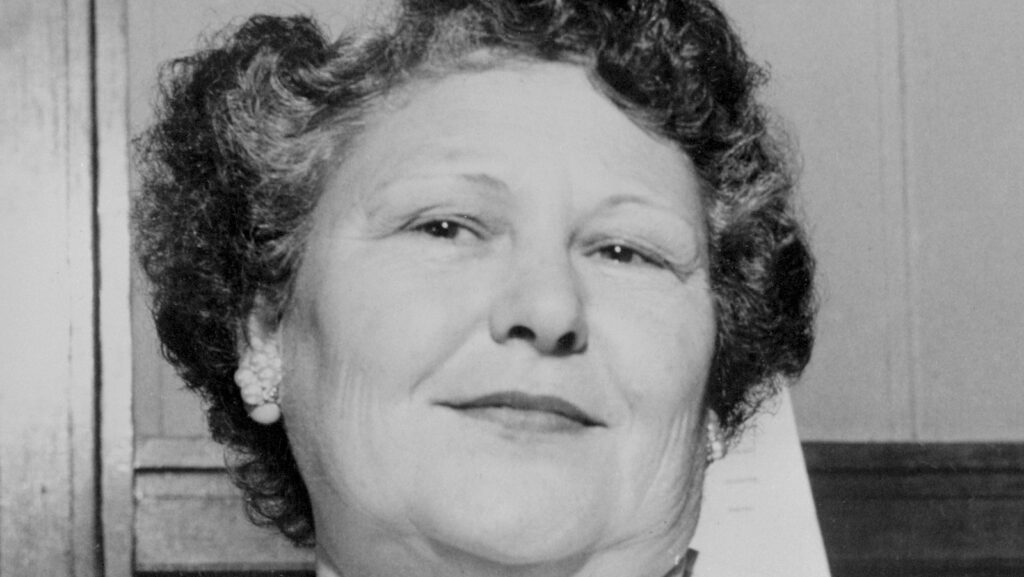 A Train Mishap
Nannie was born Nancy Hazel to Louisa and James F. Hazel in Blue Mountain, Alabama, on November 4, 1905. She had a brother and three sisters. Nannie didn't have an easy childhood, as James was controlling and abusive to his wife and children. The five siblings were forced to work on the family farm and skip school.
Aside from her difficult home life, Nannie also had to contend with constant headaches and blackouts during her childhood. She blamed it on a train incident when she was seven years old. During a family trip, the train suddenly stopped, causing Nannie to hit her head on the metal bar in front of her.
The Giggling Granny would often blame that childhood accident for her kills. The deaths of her husbands were said to be motivated by marital boredom, although she also collected insurance money for a few of the deaths.
The Quest for the Perfect Husband
Nannie enjoyed reading her mother's romance magazines and often dreamed of love stories worth writing about. One could say she was obsessed with love as she went on to marry five times.
Charles Braggs
When she was 16, Nannie married her co-worker at a linen factory, Charles Braggs, through her father's encouragement. They got married after just four months of dating. They didn't have a typical loving newlywed home since Charles's mother insisted on living with them.
Nannie and Charles had four children born between 1923 and 1927.
Stressed and unhappy, Nannie started drinking and smoking heavily. One day, Charles came home to find that two of their daughters had died. The local doctor conducted an autopsy and ruled it as food poisoning, but Charles wasn't convinced. Shortly after burying the children, he left with their eldest daughter, Melvina.
Abandoned, Nannie became responsible for their youngest daughter, Florine, and her mother-in-law. Nannie earned the sympathy of the community but no one suspected that the death of the two children was the start of Nannie's killing spree. Good thing Charles was spared. Charles and Nannie eventually divorced.
Number of deaths: 2
Frank Harrelson
Nannie put up a lonely-hearts ad in the paper to find her next husband. Frank Harrelson answered the ad, and the two fell in love and got married. The couple lived with Nannie's daughters, Melvina and Florine. It wasn't long before Nannie realized that Frank was an abusive alcoholic. However, Nannie endured the abuse for 16 years.
In the midst of Nannie's troubled marriage with Frank, Melvina got married and had two children. Shortly after her daughter was born, Nannie was rocking her granddaughter to sleep when she suddenly died. Melvina thought she saw her mother sticking a pin in her daughter's eye, but she was still groggy from childbirth and doubted herself.
Just half a year later, Melvina left her son Robert under her mother's care. Robert mysteriously died from asphyxia. What's worse, Nannie cashed in on Robert's death with $500 of insurance money.
It was hard to be suspicious of sweet and doting grandmother Nannie of murder. That was a mistake since Nannie later mixed Frank's favorite alcohol with rat poison in the middle of a drinking binge.
Number of deaths: 3
Arlie Lanning
Another ad resulted in another husband for Nannie: Arlie Lanning. From the outside, they seemed like a completely mismatched couple as Arlie was known to frequent prostitutes while Nannie was a respectable member of the local church. So, when Arlie died after days of dizziness and vomiting, neighbors only felt pity for Nannie.
She thought she would have their conjugal house to herself but later learned that Arlie had a will that left it to his sister. Surprised and infuriated, Nannie left the house which burned to the ground moments later. She then cashed the insurance check that belonged to Arlie's sister.
Now homeless, Nannie went to live with Arlie's mother, who mysteriously died shortly after. Homeless once more, Nannie went to live with her ailing sister Davie, who also died soon after she moved in.
Number of deaths: 3
Richard Morton
Nannie was still not ready to give up on love, so she paid $15 to join a dating service. There, she met retired Kansas salesman Richard Morton. Husband #4 seemed like the perfect partner, but he didn't satisfy Nannie, who reportedly put up an ad for her next great love while she was still married to him.
Unfortunately, her mother, Louisa, decided to live with the Morton couple, throwing a wrench into her plans. So, Nannie decided to remove the two obstacles on her quest for a final husband. Louisa died of supposed intestinal pains, while Richard met his end while drinking coffee laced with rat poison.
Number of deaths: 2
Samuel Doss
Finally, Nannie met another upstanding guy, Samuel Doss of Tulsa, Oklahoma. However, Samuel was so frugal and strict with money that Nannie left him and went back to Alabama. Samuel must have really loved Nannie because he drove 700-plus miles to beg her to come back to him, promising he wouldn't be too stringent with their finances. Big mistake.
After taking out two insurance policies on Samuel with Nannie as a beneficiary, the two celebrated with homemade prune cake mixed with arsenic. But only Samuel ate the cake. He was hospitalized for several weeks with burning stomach pain. After he recovered, Nannie feigned happiness at Samuel's return by preparing a delicious meal with arsenic-laced coffee. Samuel didn't survive and the doctor who treated him became suspicious.
After the autopsy results were in, she was arrested and convicted for Samuel's death.
Number of deaths: 1
Confession
Oklahoma authorities tried to get a confession out of Nannie shortly after her arrest. Instead of confessing, she started giggling and flirting with the detectives. But since none of the detectives wanted to be her sixth husband, Nannie finally confirmed killing Samuel because they wouldn't let her watch her favorite show.
Nannie eventually confessed to killing her three other husbands but was not tried for them. She did not admit to killing any of her family members.
She was sentenced to life imprisonment but did not get the death penalty. Some reports said it was because of her gender while others said it was because she was not mentally healthy. She died of leukemia in 1965 while incarcerated.
Conclusion
Romane magazines clouded Nannie Doss's reality. She had terrible husbands and a couple of great ones but they all met the same fate because Nannie didn't get the magazine-worthy love story she had been dreaming of. And if some of them had insurance, it was just icing on Nannie's arsenic-laced cake.
Sources: