It's said that behind every great man is a great woman. Mae Capone was no exception.
While her husband's infamy has overshadowed her story for decades, Mae Capone played a key role in the Capone criminal empire and lived a fascinating life of her own.
From her early days as a girl in Brooklyn to her involvement in Al's criminal empire, and finally, to her later years in Florida, Mae's story is one of intrigue, luxury, and loyalty.
Despite a mostly private life and a story of mystery and inscrutability, her relationship with Al, her public image, and her legacy in the history of organized crime make for a fascinating tale.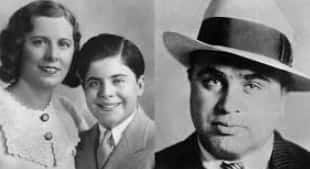 Growing Up in New York
She was born Mary "Mae" Josephine Coughlin on April 11, 1897. Nobody had any idea of the grand future that she had in store.
Growing up in Brooklyn, New York, Mae Capone was raised in a working-class family. She was the second eldest of six children born to Irish immigrant parents, Bridget and Michael Coughlin.
Mae's childhood was unremarkably ordinary. She attended school while her parents worked. Eventually, she was old enough to find a job to help support her family.
After her father died from a heart attack, she left school at the age of 16 to work in a box factory.
It was at about this point that her life would soon change forever.
Mae Meets Al Capone
It's uncertain exactly how the two first met. Some speculate that Mae and Al Capone first met at a party in their Brooklyn neighborhood. Others claim that Al's mother arranged their courtship.
Either way, the pair hit it off. Mae Coughlin and Al Capone were married in Brooklyn on December 30, 1918. Their service took place at the St. Mary Star of the Sea Church.
At first glance, Mae and Al made an unusual pair. Mae was Irish-American and Al Italian-American and a deep rivalry existed between the two ethnic groups. Mae was also two years older than him. They had their marriage certificates altered to show they were the same age, however.
Despite their differences in ethnicity, education, and social class, their relationship was genuine. They even had a child – Albert Francis "Sonny" Capone, who was born three weeks before their wedding.
Mae and Al didn't have any more children, as some sources claimed that Al had syphilis, which he passed on to Mae. This caused subsequent stillbirths and miscarriages. It also may have been a factor in Sonny's hearing problems.
Mae's Life as Al Capone's Wife
Al Capone, or "Scarface," is easily one of history's most notorious gangsters. And so, as Al Capone's wife, Mae Capone lived the fascinating life of a gangster's wife – or so you would think.
Mae's life throughout Al's rise to infamy is difficult to discern. After the pair got married, the Capone family moved to Chicago around 1920 together with their son.
In Chicago, Mae Capone's life was likely one of struggle and turmoil. She had no involvement in Al's underworld empire and racketeering. Instead, she was a devoted, loving wife who stood by her husband.
Although Mae was aware of Capone's criminal activities, it was his infidelity that hurt her the most. She was a strong, proud woman who took action when she was fed up with Al's cheating.
She even bleached her hair once to mimic the hairstyle of one of Al's mistresses. This act was meant to publicly taunt and humiliate the mobster.
Still, Mae Capone was undoubtedly loyal to Al. After he was convicted of tax evasion in 1931, Mae continued to visit him in prison at Alcatraz Island often, sending letters when she couldn't visit in person.
Mae's Public Image and Personal Life
Mae's private life was shrouded in mystery. Few sources can describe what her life was like with Al. Throughout their marriage, Mae Capone would go to great lengths to avoid paparazzi and media, preferring to keep a low profile.
It is known that she was a devoted wife and a doting mother. Al's successful racketeering business also provided well for the family, so Mae enjoyed a comfortable life.
With the money from Al's massive bootlegging operations and more, the family-owned multiple houses and fancy cars. Mae was given the liberty to lavishly decorate their second home in Palm Isle, Florida.
She drove a custom-designed convertible, provided by Al. She also owned plenty of expensive jewelry, some of which was stolen during a burglary at their Palm Isle home.
Despite a comfortable, wealthy lifestyle, they occasionally faced financial challenges and overdue bills. They were able to pay these off, however, thanks to Al's "business" success.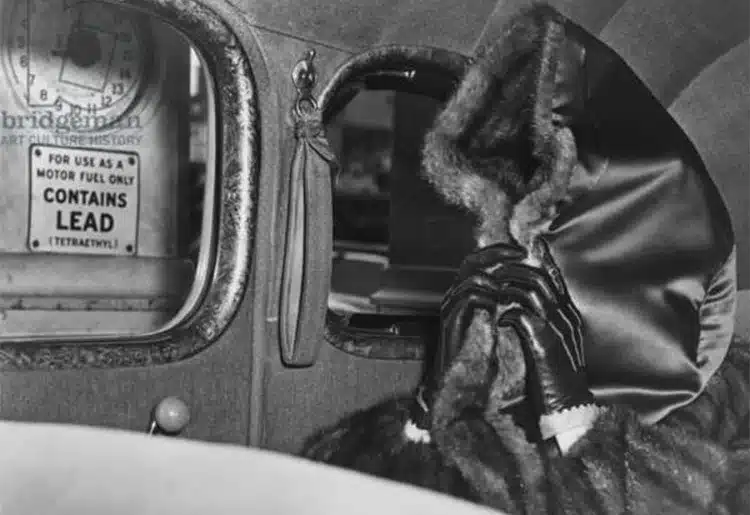 A Loyal Caretaker
Mae Capone remained a loyal caretaker to her husband. She took care of him during the later years of Al Capone's life when he was suffering from advanced syphilis.
In 1940, Al was released from prison and returned to their Florida home, in the care of his wife, Mae. His physical and mental health had precipitously declined while in prison and only continued to worsen.
His condition made him delusional, and his mental capacity suffered. She knew that anything that painted him as a blabbermouth could put his life in danger. Therefore, Mae worked to shield him from the public eye and protect him from reporters.
Mae took close care of him and made sure he received the best medical treatment available. This included being one of the first people to receive penicillin treatment in the early 1940s.
Al Capone died from a stroke in 1947. Mae always remained by his side and was reportedly devastated. She was loyal and caring to the very end.
After Al Capone's death, Mae sold their mansion and moved away. She stayed out of the public spotlight for the rest of her life.
The Memory of Mae Capone
Mae Capone, the devoted wife of notorious mob boss Al Capone, and doting mother to their child Sonny, was a fascinating individual.
She played a significant role in Al's life, especially during his final years. She took care of him and shielded him, and was his faithful caretaker until the end.
Mae was a very private person and fought for her privacy throughout her life. This became an integral part of her identity. But in the end, her unwavering loyalty and commitment to her family and her privacy are what she will always be remembered for.
References
Denninger, Lindsay. "Why Mae Capone Is Still Such a Mystery." Whatever Happened to Mae Capone After Al's Death?, Refinery29, 12 May 2020, https://www.refinery29.com/en-us/2020/05/9774160/what-happened-to-mae-capone-al-wife.
Margaritoff, Marco. "The Story of Mae Capone, Who Stood By Al Capone as Syphilis Destroyed His Brain." Edited by Jaclyn Anglis, All That's Interesting, All That's Interesting, 6 June 2020, https://allthatsinteresting.com/mae-capone.