Elvita Adams was a fascinating woman. She gained notoriety for surviving a jump from the Empire State Building in 1979.
The Empire State Building is one of the world's most iconic skyscrapers. Located in downtown New York City, it was constructed in 1931 and comprises a whopping 102 stories. At the time of Adams' jump, it was one of the tallest buildings in the world.
Standing at a height of 1,250 feet, the renowned building is a beautiful symbol of the city. It can also attract visitors for darker, more depressing reasons.
Since it was finished, there have been several suicide attempts from the top of the building. Most notably, in 1947 a 23-year-old woman named Evelyn McHale fell from the 86th floor to her death. This suicide was dubbed "the most beautiful suicide" after a photography student snapped a picture of McHale's body lying seemingly peacefully on top of the car she landed on.
Many others have followed. More than a dozen in total have leaped from the famous observation deck – a tragic, sad reality.
Despite measures to prevent such incidents, people continue to attempt to jump from the Empire State Building. This makes it one of the most notorious sites for suicide attempts in the world.
However, Elvita Adams' story stands out due to the rare circumstances of her fall. She survived.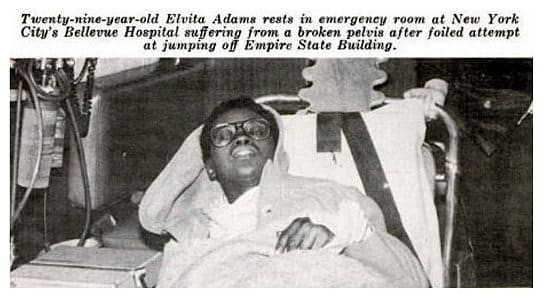 Adams' Life Before the Fall
The year was 1979. Elvita Adams was 29 years old and was living as a resident of the Bronx. Little is known about her before the fateful fall made her famous.
Adams was struggling financially in the weeks leading up to the fall. It's unclear whether she quit her job or was fired. But she was reportedly surviving off of $100 welfare checks and was having immense difficulty getting by.
The money wasn't enough to keep up with her rent payments. Her landlord was threatening to evict her and her 10-year-old child. This added to the mounting stress and despair that Adams must have been feeling.
All of these factors seemed to push Elvita Adams to her attempted suicide on December 2nd, 1979.
On that fateful Sunday afternoon in December, Elvita Adams traveled from the Bronx to Manhattan, apparently longing to see the beautiful, twinkling city lights. She later spoke of how the lights looked so gorgeous that she longed to touch them.
Her mind soon turned to bleaker, sadder thoughts and she found herself at the top of the Empire State Building, unsure of what to do. Adams eventually climbed over the railing that encircled the observation deck on the 86th floor.
She jumped, intending to end her life. The jump made waves across the media and left a lasting tale that persists today.
A Jump From the 86th Floor of the Empire State Building
On December 2nd, 1979, around 8:15 at night, Elvita Adams decided to jump from the 86th-floor observation deck of the Empire State Building in the middle of downtown Manhattan.
Typically, a fall from such heights is certainly unsurvivable. To reach the ground alive would be next to impossible in any scenario.
Elvita Adams miraculously survived. Crucially, she did not make it to the streets and pavement below. Instead, she happened to land on a narrow, two-and-a-half-foot ledge, about 20 feet below on the 85th floor.
Did she leap from the observation deck with the intent to fall to her end? If so, how was it possible that she had landed just a floor below?
The police believed that powerful wind gusts, which happened to be blowing between 23 and 38 mph that night, may have played a critical part in her survival.
After leaving her feet, it's surmised that the strong wind pushed her body backward. This pushed her back toward the building and caused her to land just a flight down, with comparably minor injuries.
The New York Times called it "nothing short of extraordinary" in the next morning's paper. The headline in large, bold letters read "Woman Survives Fall At the Empire State." To think that the wind had saved Adams' life is certainly deserving of "extraordinary" circumstances.
After a hard landing, a security guard, Frank Clark, heard Adams yelling for help as she cried out in pain. He quickly pulled her inside from the 85th-floor ledge that he found her laying on.
She was immediately pulled inside the floor's window and transferred to the nearby Bellevue Hospital. Her worst injury was a fractured pelvis. Despite the immense pain from the injury, she seemed to be in acceptable condition, a true miracle.
The Aftermath of the Fall
After being rescued from her fall at the Empire State Building, Elvita Adams was taken to the hospital in severe pain. She was treated for a possible broken hip, as well as a fractured pelvis.
A hospital spokesperson said she was in "satisfactory condition." However, she was also placed under psychiatric watch in addition to being given medical attention.
According to a police guard, Joseph Bay, who was on the scene of the incident, Elvita had to climb over the fence to reach the deck. This made it quite undoubtable that her fall was an attempted suicide.
After the ordeal, Elvita was quoted as saying she wasn't sure if the wind pushed her back or pushed her off, and that she only remembered the pain. All of this was reported in a local New York newspaper, the Adirondack Weekly Enterprise.
Along with the reports in publications like the Adirondack Weekly, The New York Times, and Time magazine, the entire incident gained widespread coverage. Elvita did as well, turning this into a remarkable survival story.
Still, after Adams's survival, it is fairly unknown what became of her or what prompted her attempt to commit suicide.
In some Internet posts, people speculate that Elvita went on to do standup comedy. Some say she went on to perform a one-woman play detailing her suicide attempt. However, this all seems unlikely.
In the end, it's extremely difficult to know for certain why Elvita Adams jumped and what happened to her after. One can only hope that she received the mental health care she needed and that she overcame her struggles.
With the right support and resources, it's always possible for individuals to recover from even the most difficult of experiences – here's hoping that the same holds true for Elvita Adams, wherever she is today.
References
Goldfarb, Kara. "How One Woman Jumped from the Empire State Building's 86th Floor and Lived to Tell about It." All That's Interesting, All That's Interesting, 16 May 2018, https://allthatsinteresting.com/elvita-adams.
"Woman Survives Fall at the Empire State." The New York Times, The New York Times, 3 Dec. 1979, https://www.nytimes.com/1979/12/03/archives/woman-survives-fall-at-the-empire-state.html.