When a man goes to prison, it can have more long-reaching effects than anyone realizes. John Dillinger was a petty criminal in 1924. He was found guilty of an attempted robbery and assault on a local grocer. Dillinger was not able to afford a lawyer, so the court was able to maximize his sentence.
John's accomplice was an ex-convict, but he only served two years in prison. On the other hand, Dillinger was sentenced to nearly a decade behind bars.
The man released in May 1933 was angry and bitter. Finding a job with a prison record is challenging enough, but it must have seemed impossible to a young man released during the height of the Great Depression.
With little opportunity to make an honest living, John returns to his criminal activities. In barely a year, he became Public Enemy number 1. In June of 1933, John was arrested for bank robbery in Ohio. But that bank robbery was the first in a string of criminal activities.
From September 1933 to July 1934, John Dillinger and his gang killed ten men and injured seven people, all while robbing various banks. They also staged at least three jailbreaks.
The end of his criminal career was July 22, 1934. He left the Biograph Theatre in Chicago, was shot by three FBI agents, and was declared dead minutes later.
The movie he saw was Manhattan Melodrama, starring Clark Gable. Clark's character was lawless, and, in the end, he was executed by the electric chair for the murders he committed. Those who were promoting the movie highlighted Dillinger's death, although some of the stars found that distasteful.
Although his criminal life is well known and documented, his life before becoming public enemy number 1 is less well known.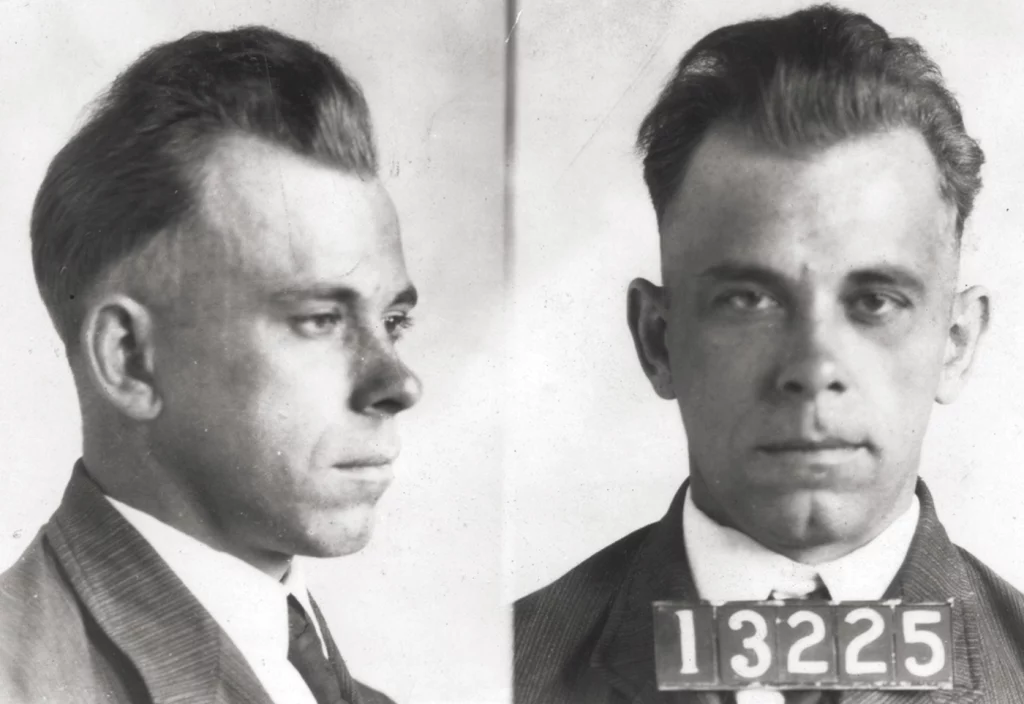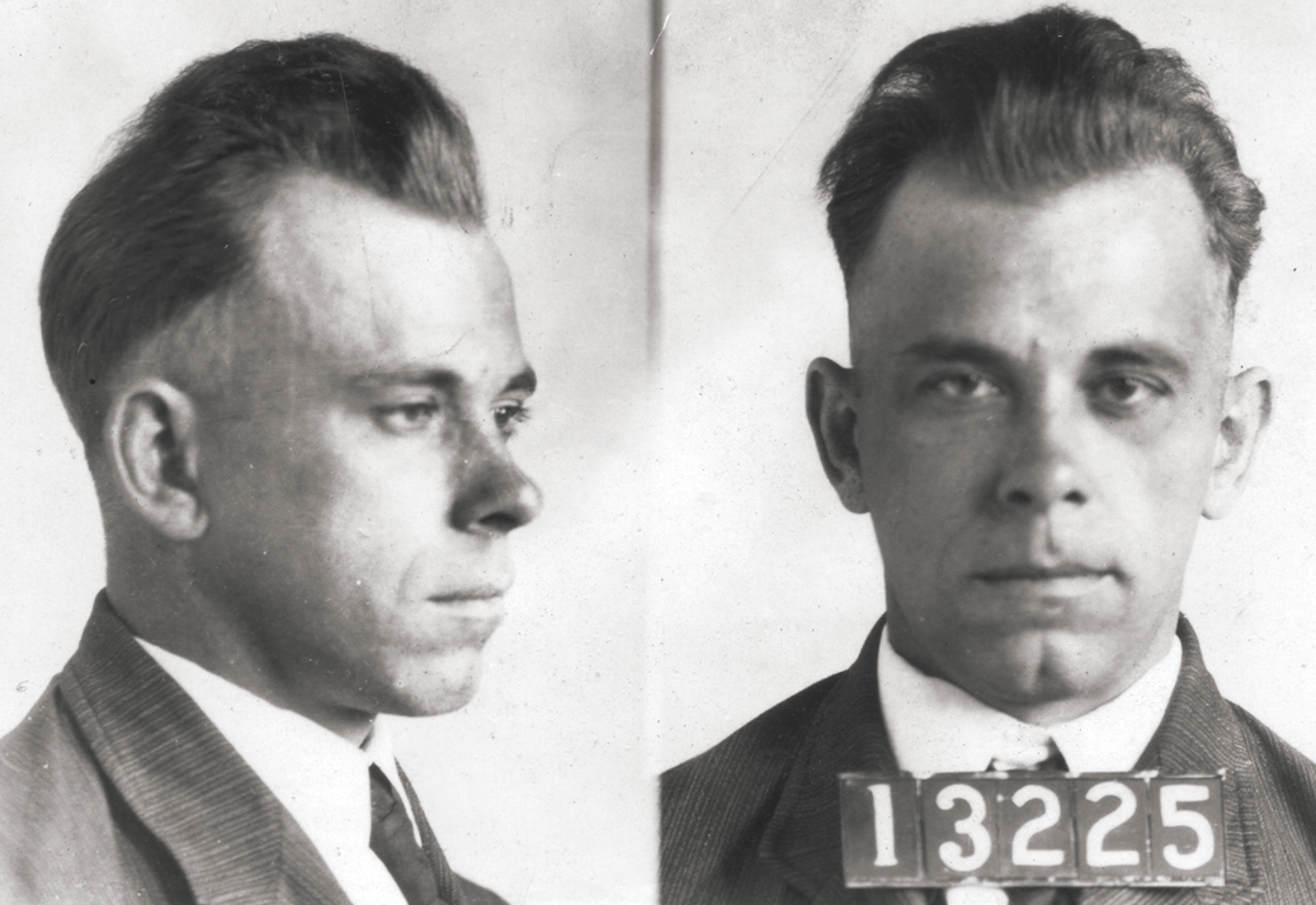 The Early History of Dillinger
John Dillinger was born in Indianapolis in 1903. His mother died just a few weeks before he turned four. His childhood was troubled, and John was in and out of trouble with the law.
John's father, hoping to get his son on the right path, decided to move the family to a more rural environment in Mooresville, Indiana, in 1921.
Unfortunately, the move did nothing to change John's character. Instead, he grew even more wild and rebellious. It led to an arrest for car theft in 1922. John enrolled in the Navy with less than stellar results to avoid the charges. Instead, John received a dishonorable discharge and returned to his family in Mooresville.
At this point, John's life took a unique turn. On his visit home, he attended a party hosted by friends of Beryl Hovious. She was born in 1906 in Monroe County, Indiana.
Her family had relocated to Morgan County between 1911 and 1920. Beryl was attending the same party, likely visiting Monroe County.
Sharing information with her nephew, Beryl admitted that John had been immediately attracted to her. They married in Morgan County's clerk's office in April 1924. Beryl Hovious was not legally allowed to marry without her parent's permission, so she lied and said she was 18. John himself was almost 21.
They started married life, sharing a cramped room with John's father, but eventually, the couple moved to Beryl's parents' home. John was looking for a job and found one at a furniture store.
It appeared that John had finally found the reason to straighten up his life. But the bliss of their early married life was to be short-lived.
Beryl's Life is Dramatically Altered
John and Beryl moved into a small house of their own after John found his job, where they enjoyed wedded bliss for a few months. Then John went out and met Ed Singleton, an ex-convict.
The two became intoxicated on corn liquor, which made it easy for John to be convinced to rob the local grocery store owner.
This ill-planned robbery attempt led to John being sentenced to a decade in prison. The couple exchanged letters over his first few years of imprisonment. Beryl was also able to make several visits to see John as well. But the costs of travel were beyond her limited means.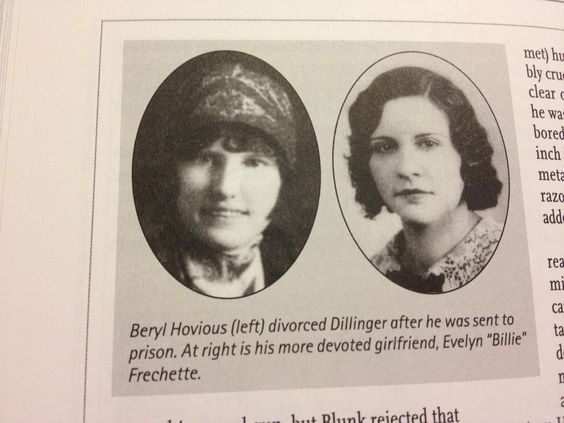 Plus, the journey was not a quick one. A visit could involve a day or two of travel, which might involve a horse and buggy since the car industry was in its early stages of growth. By the end of the 1920s, cars were more common, and it is estimated that by 1929, 4 out of 5 families owned a car.
Beryl's relationship with John began to sour as the years of his sentence rolled on. Eventually, she filed for and was granted a divorce in 1929, just two days before John's birthday.
There were rumors that she then married a man named Harold McGowen, although no records of such a marriage were ever found.
Harold was a garage owner, and it appears that Beryl met her last husband there. In 1932, Beryl was single again, and she married Charles Byrum. He was a recent divorcee and lived in Martinsville.
When they applied for their marriage license, Beryl indicated that she had only been married once and that marriage had ended in 1929. After getting their license in Bloomington, they were married in Beryl's sister's home in Terre Haute.
The new couple returned to Martinsville, where Charles managed a Linco oil station, which was believed to be the same garage Harold owned.
By 1940, Beryl and Charles had bought a home in the town of Hall. He was now a salesman for Farm Bureau. They adopted a daughter, Marilyn, in 1941, and no other information indicates they had other children. Their daughter had at least one son, meaning Beryl became a grandmother.
Charles died in 1968, and Beryl lived as a widow until her death in 1993 at 87. She only spoke once about her marriage to Dillinger in an interview with her nephew Tony Stewart.
It is believed that this is the only interview she ever granted on the subject. When he died, her relationship with him likely had receded into history. Although she did not leave the area where they had met and married, Beryl's life was not negatively impacted by her relationship with Dillinger.
She could move on and build the life she likely wished for as a 17-year-old bride when Beryl Hovious and John Dillinger were in love.