Last updated on January 29th, 2023 at 10:19 pm
On October 2, 1950, a relatively unknown cartoonist named Charles M. Schulz introduced America to the comic strip world of Peanuts, initially inhabited by just three kids: Charlie Brown, Shermy, and Patty.
Two days later, however, on October 4, a fourth character, an unnamed dog, joined the little gang.
Though remaining unnamed until the November 10 edition, Snoopy—initially intended to be a temporary character–had already begun stealing the hearts of America and was well on his way to becoming the phenomenal pop icon he is today.
One of the Gang—But Never Part of It
According to the back story, Snoopy was one of eight puppies born at the Daisy Hill Puppy Farm. He was adopted by a little girl named Lisa but had to be returned after her family moved to an apartment where dogs weren't allowed. So how Snoopy came to be in Charlie Brown's neighborhood is anybody's guess.
A composite of Schulz's boyhood dogs, Snooky and Spike, Snoopy (originally intended to be called "Sparky") wasn't supposed to belong to anyone in particular.
Schulz intended to parallel the storyline used in the popular "Our Gang" short film and TV comedies where their dog "Pete" was everybody's dog. This fact is illustrated in the February 2, 1951 strip where Charlie Brown accuses Snoopy of following him, only to be told by Peppermint Patty that Snoopy isn't following him, but rather, he "merely lives in the same direction."
Several of the early strips show Snoopy interacting with Shermy and Patty without Charlie Brown present, making Snoopy appear to belong to the entire neighborhood.
Snoopy Breaks His Long Silence
Until May 27, 1952, Snoopy was mute. On that day, Snoopy broke his long silence, his thoughts becoming verbalized for the first time via "thought balloons," an illustrative device Schulz would utilize from that day on for nearly all of Snoopy's appearances in the comic strip.
In addition to Snoopy's new ability to "speak" his thoughts to the reader, many of the human Peanuts characters (all of whom were children) acquired the uncanny knack for reading his thoughts and responding accordingly.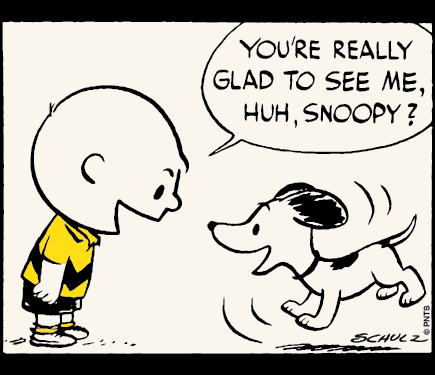 In the animated Peanuts films and television specials, Snoopy's thoughts are not verbalized nor shared via "thought balloon," his moods are instead conveyed through moans, yelps, growls, sobs, laughter, monosyllabic utterances (such as bleah or hey) as well as through Snoopy's amazing talent for pantomime.
Becoming His Own Beagle
On January 9, 1956, Snoopy stood upright on his hind legs for the first time, shown sliding gracefully across an icy pond—imitating Shermy and Lucy. Constituting a significant behavior change, this was the first of many endearing human characteristics he was to adopt.
But even as early as August 9, 1951, Snoopy had already displayed his flair for imitation by doing his impression of a bird, and by 1955 his ability to mimic a pelican, a moose, Peanuts characters Violet Gray and Lucy Van Pelt, Mickey Mouse, and even the famous classical composer, Beethoven. But this was just the beginning of where his fantastical imagination would take him.
Through the years, readers and fans have witnessed the emergence of his many alter-egos, including WWI Flying Ace, Joe Cool, and "Flashbeagle," as well as his seemingly infinite talents as a writer, attorney, hockey player, Olympic figure skater, and even an astronaut.
A Very Complex Dog
Over time, Snoopy has developed into a very complex character with his share of loves and hates. For instance, he loves root beer and pizza but hates coconut candy. He can eat a mountain of bones but gets claustrophobic in high weeds and is terrified of icicles forming over his doghouse.
An avid reader, Snoopy has been pouring over Tolstoy's War and Peace for many years now (but can't seem to finish it), loves to play fetch with soap bubbles, can keep a leaf aloft in the air by simply blowing on it, and can hear someone peel a banana or eat a marshmallow from a distance.
Talent that he is, he can disappear into the Cheshire Cat character from Alice in Wonderland, can use his ears to fly like a "whirlydog," can understand a smattering of French and Serbo-Croatian, and has even invented his own dances—most famously his "Happy Dance."
Snoopy sleeps on top of his doghouse rather than in it—even in winter, befriended a little yellow bird named Woodstock (abandoned by its mother, Snoopy had to teach him to fly), and plays shortstop on Charlie Brown's sandlot baseball team.
In short, Snoopy has grown to become the most actualized animated character in American pop culture history! He is what every human wishes their dog could be!
From the Funnies to the Small Screen
On December 9, 1965, A Charlie Brown Christmas was broadcast to millions of TV sets across America for the first time.
In it, Snoopy demonstrates his extraordinary ice skating skills, becomes the sound-effects wizard for the gang's Christmas play (imitating sheep, a cow, and a penguin), shows his guitar chops in the Christmas play band, and decorates his doghouse for a neighborhood lights and display contest–and wins First Prize! But that was just the beginning for TV Snoopy.
On October 27, 1966, It's the Great Pumpkin, Charlie Brown premiered, giving Snoopy yet another small screen opportunity to show America his comedic and dramatic sides.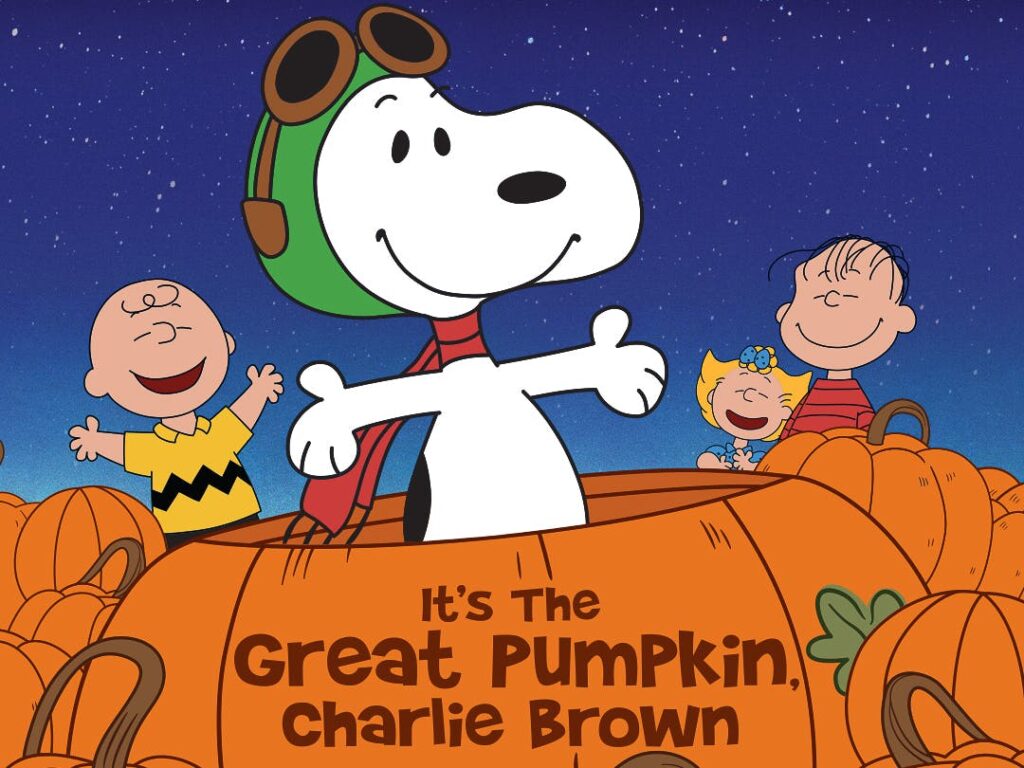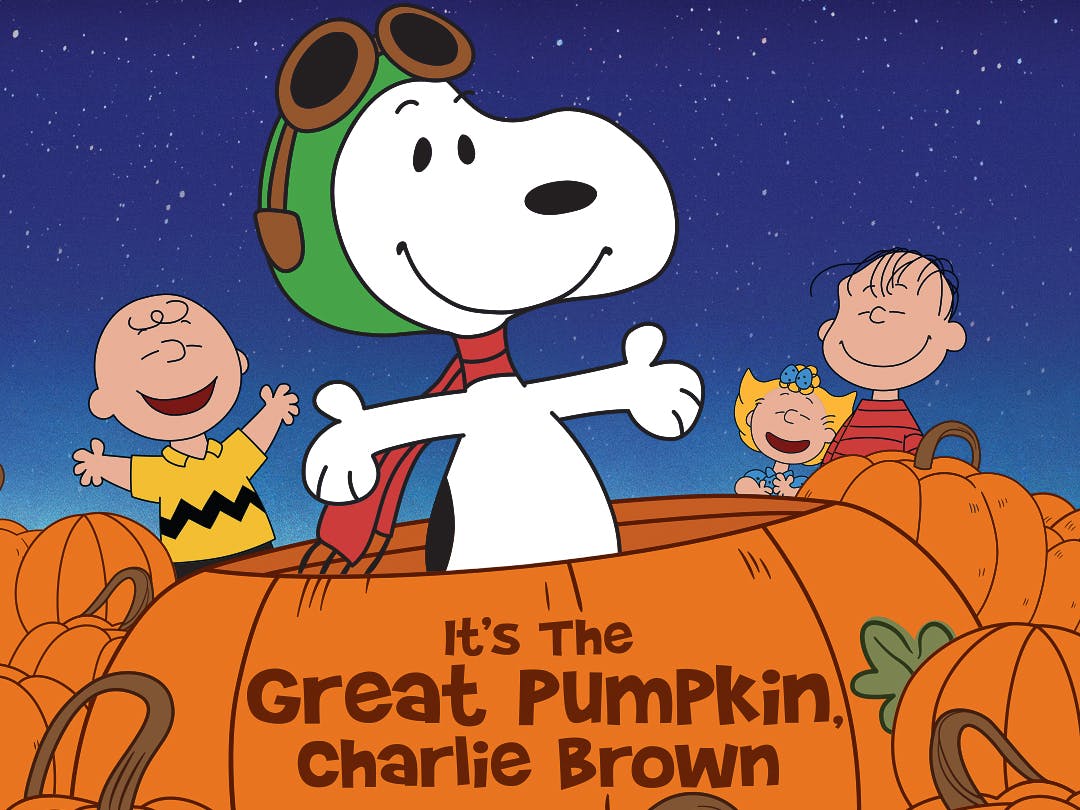 Snoopy laughs mockingly at Linus for writing a letter to the Great Pumpkin, yet alternatively weeps and marches military-style as Schroeder plays WWI tunes on his piano.
Donning his WWI flying ace uniform, Snoopy ditches his Sopwith Camel fighter plane behind enemy lines after dog-fighting the Red Baron, then crashes the gang's annual Halloween party and kisses Lucy while bobbing for apples.
Then he rises as a shadowy figure from the pumpkin patch—causing Linus to mistake him for none other than the Great Pumpkin!
After the premiere of the Great Pumpkin, Executive Producer Lee Mendelson told The Washington Post that the sequence with Snoopy flying his doghouse was "one of the most memorable animated scenes ever."
Between 1965 and 2022, Snoopy was the primary or supporting character in nearly 50 films—ten were created specifically to spotlight Snoopy and his talents.
These in addition to nearly 50 documentary TV specials (produced between 1963 and 2001), four DVD collections (produced between 2009 and 2015), and 18 episodes of the You're on Nickelodeon, Charlie Brown series (aired on Nickelodeon between 1983 and 1985), many of which feature Snoopy.
Honors and Accolades
By the 1980s, Schultz was one of the highest-paid entertainers in America, with Peanuts becoming the most-read cartoon of all time, syndicated to a record-breaking 2000th newspaper—in no small part due to Snoopy.
Essentially king of his own empire, Snoopy's comic book compilations, TV tie-ins, advertisements, merchandise, endorsements, and the Peanuts strip still in publication in newspapers around the world ensure that Snoopy will remain a cultural icon for decades to come.
Snoopy is one of the world's most recognized and beloved characters on the planet—second to none.
It comes as no great surprise to his millions of fans that Snoopy is respected far beyond any other animated character—his list of honors and accolades is a reflection of that:
In 1966 and 1967, respectively, Snoopy's imaginary dog fights with the infamous Red Baron became the topic for a series of popular songs by the Royal Guardsmen, including "Snoopy Vs. the Red Baron" and "Snoopy's Christmas."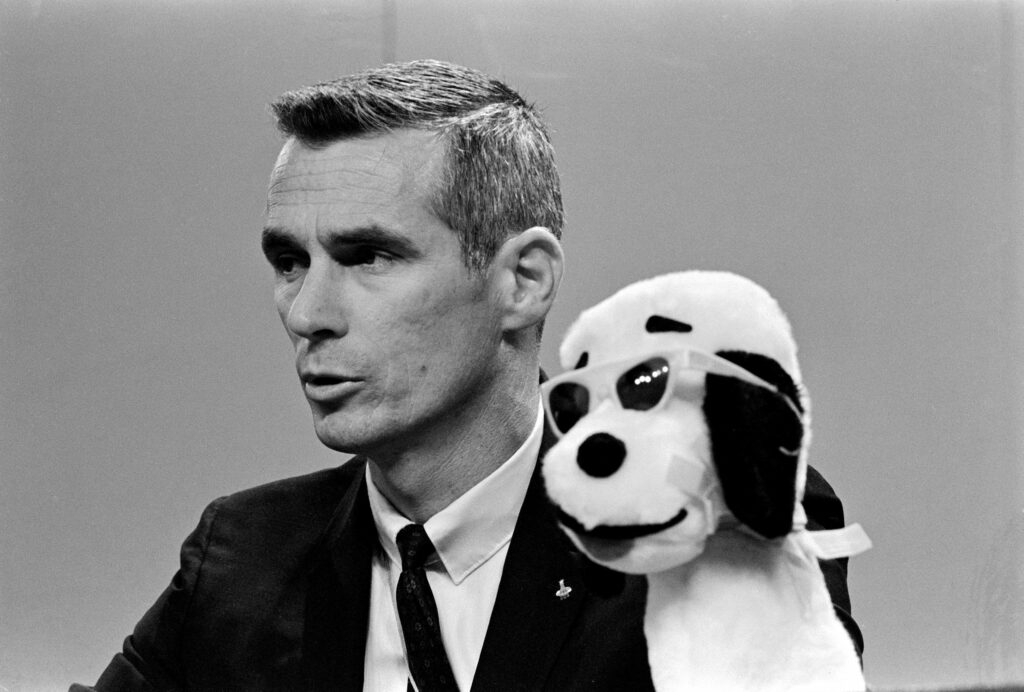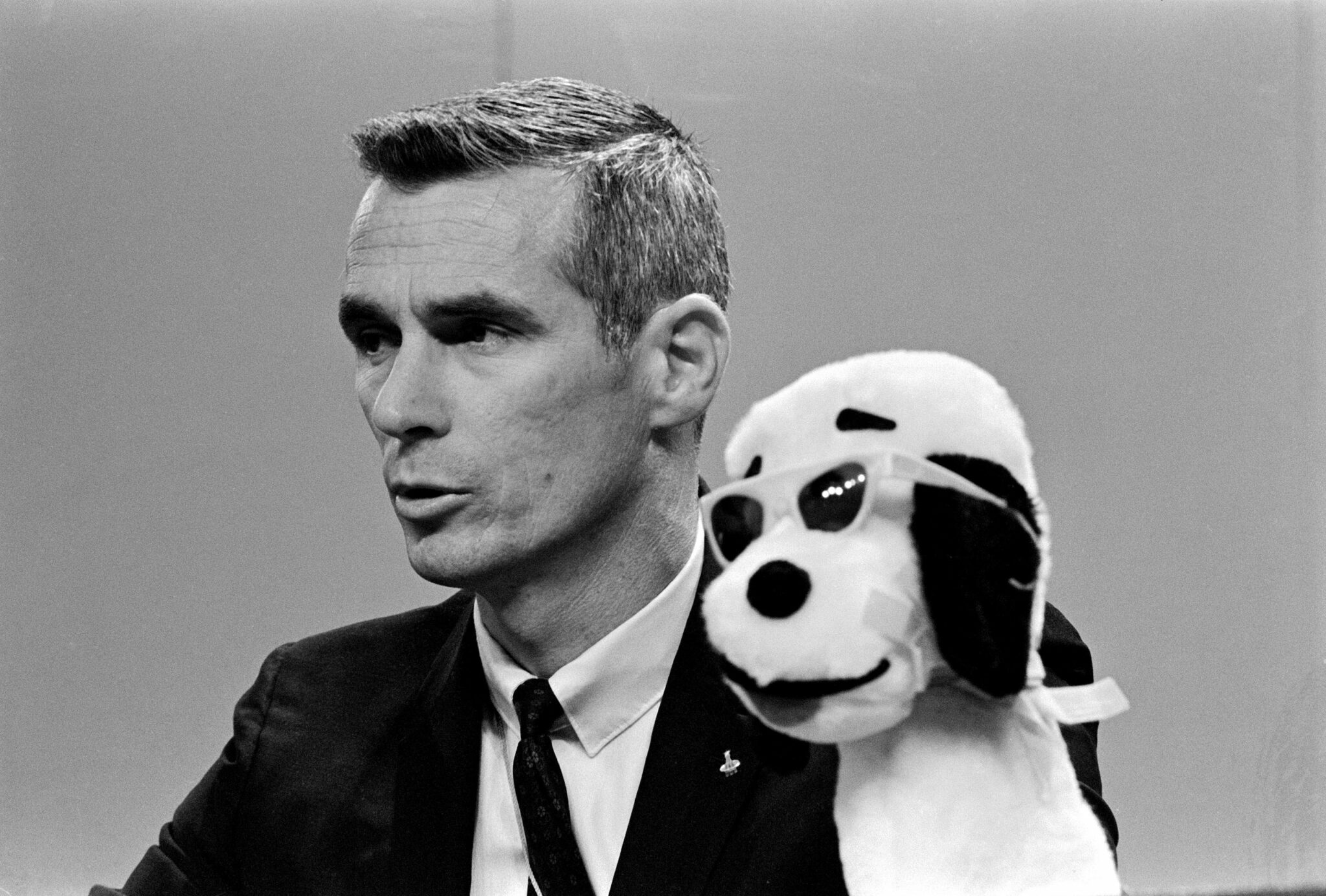 Since 1968, Snoopy has appeared as a character balloon in almost every Macy's Thanksgiving Day Parade; first depicted in his WWI Flying Ace costume, then as an ice skater, then as a jester (to celebrate the new millennium and the parade's 75th anniversary), then as an astronaut. 
In 1997, Snoopy and Woodstock were given the honorary rank of Life Master by the American Contract Bridge League (ACBL).
Snoopy was honored with the Silver Snoopy Award, given by NASA to "someone who works in the space program that has gone above and beyond in pursuit of quality and safety" and is the namesake given the caps worn by NASA astronauts (Snoopy Caps).
Snoopy Today
In 2019, NASA announced that Snoopy would return to the moon aboard NASA Orion in 2024 and would also be the gravity indicator aboard Artemis 1.
Snoopy is the U.S. Air Force Technical Control Official Mascot, is among the most popular "nose art" that appeared on Gulf War airplanes, and is the mascot of the 26th Squadron (Barons, pronounced Barones) of the United States Air Force Academy, depicted on their squadron patch.
In 2001 Snoopy was given a series of postage stamps by the Federal Post Office featuring him as the WWI Flying Ace; in 2015, Snoopy was honored with a star on the Hollywood Walk of Fame; and in 2019, Apple TV produced the "Snoopy in Space" series.
With his fan base growing exponentially, the septuagenarian dog (in human years) will no doubt be the recipient of many more honors and acknowledgments in years to come. Though said to be in semi-retirement, fans never get enough Snoopy and clearly have no intention of letting this sleeping dog lie!
Sources
Peanuts Wiki: "Snoopy," Snoopy | Peanuts Wiki | Fandom
Backstage Originals, "The History of Snoopy," The History of Snoopy – Backstage Originals
Britannica, "Snoopy," Snoopy | Drawing, Characters, Movies, & Breed of Dog | Britannica
Peanuts.com, "Snoopy," Snoopy | Peanuts
NASA, "Snoopy Hitches Ride to Space Aboard Artemis I," Snoopy Hitches Ride to Space Aboard Artemis I | NASA