Cowboys, gunslingers, Buscaderos, and Desperadoes are all terms that could qualify the most famous outlaws in American history based on their manic escapades. 
From bank robberies and train hijacks to cattle rustling and daylight shoot-outs leading to cold-blooded murders, the notorious wild west bandits were exceptions whose exploits were known during the early 20th century.
Despite this havoc, these outlaws have been idolized in Hollywood, and penny-dreadful novels, with their stories, still told today. 
So, what was so alluring about these bushwhackers that made them qualify as immortalized swashbuckling heroes and trailblazers? To each their story, these are the seven most famous outlaws in American History.
Billy the Kid 
Already a gunslinger, escape artist, and castle rustler at just age 21 when he died, the story of William Bonney – the kid — is one of a young American Maverick defying the odds just to get by. Billy the Kid, was an embattled teenager who lost his father to the American Civil War and his mother to Tuberculosis at 14 years old. He grew up in a Foster home, separated from his siblings after this early trauma. 
He then fell into petty theft in 1875 after he was caught stealing clothes in a Chinese laundry. Arrested and kept in custody for this offense, Billy quickly made his first move as an escape artist as he sprawled through the jailhouse chimney and absconded to southeast Arizona.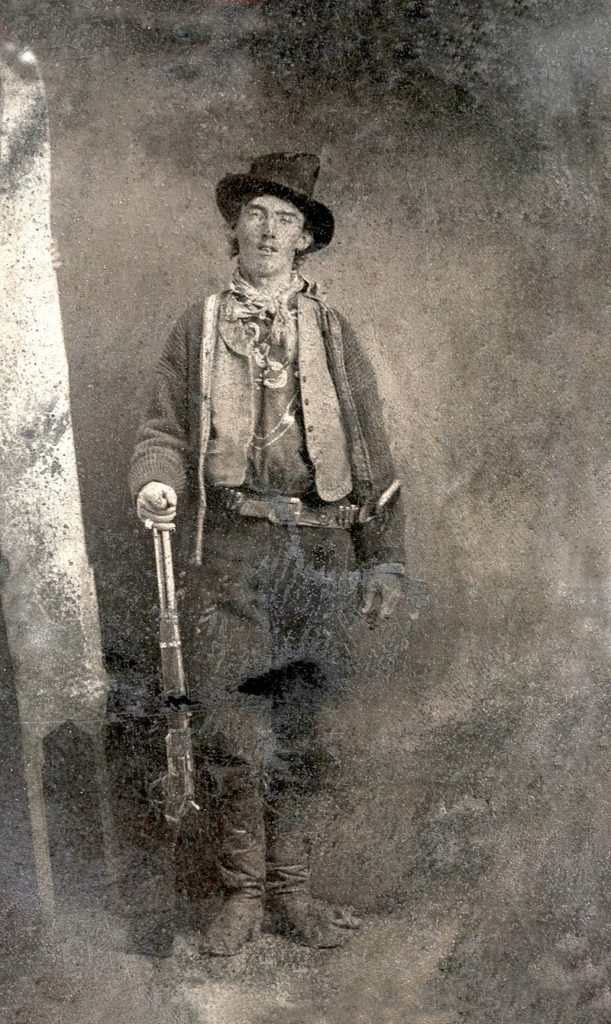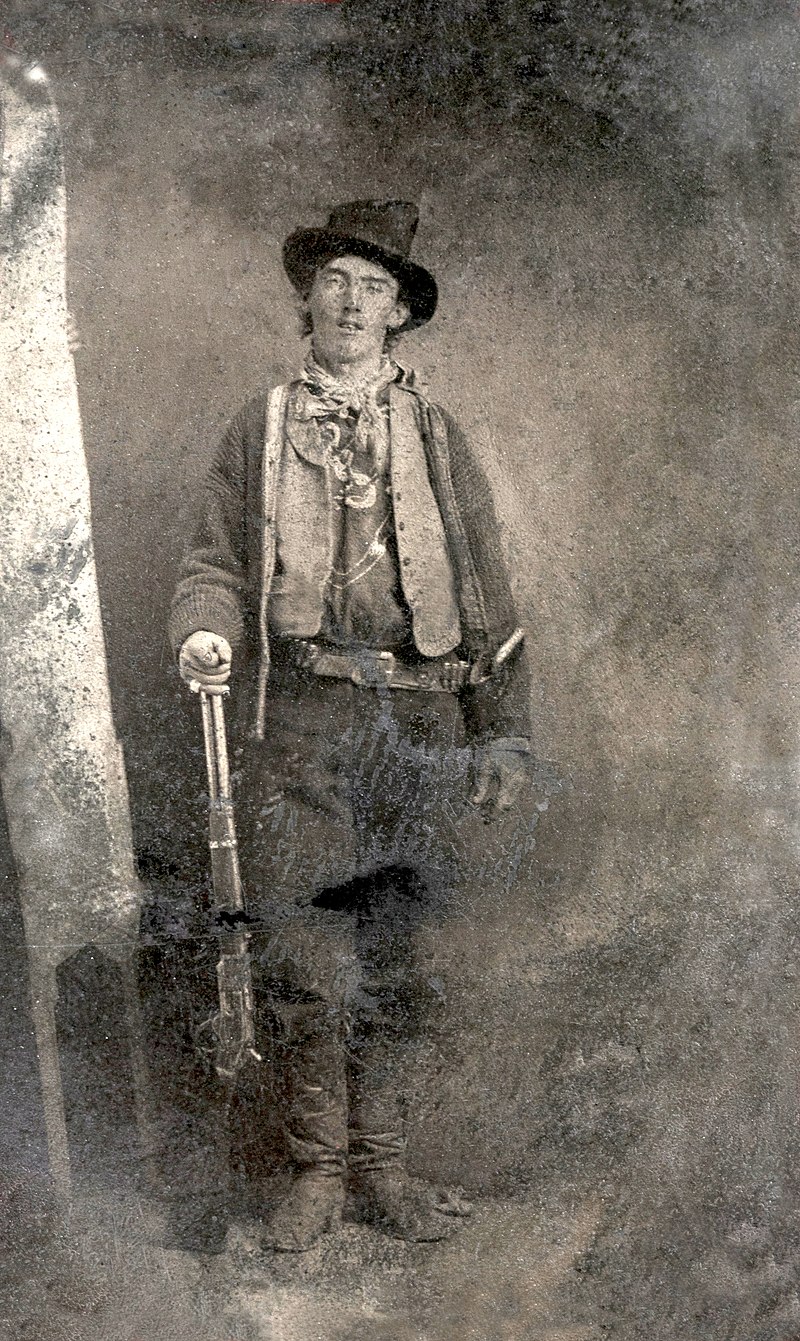 Already a fugitive now, he couldn't make an honest living. So he teamed up with a horse-stealing gang in 1876. Soon after, in 1877, he was wanted for the killing of a blacksmith, and he eloped from Arizona again back to his hometown to join another gang of thieves.
Billy's last adventure, arguably the most notable, was in 1878 when he joined a Posse known as the Regulators. They were keen on avenging the death of a cattleman and, in the process, sparked up the Lincoln County war. Billy's popularity skyrocketed, attracting attention and ultimately a $500 reward for his death.
New Mexico Sheriff Pat Garrett shot and killed him on July 14, 1881. Still, the memory of Billy the Kid — the youth who became an outlaw out of necessity — would forever be grafted into American history. 
Jesse James
Jesse James was born in the "Little Dixie" area of Clay County, Missouri, in 1847 into an alliance-promoting family notable for slave acquisition. James and his brother shared the ideology of a confederacy and were motivated to join a Guerilla unit responsible for eradicating thousands of Union soldiers.
When their secessionist cause failed during the civil war, history shows that Jesse James wouldn't concede defeat and continued to nurture his Southern sympathies, robbing banks, trains, and hackney coaches. He projected the image of a modern Robinhood — taking from the rich reconstruction supporters and giving to the poor.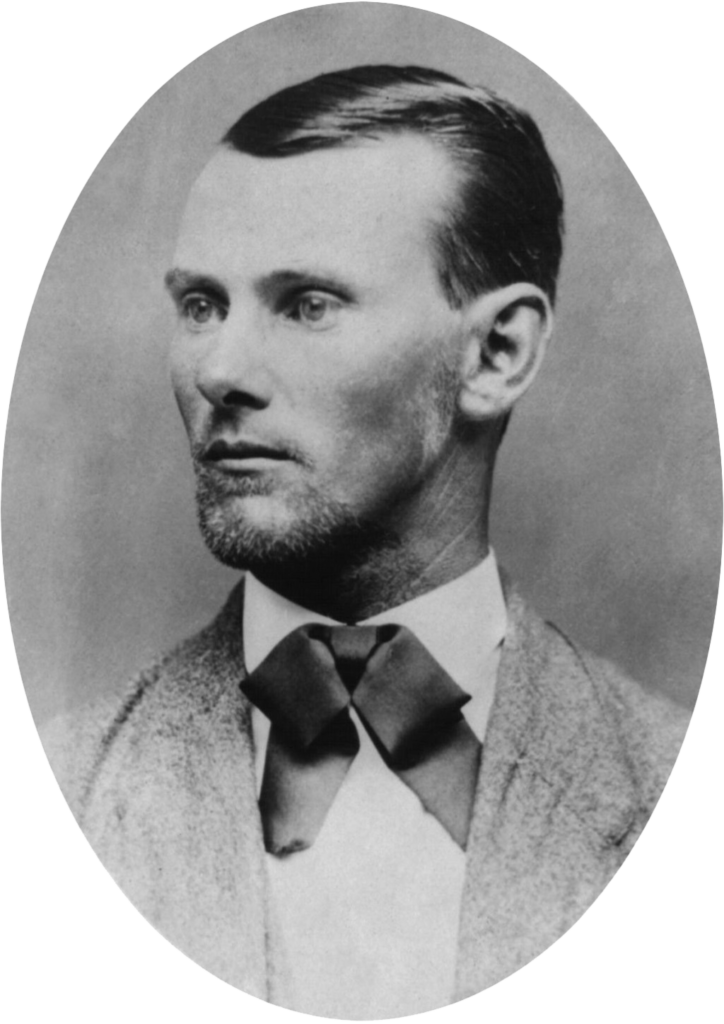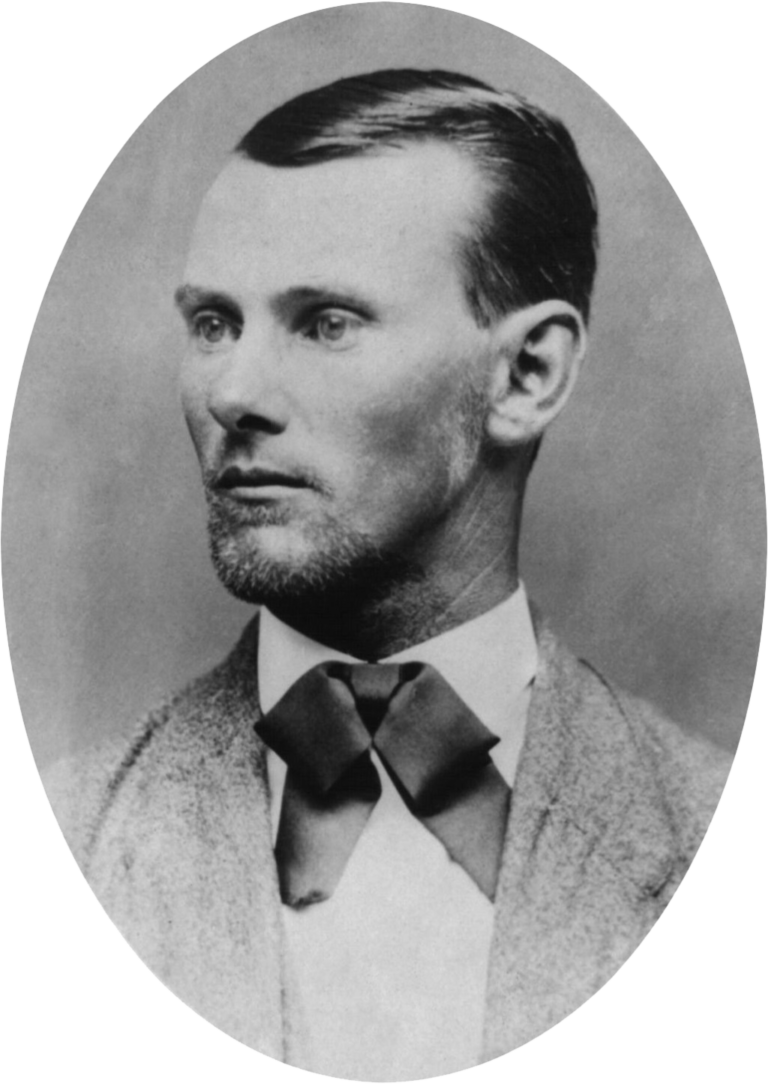 Between 1860 and 1862, Jesse's reach spread from West Virginia to Texas to Iowa, stealing over $200,000 across approximately 20 bank and train robberies. His frame grew in the Wild West with a notorious reputation for targeting bank and train safes and ruthlessly murdering anyone who stood in his way.
Yet, Jesse James claimed he was a bold robber rather than a thief. He considered himself in the same cadre as other "bold robbers" like Napoleon Bonaparte, Alexander the Great, and Julius Caesar. Although, there was very little evidence to show that he did give back to the poor what he stole from the rich. 
His reign would soon end after the Governor of Missouri slapped a $10,000 bounty for his murder. Robert Ford, an accomplice of his, was most motivated by this reward as he shot and killed him in 1881 at the vibrant age of 34.  
Butch Cassidy and the Sundance Kid
In 1889, a well-thought-out audacious heist saw three men make away with about $20,000. Signatures of this attack later resurfaced in other robberies in Nevada, South Dakota, New Mexico, and Wyoming in the coming years. Soon after, a new gang known as the "Wild Bunch" would be associated with carefully orchestrated attacks. 
The individuals responsible?
A certain Robert Leroy Parker was born to Mormon parents in a family of 15 in Utah on April 16, 1866. Renowned for ultra-careful hold-ups, the approach of Butch Cassidy and the Wild Bunch saw them enjoy tremendous success, carting away a substantial amount of money in multiple robberies. 
But their success isn't attributable to just Cassidy.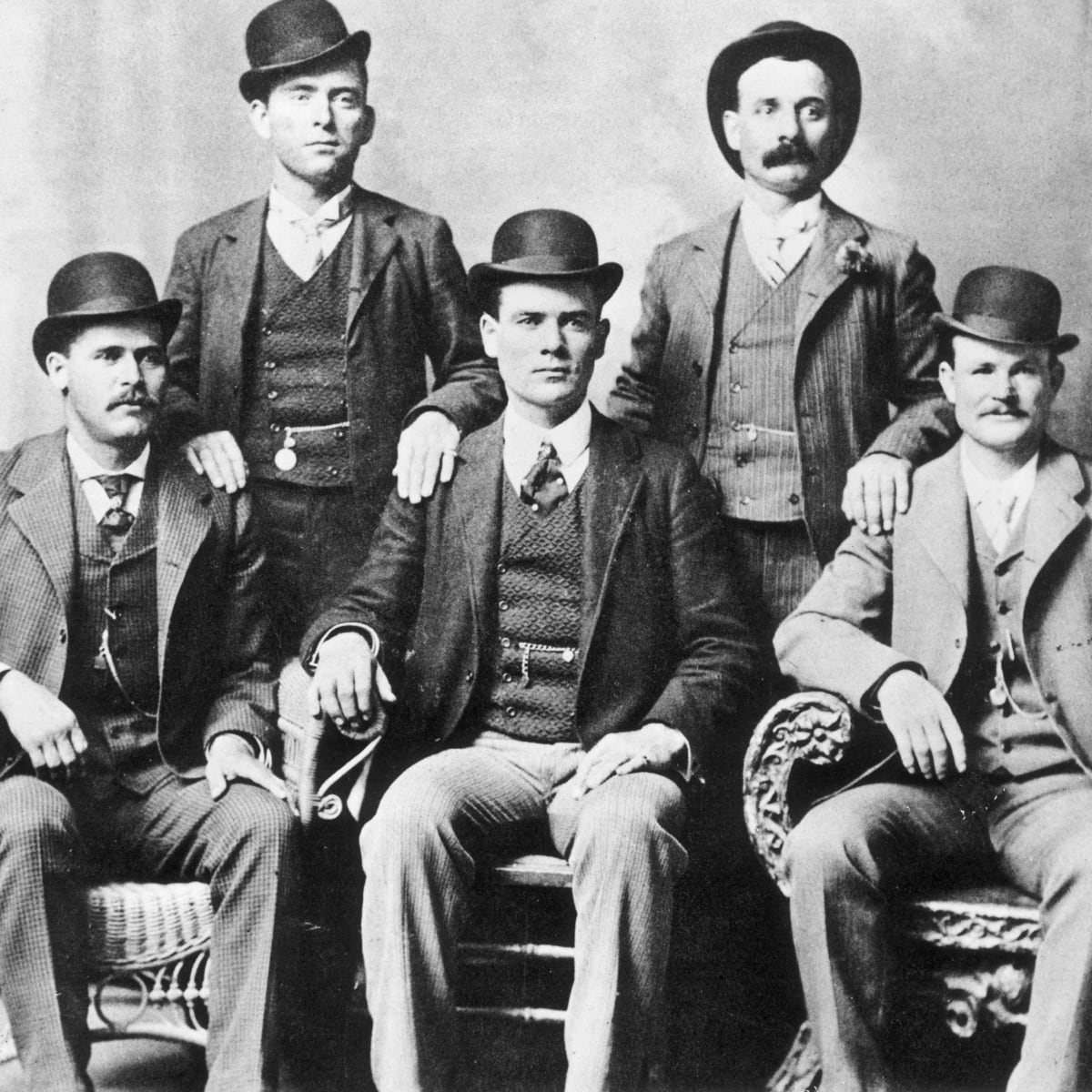 Born, Harry Alonzo Longabaugh, the Sundance Kid, was a crucial member of the Wild Bunch. He was recruited by Cassidy around 1896 after Cassidy was released from Prison. The Sundance Kid was regarded as the best shot and an exemplary gunslinger in the Wild Bunch gang.
You could say Butch Cassidy and the Sundance Kid were a match made in heaven, as multiple robberies in America could be attributed to them. So much so that they had a league of law enforcement officers on their trail and had to flee America. The pair and their gang moved to Argentina, where they went back to hijacking trains and payrolls.
They both allegedly met their end in 1908 when they engaged in a shoot-out in Bolivia. However, this claim could not be substantiated as some stories have it that they escaped and lived out their days under alias names. Whichever the case might be, the uncertainties surrounding their death only strengthen the mythology of these outlaws.
Bonnie and Clyde
This fable of romance and crime features two lovers from humble beginnings who exemplify the live fast and die young saying. They teamed up to become the most famous romantic outlaws America has ever seen.
While Bonnie was an amateur poet and a part-time waitress, Clyde was a dragooning petty thief. Perhaps it's their love story rather than criminal exploits that made them famous, as there were reports that Bonnie was killed with a sandwich in her hand; she couldn't tough it out with the law enforcement.
Nonetheless, Bonnie and Clyde convinced many that they were a ruthless couple. Bonnie parker and her lover Clyde Champion Barrow went on a robbing and killing spree across Oklahoma, Louisiana, Missouri, and Texas in the early 1930s.
Bonnie and Clyde, aged 19 and 21, met in January 1930 in Texas. At the time, Bonnie was married to a man in prison for murder, and Clyde was unmarried. A short while after their relationship started, Clyde was arrested for burglary and jailed. But Bonnie helped him escape by smuggling a gun into him. He was later recaptured before he was paroled in 1932.
He returned to crime — this time, fully with Bonnie — after his parole and formed a five-membered group comprising a young shooter William Daniel Jones, Ivan M. "Buck" Barrow, Clyde's brother, and his wife, Blanche.
The group dabbled with robberies, killings of civilians and law enforcement agents, car thefts, and abductions, and evaded law enforcement agencies, causing them to make the headlines multiple times. 
This fame only turned up the law enforcement heat on them as different Posses were motivated to get rid of them.
The end was near!
November 2, 1933, was the beginning of the end for Bonnie and Clyde as their gang engaged law enforcement in a shoot-out that saw "Buck" get fatally shot and Blanche captured. Not long after, the romantic couple was soon on their own when Jones was captured.
In a precarious situation, the pair grew increasingly frantic, abducting an attorney on December 21, 1933. They also freed five prisoners on January 16, 1934, from the Eastham state prison farm at Waldo, Texas, shooting two guards.
The killing spree continued in April 1934 when they shot two highway patrol men and abducted one. It wouldn't continue for much longer as investigations to identify their location intensified. They would soon be found near Ruston, Louisiana, where they were ambushed near Sailes, Louisiana.
Officers opened fire on their car, and both of them died instantly.
John Wesley Hardin
"I didn't kill anyone who didn't deserve killing." These were the famous words of John Wesley Hardin.
The man built a reputation as one of the most dangerous gunslingers of the southwest starting from an early age. He killed his classmate when he was a schoolboy and another man during an argument at the tender age of 15. He also firmly believed in the confederacy and intensely hated formerly enslaved people. So, he started killing multiple union soldiers to assert his claims.
So, exactly how many people did he kill? Different accounts placed different numbers on it, but one thing was sure; James Hardin kept killing people throughout his life's different phases.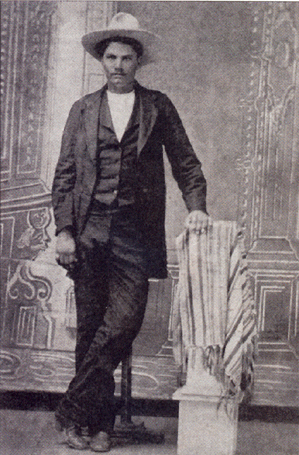 In 1872, the society reported that about 15 murders could be credited to James. So, he wiped the slate clean by surrendering and going to jail. Not for long, though, as he broke out to join the anti-reconstruction movement and returned to his killing ways.
However, this time the law enforcement were after him for the murder of a Sheriff, and he was later apprehended by the Texas Rangers and jailed for 25 years in 1877. As you would expect, he made numerous attempts to escape before resorting to getting parole.
To ensure this, he maintained good behavior serving as superintendent of the prison's Sunday school and reading theological books. He also wrote his autobiography while in jail. 
All these "good behaviors" certainly paid off on March 16, 1894, when he got pardoned and released. Subsequently, he miraculously got called to the bar.
Despite all of these, it would seem James was incapable of living an honest and morally acceptable life. There were reports that he had an affair with one of his clients and, as a result, hired assassins to kill him. Hardin's past finally caught up to him on August 18, 1985, when Constable John Selman — the hired assassin — gunned him down in the Acme Salon allegedly for not paying him for the hit.
Belle Starr
Myra Maybelle Shirley Starr was a high-born who belonged to a prosperous family in the south who favored the secessionist confederate states of America. However, families were forced to take sides when the Kansas-Missouri war broke out on January 29, 1862. She was subsequently drawn to the outlaw life, having had early contacts with outlaws Jesse James and the Younger gang, who used her family home as a hideout.
She married three outlaws —- James Reed in 1866, Bruce Younger in 1878, and Sam Starr, a Cherokee, in 1880.
Belle served time with her husband Sam Starr for Horse theft, a federal offense at the time. She was charged with the same crime again in 1886, but this time, her legal skills helped her acquit herself of the charges. She began using her status and guile to cover the questionable activities of bootleggers, fugitives, and other outlaws.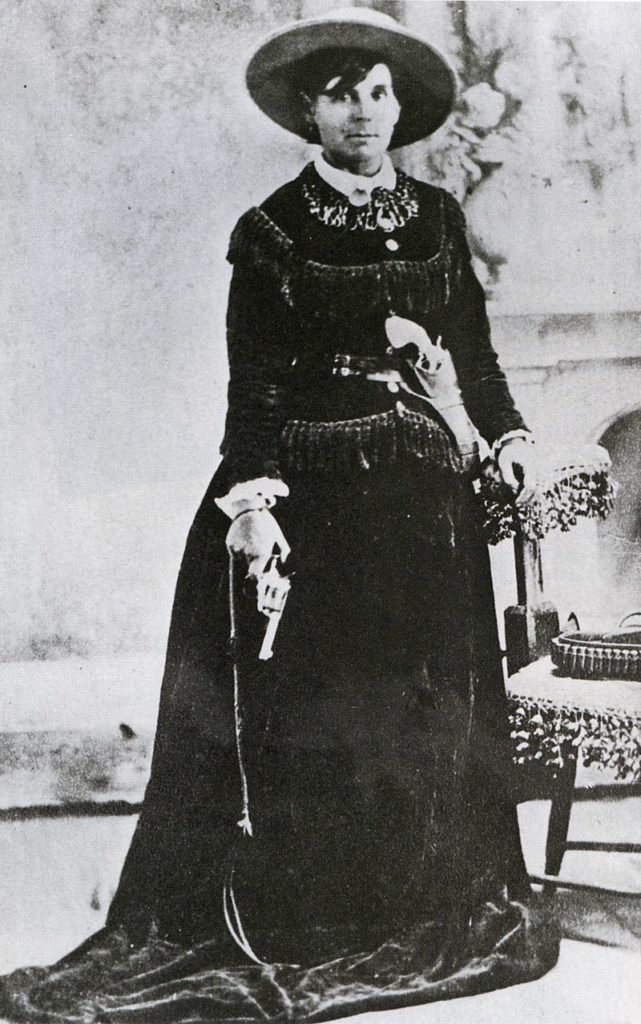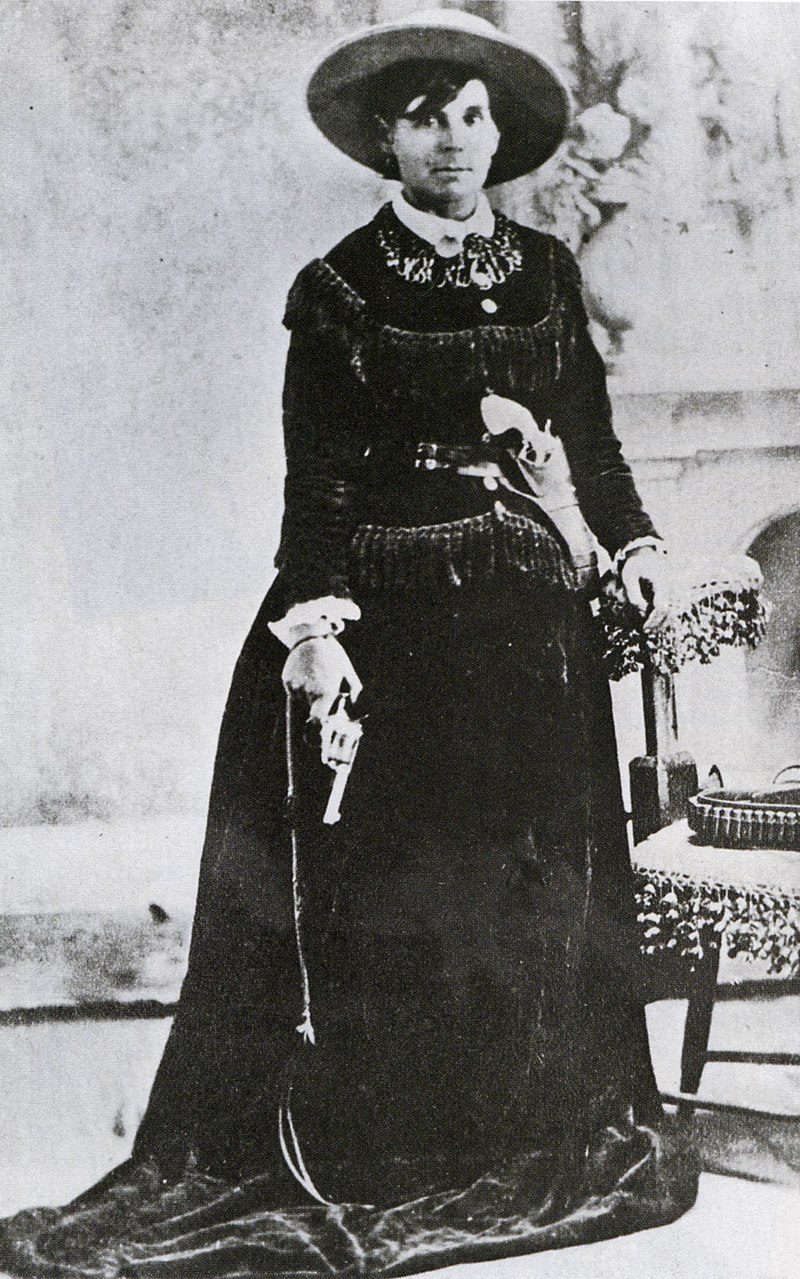 The queen bandit was killed on February 3, 1889, when she was 40 years old, shortly after returning to her Oklahoma cabin from a general store. Numerous people were suspected, but the crime of her murder was never solved. After her death, the New York Times published an article that depicted the queen bandit as the "most desperate woman that ever figured along the borders."
Yet, there was no court record that she ever staged a robbery or committed murder.
Tales of The Good Ol' West Continue
The tales, histories, and biographies of the old wild west will be told for many generations. The period just after the civil war at the end of the 19th century and the early 20th century birthed the legends of outlaws, gunslingers, and cowboys.