Last updated on July 22nd, 2022 at 07:14 pm
In the early 1900s, a Japanese woman named Masako Katsura dominated the world of billiards. She was considered the best player in the world and was even given the nickname "The First Lady of Billiards." Katsura is still remembered today as one of the most talented players in history. In this article, we will look at her life and career.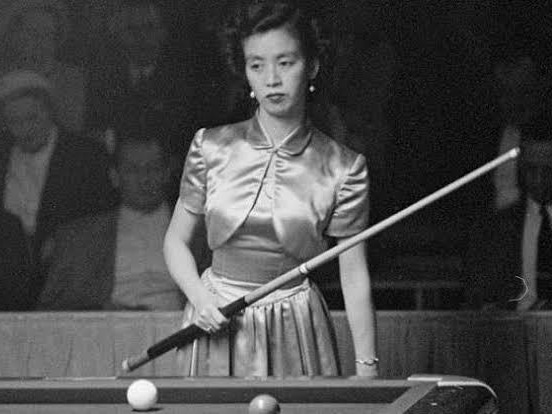 Early Life
Masako Katsura was born in Tokyo, Japan, in 1913. There is very little known about what life was like for young Katsura, but we do know that she lived with her brother and three sisters.
Sadly, when Katsura was just 12 years old, her father passed away, and she was forced to go and live with her older sister and her husband, Tomio Kobashi, who owned and worked in a billiard parlor.
This is where Katsura would have first been introduced to billiards properly and where her love for the game blossomed. At 13, she was already a natural at the game and would be found regularly within the billiard halls, and at 14 was working there as an assistant.
It's also known that Kobashi himself was a decent player and would certainly have played a role in helping Katsura understand the game and get ahead when it came to all aspects of it. In fact, Katsura was already becoming so devoted to the game in such a small space of time that the family ended up buying a billiard table for the house so that she could practice at home.
Masako Katsuro Makes a name for herself playing pool
It's easy to see that because of all this practice, Katsura quickly became incredibly talented at the sport to the point where she entered tournaments, thrashing the competition and beating Japanese men from all over the surrounding cities.
At the age of 15, just years after she picked up the game for the first time, she won the women's championship straight rail tournament for the entirety of Japan, which was no easy feat. Even Katsura's younger sisters were getting in on the action, with both winning the same tournament in later years.
The thing that was so impressive about Katsura's skills is that, at the time, women were not playing billiards competitively as much as men. In Japan specifically, it was considered to be unladylike for a woman to play the game in public.
This only made Katsura's accomplishments all the more significant, and she quickly became something of a celebrity in her home country.
Around this time, Katsura began to be called the "First Lady of Billiards." The nickname stuck, and she would go on to use it as her professional name when she started touring internationally in the 1930s.
Marriage and Romance
By 1947, Katsura was spotted by an American serviceman named Vernon Greenleaf, who was a master sergeant in the U.S. Army Quartermaster Corps and, at this point, had served for 22 years.
The two met in a Tokyo service club where Katsura hosted and organized billiard exhibitions. Infatuated from the start, Vernon started to take lessons from Katsura, and the two fell in love. They married in November 1950 but never had children.
While we'll get into the titles and successes a little below, Katsura was already on the up with her billiards career when they married.
She held second-place titles in Japan's three-cushion championship. Also, Katsura scored 10,000 contiguous points at a straight rail competition, which means she sank balls in a row without missing. This was an incredible display of skill that few could mimic.
During this feat, she nursed the balls around 27 tables over the span of four and a half hours. The only reason she stopped was because 10,000 was a nice milestone number.
It was a world record that would stand for 20 years.
Moving to the U.S.
The next milestone chapter in Katsura's life was immigrating to the U.S. with her new husband. This was a year after they married in 1951 when Vernon was transferred to a U.S. post, ending his time at the Haneda Air Base in Tokyo.
This was a big move, especially since Katsura didn't speak English very well, but the two were determined to make it work. They set sail and landed in San Francisco in December 1951, which was exactly where the World Three-Cushion Billiards tournament was set to take place in just three months.
Katsura was set to partake in the tournament after being given a conditional placement by Cochran, the billiard parlor who was running the tournament.
Of course, with Katsura's success, she was really starting to create a name for herself, and word of her reputation was traveling fast.
Cochran himself was an eight-time world champion and won the crown between 1933 and 1945. However, as above, the placement in the tournament was conditional, and Cochran wanted to make sure that she was up to standard.
With this in mind, Cochran sent his son, W.R. Cochran, a naval officer himself who was stationed in Japan, to go and look for himself.
W.R. was blown away by Katsura's skills and quoted to his father, 'She's better than you are.' Of course, as a champion himself, Cochran was now even more intrigued and excited to meet Katsura.
When she arrived with her husband in the U.S., she gave herself to a private exhibition for Cochran, where she was everything his son claimed. According to Cochran himself, she hit runs of 300 and 400, making 'quite unbelievable shots,' as he watched in awe.
After seeing this for himself, Cochran finalized the offer, and Katsura was now in her first world championship.
Katsura's Professional Career
And this is where Katsura's career really took off. In the 1952 World Three-Cushion Billiards championship, Katsura was the first woman to ever compete in such a tournament. At the time, the champion was Willie Hoppe, a world champion with over 51 world titles under his belt, which he collected between the years 1906 and 1952.
With Katsura in the competition, he later retired in the year, and of course, the hype for seeing the two compete was off the charts. While billiards was by no means an incredibly popular sport, the public still absolutely adored the idea that a woman was competing in a traditionally male sport (which most sports were back in that time), and there was undoubtedly buzz surrounding her and how she could thrash her male opponents.
As Life magazine reported at the time, 'people from San Francisco would didn't even know a cue from a cucumber flocked in to see her play as she stole the show!"
Katsura didn't just stop at the 1952 championship, though. In 1953, Katsura took part in and won her first-ever U.S. Women's Three-Cushion Billiards Championship, which was a huge moment for not just her but women in general who were striving to break barriers in male-dominated sports.
This title was one of six U.S. championships that Katsura would go on to win in her career.
However, this isn't to say that Katsura was unstoppable. As her career progressed, especially to the 1954 World Three-Cushion Tournament, held in Buenos Aires, Argentina, some of the world's best players were on the scoreboard, many of whom came out of retirement.
The line-up was;
Katsura
Ray Miller
Harold Worst
Juan and Ezequiel Navarra
Welker Cochran
and the defending champion, Kilgore
Katsura was, as always, the only female competitor in the competition. The matches started off well as Katsura won over Miller (60-47) and continued on a winning streak against various other opponents.
However, she started to lose games against players like Ezequiel Navarra (60-28), but won against his brother and came in fourth place. Worst, who had come out of retirement for the tournament, won on 25th October 1954.
Taking a Step back from Billiards
In 1958, she reappeared and made 30 appearances in exhibitions, but had also released two instructional books on how to play billiards that were launched in Japan.
However, the billiards world stirred in 1959 when word broke that Katsura would be playing an exhibition against Harold Worst in a one-week match up to 1,200 points, hosted by the Randolph Recreations venue in Chicago.
The show was then moved to Philadelphia, where they played six matches to 50 points (three cushions) and then exhibited in New York. This didn't come without rustling a few media feathers.
Media Appearances
In March 1959, Katsura appeared on CBS's popular guess game show, What's My Line?, where she funnily wrote and signed her name on the name card using Japanese characters.
She also appeared on You Asked For It, the ABC show where she went backstage on western movie sets to show how they were set up and recorded, and again in 1960, where she showcased some of her trickshot performances for the cameras.
By 1961, there had reached a point in the billiards world where such three-cushion world championship competitions had not been organized nor happened. This meant that Harold Worst had remained the champion for over seven years and, in doing so, issued Katsura a competitive match offer for $2,000.
Worst was actually so committed to these events that he tried to take legal action against the Argentinian three-cushion tournament that was billing itself as the world championship tournament for overlapping the dates of the event.
Katsura accepted but was beaten by Worst by 350 to 276.
After this 1961 world championship era, Katsura went quiet, and the world found her living relatively off the grid. Professionally and in the billiards world, it was reported that she had gone into retirement, and there were rumors that her husband had tried to keep her from playing billiards any longer. He passed away in 1967.
Come 1976, Katsura did appear at Palace Billiards in San Francisco, where she borrowed a cue from a random player and proceeded to sink 100 points at the straight rail with no errors, nearly 20 years after she had last performed in the public eye.
Reportedly from the scene, it was stated that 'without a miss, she smiled and bowed to an applauding crowd, stepping away from the spotlight and disappearing forever from the American billiard stage. (Robert Byrne, a prolific pool and billiard author at the time.
And that's what happened.
Katsura returned to Japan to live with her sister in 1990, where she spent the rest of her days before passing away in 1995.
In September 2002, a memorial tournament was organized in Katsura's name, dubbed the Katsura Memorial: The First Ladies Three Cushion Grand Prix, which was hosted in Japan and aired on SkyTV around the world.
Her Legacy
To this day, Katsura is still considered to be one of the greatest billiards players in history.
She was inducted into the Billiard Congress of America's Hall of Fame in 1966, and in 2003, she was awarded the U.S. Billiard Media Association's Player of the Century award. In March 2021, she was featured in the GoogleDoodle artwork celebrating International Women's Day.
Katsura's impact on the sport of billiards cannot be understated, and she will always be remembered as one of the all-time greats.