The life of Joe Bonanno spanned decades of mafia history. One of the founding dons of the American Mafia, "Joe Bananas," as he was also known, rose to prominence out of the New York mob wars of 1930. 
Joe Bonanno became the youngest boss of the five families in New York, forming The Bonanno Family. Throughout his 30-year reign as the head of the Bonanno Family, he was one of the most powerful mafia bosses in America. 
Clever and sophisticated, Joe Bonanno grew the Bonanno Crime family into a very powerful organization.
In 1983, he published his memoirs as a godfather titled 'A Man of Honor.' Despite a life characterized by bloody gang wars, Joe Bonanno lived until he was 97 years old, outliving most of his peers. He was the last living original commission member when he passed away in his home in Tucson, Arizona, in May 2002.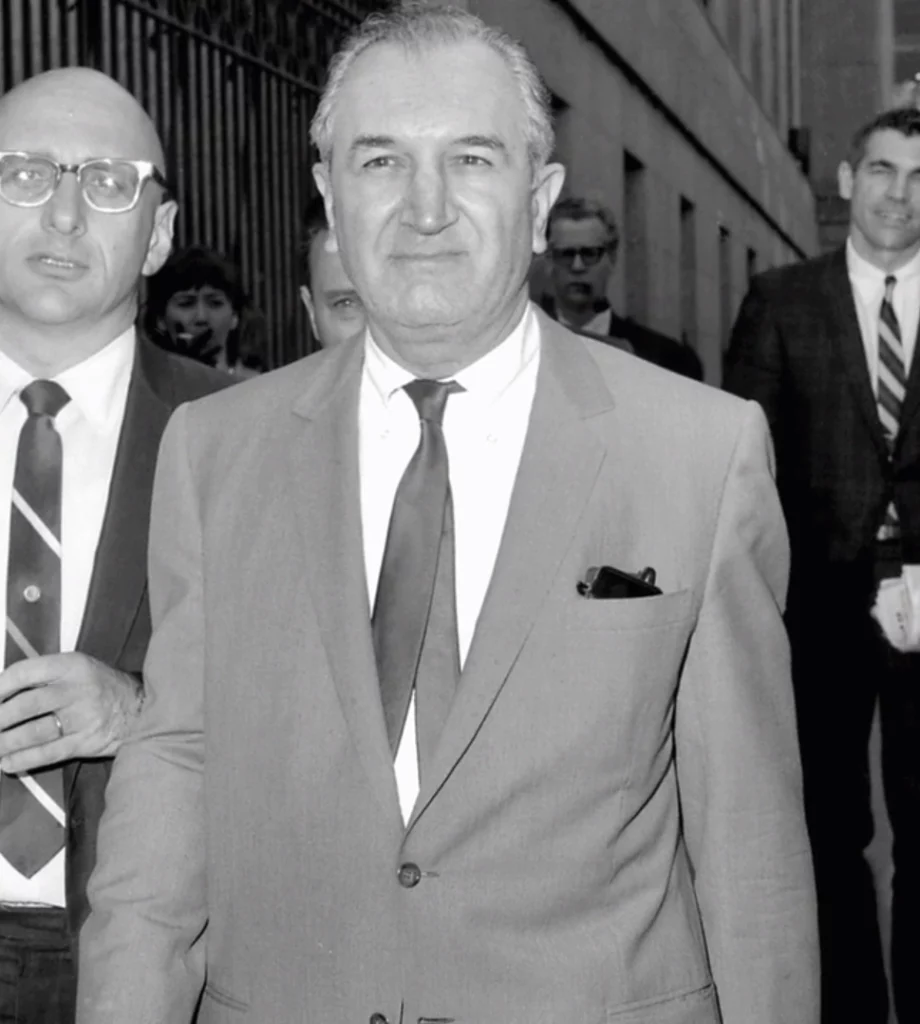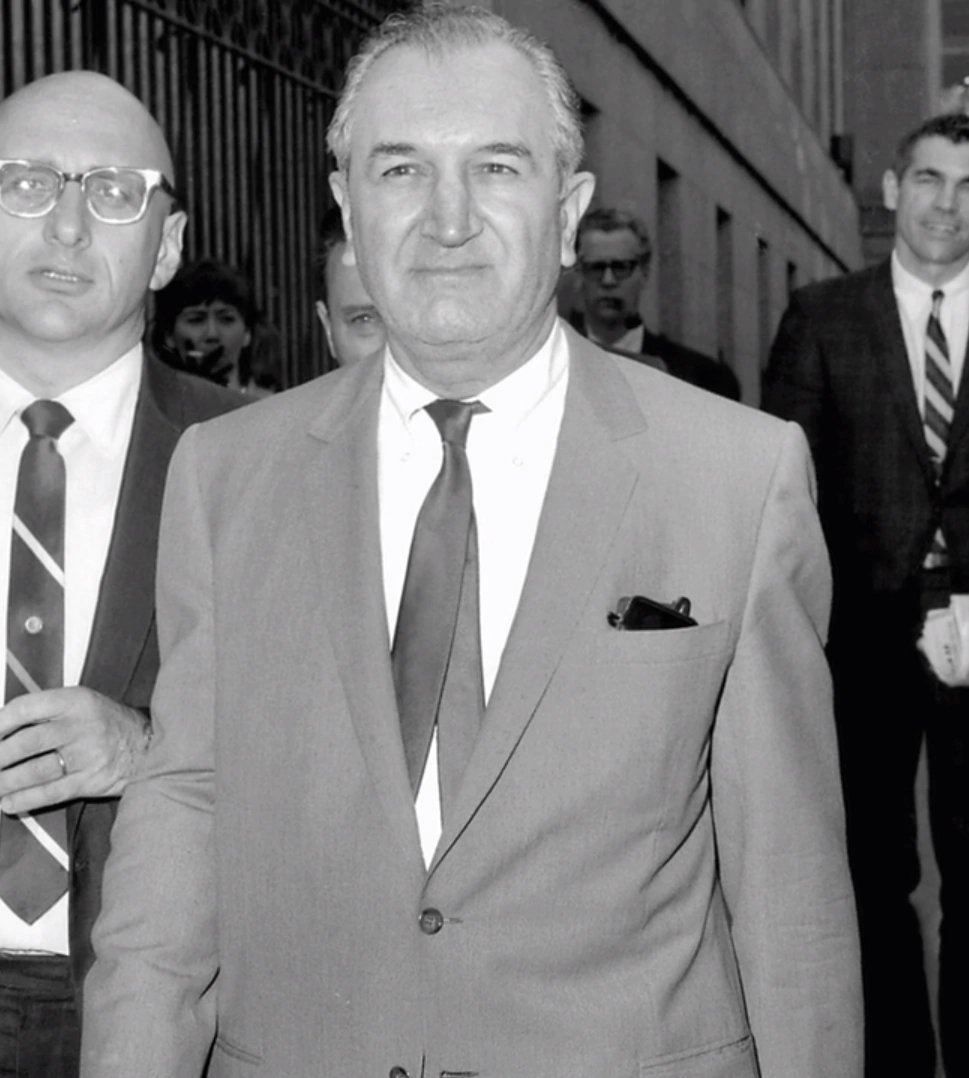 Joe Bonanno: Early Life
Joe Bonanno was born Giuseppe Carlo Bonanno on January 18, 1905, in Castellammare del Golfo in Sicily, Italy.
Giuseppe's father, Salvatore Bonanno, was a wealthy mafia boss who owned several vineyards, farmlands, and livestock in Sicily. He controlled jobs, settled disputes, influenced politicians and elections, and, when necessary, used violence to set things straight.
Salvatore was the descendant of Bonanno Pisano, a medieval architect who contributed to building the infamous Leaning Tower of Pisa.
Giuseppe's mother, Catherine, was from the Bonventre family in Sicily, a strong ally of the Bonanno clan.
In 1908, Salvatore brought his wife and only child, Giuseppe, to America. It was an adventurous experience for then three-year-old Giuseppe, who became fondly known as "Joe" by his classmates.
But in 1912, the Bonannos moved back to Sicily, much to Joe's disappointment.
At the age of 11, Joe Bonanno's idyllic childhood was shattered. His father died of a heart attack, and five years after his father's death, his mother, Catherine, also died.
Being his parent's only child, he inherited his family fortune as a teenager. So when he was 17, he decided to move from his hometown of Castellammare del Golfo to Palermo, the capital city of Sicily.
Joe had the ambition of attending college and becoming a naval officer in the Italian marine. At this time, Palermo was a strong base for the Fascist ideology propounded by Benito Mussolini. Joe Bonano formed a radical student organization that denounced Fascism, and the Naval academy found out and suspended Bonanno.
Later, as fascist police started clamping down on Sicilians, Joe fled to America.
Joe Bonanno: The American Gangster
In December 1924, Joe Bonanno arrived in New York in the middle of Prohibition. Gangsters all over America were making a fortune illegally selling alcohol.
A bootlegger's life was one of adventure for a young man who had just arrived in America, and it was an easy way to make a lot of cash. Joe had an uncle in New York who wanted to train him to become a barber, and though he worked there for some time, he soon realized that it was a lot more profitable and fun to be a gangster than to be a barber.
Joe established residence in a Brooklyn neighborhood populated by fellow immigrants from his hometown of Castellammare del Golfo, including one of his idols from the old country, Salvatore Maranzano.
Salvatore was a man that had garnered a lot of respect in the underworld of New York. Maranzano was charismatic and ambitious, a bit of a reader for a gangster, as he was a lover of books and even spoke some Latin. Joe Bonanno adored him, and he became something of a substitute father for Joe.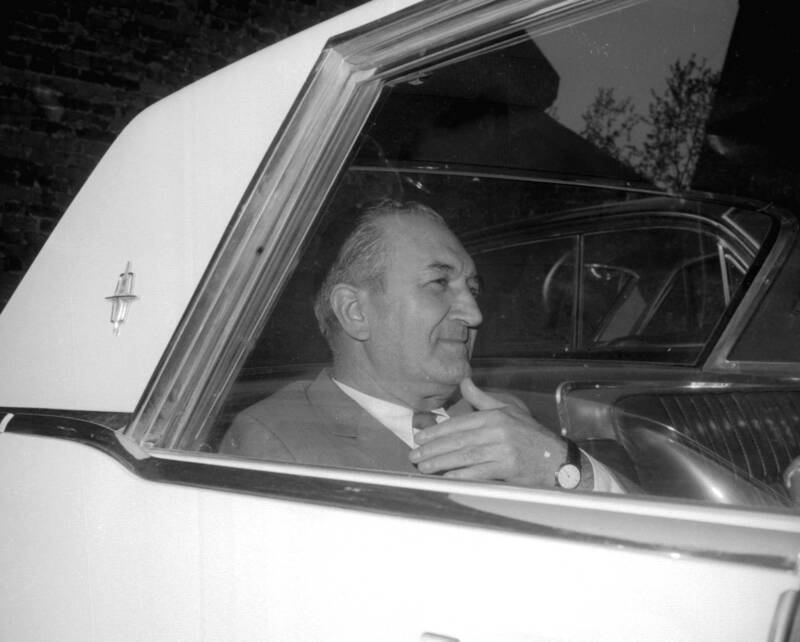 Maranzano quickly recognized Joe's talent and put him in charge of his flourishing bootlegging operations. Joe handled the business well and promptly developed a reputation for being a tough and smart young Mafiosi who also had the qualities of a leader.
By 1930, Joe had established himself as Maranzano's chief lieutenant and most important aide. Salvatore even proposed that Joe marry his daughter, but Joe was already in love with a quiet and reserved seamstress named Fay Labruzzo.
At the age of 25, Joe's charisma and wits had made him a very successful bootlegger and a name to reckon with in the New York underworld. But Joe had not been tested in an actual gang war.
Bonanno got his chance in the Castellammarese War, which saw the Italian-American mafia groups in New York erupt in street warfare.
The Castellammarese War
The Castellammarese war was an old Sicilian feud that reignited in the streets of New York.
Joe's mentor, Salvatore Maranzano, was involved in a serious dispute with Joe "The Boss" Masseria, who was at the time the most powerful organized crime figure in all of New York.
The power-hungry Joe Masseria felt that the other factions of the Castellammarese were becoming too independent and sought to seize total control of operations.
As the war raged on, Masseria's aide-de-camp and Joe Bonanno's main rival, Charles "Lucky" Luciano, made an unprecedented decision. He masterminded the assassination of his boss, Joe Masseria, to arrive at a consensus with Joe's boss, Salvatore Maranzano.
After the assassination of Joe Masseria, Salvatore Maranzano began proposing a syndicate of mafia families with him as the head. Luciano and the other leaders started to realize that they had replaced one desperate power monger with another and had Maranzano assassinated.
With Maranzano dead, Joe Bonanno decided to come to a peace agreement with Lucky Luciano rather than avenging his boss.
This peace agreement had a massive dividend for Joe Bonanno because it delivered the mafia gang that had belonged to Maranzano to Joe Bonanno. Thus, at age 26, Joe Bonanno suddenly became a mafia boss.
Joe Bonanno: Rise of a Godfather
Bonanno joined Luciano in creating 'The Commission, a council of mafia bosses that could maintain peace amongst the families. It was a governing body based on consensus rather than the autocratic capo di tutti i capi system.
The Commission comprised bosses of the Five Families of the New York mafia and the heads of the Chicago Outfit and Buffalo crime family.
Joe Bonanno was the youngest of the bosses of the five families. Although young and lacking practical experience, Bonanno was powerful, fearless, ruthless, and kept his men in line.
As Head of the Bonanno Family, Joe Bonanno's code of conduct emphasized traditional Sicilian values based on blood ties, respect, and loyalty.
Joe liked to think of himself as a family man and ruled his mafia family like a father figure. He wasn't a particularly bloodthirsty mafia boss, but he still commanded fear and respect. He also proved to be a symbol of peace when he successfully brokered peace between two warring factions of the New York mafia; he called it the "Pax Bonanno."
The Bonanno family was involved in numerous illegal activities, including gambling, loan sharking, and drug trafficking, with which they made millions and millions of dollars.
Joe was, however, also involved in legitimate businesses like a ladies-coat manufacturing company and a cheese factory. Even though Joe Bonanno was one of the most powerful and influential Mafia bosses in the United States during the mid-20th century, he still kept a low profile. He was careful in avoiding law enforcement agencies.
Wedding Inspiration for the God Father
In 1931, with the Castellammarese war behind him, Joe married the love of his life, Fay Labruzzo. Joe and Fay had a son in November 1932. They named him Salvatore after his grandfather.
Joe Bonanno had close relations with Joe Profasi, a fellow founding member of the commission who was the head of the Profasi family, now known as the Colombo Family of New York City. The ties between the two families were cemented when Joe's son Salvatore Bonanno married Joe Profasi's niece Rosaline Profaci in 1956, uniting two of the most powerful mafia families in America.
The wedding was a huge and memorable affair that would later be the inspiration for the famous wedding scene in the award-winning epic gangster movie of 1976, The Godfather.
The guest list featured all the top guns of the American Mafia, along with over 3000 guests and cash gifts amounting to about $100,000, which would be valued at over a million dollars today.
For three long decades, Joe Bonano's authority in the underworld went unchallenged until the "Bananas War," a power struggle within the Mafia in the 1960s and 1970s that saw his authority undermined.
In the wake of the chaos and unprecedented publicity brought on by the Bananas War, Joe left New York, with his wife and youngest son, for his second home in Arizona. The mob boss tried to preserve family traditions by leaving his son Salvatore "Bill" Bonanno as his consigliere while he was gone.
Joe Bonanno: A Man of Honor
In 1983, Joe Bonanno, now 78 years old, did something no godfather had ever done. He published his memoirs about his life as a godfather titled A man of honor. Joe felt that the current crop of Mafiosos had lost its way and forsaken traditional values.
After A Man of Honor was published, Rudolf Giuliani, a US attorney on a crusade against the Mafia, traveled to Bonanno's home in Tucson, Arizona, to ask questions about the Mafia. But Joe refused to speak to him.
Joe served eight months in prison in 1983 for obstruction of justice. In 1985, Joe was held in contempt of court and was sent to jail for another 14 months. Still, Joe refused to snitch on his fellow mobsters.
After his release from prison, he lived quietly in his home in Tucson, Arizona, until his passing in 2002 at 97. The Bonanno crime family continued to thrive and remains active to this day, although it is not as powerful as it once was.