Between 1900 and 1903, jockey James Winkfield rode in four consecutive Kentucky Derbies. He finished third, first, first, and second. In 1901 alone, he won somewhere between 160 and 220 races (depending on the source).
But despite his extraordinary, natural talent as a jockey, Winkfield received little recognition from within or without the horse-racing community. Racial segregation, (the "Jim Crow" era), was very much alive in America.
This may well have influenced the decision that got him blackballed from professional horse racing in the US. He accepted $3,000 to ride for an owner after agreeing to ride for another. This effectively ruined his professional standing.
This decision should have marked the end of his horse-racing career, but it didn't. Not by a proverbial long shot.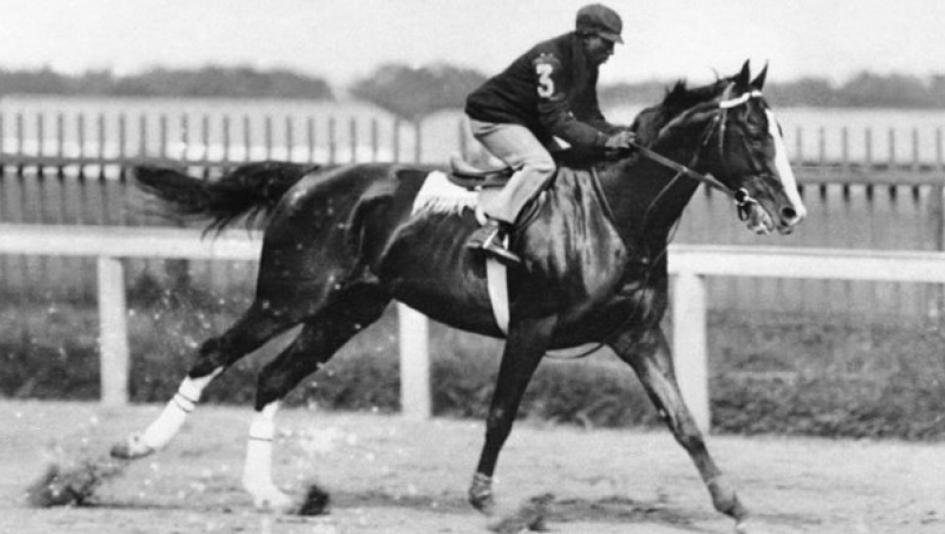 Kentucky Roots
James "Jimmy" (also "Wink") Winkfield was born in the African-American community of Chilesburg, Kentucky on April 12, 1882, to sharecroppers George and Victoria Winkfield. They were tenant farmers who forfeited part of their crop in exchange for a plot of land. George descended from slaves, and he served in the Union Army during the Civil War.
Like most Blacks of this time and place, few formal records were kept regarding Winkfield's early years. But he is believed to have been the youngest of 17 children, whose daily routine on the farm included helping his father work the fields and oversee the landowner's thoroughbred horses.
After the death of his parents, Winkfield moved to Lexington, Kentucky. He lived with a sister near the Kentucky Racing Association and Race Track.
Winkfield later recalled riding horses bareback by age 7. He became a stable boy at Latonia Race Course in northern Kentucky (six miles south of Cincinnati, Ohio) by age 15, and worked as a carriage driver by age 16.
On his days off, Winkfield frequently visited Latonia to watch the thoroughbreds run.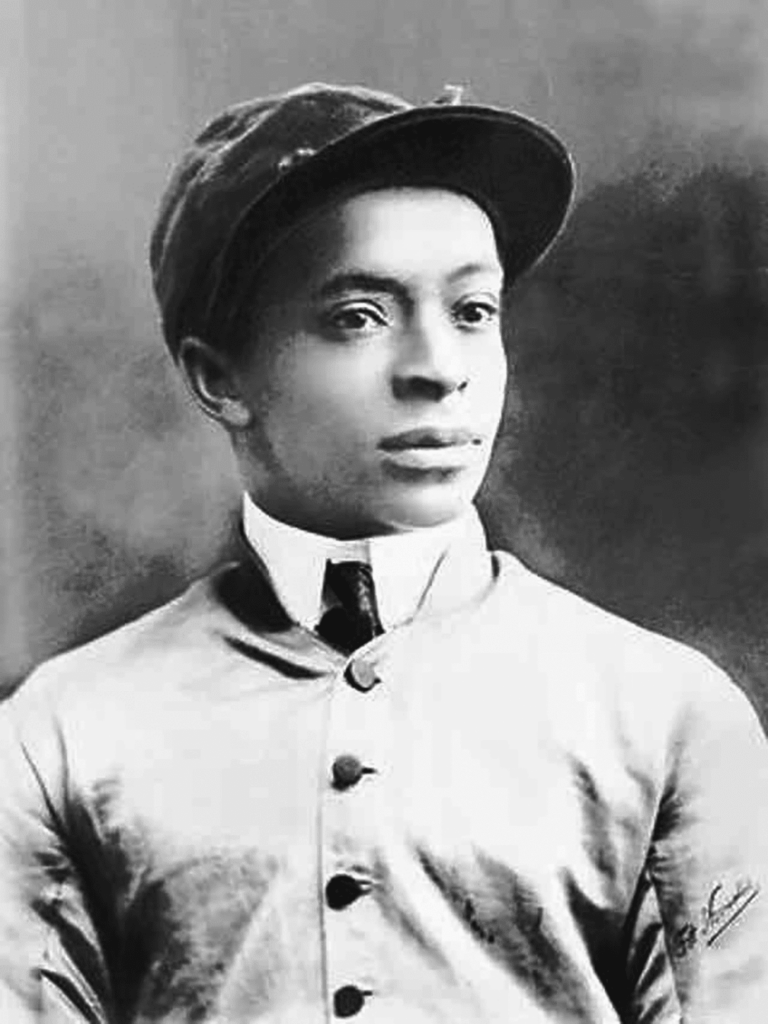 Chicago, Illinois
In the spring of 1898, the 16-year-old Winkfield rode in his first official race. He rode "Jockey Joe" at Chicago's Hawthorne Racetrack. 
Straight out of the gate, however, Winfield drove his horse across the path of the three inside horses in an effort to get the rail position. This caused a four-horse collision. This reckless act earned him a one-year suspension for aggressive behavior and poor sportsmanship.
Despite his humiliating loss, his enthusiasm caught the attention of the horse-racing community. This included horse trader Colonel Phil Chinn. He saw Winkfield as an undeniable talent, and later said, "He was a natural from the start. He just sat up there like a piece of gold."
When the year passed, owners William H. and Bud May decided to give Winkfield another professional shot. They put him on "Avenstock" for the September 13, 1899 race at Harlem Race Track in Harlem, Chicago.
The 17-year-old finished in first place. Now established as a successful jockey, the May brothers signed Winkfield to a three-year riding contract.
The Kentucky Derby
In 1900, Winkfield rode in his first "Kentucky Derby." He placed third. His showing earned him another shot at the title the following year.
In 1901, Winkfield rode and won his first "Kentucky Derby" on a horse named "His Eminence." This was just a month after turning 19. He quickly gained a reputation as a cocky and fearless rider, and Winkfield was suddenly very much in demand.
Continuing his winning streak, Winkfield went on to win between 161 and 220 races that year (depending on the source). These included major upsets in several high-profile races like the "Latonia Derby" and "Tennessee Derby."
These wins were nothing short of spectacular by professional equestrian standards. And Winkfield returned to win the "Kentucky Derby" yet again in 1902. This time riding "Alan-a-Dale." (Back-to-back Derbies were only achieved by four jockeys in US history.)
In 1903, Winkfield narrowly missed a third consecutive Derby win, riding "Early," the odds-on favorite. Winkfield had maintained a 1 1/2-length lead for most of the race. He then eased up on the reins in the stretch and was subsequently beaten by just 3/4 of a length.
Winkfield called his error in strategy the worst of his career. (Had he won he would have been the first–and only person–to win three consecutive Derbies.)
But even before this strategic defeat, his extraordinary accomplishments up to that point didn't receive nearly the acknowledgment they should have and would have, had he been White–according to horse-racing historians. Thoroughbred racing (the owners, breeders, and track owners) was quickly evolving into an exclusively White, elitist gaming industry.
The Race That Tarnished His Reputation
In 1903, Winkfield was chosen to ride in the Belmont Futurity Stakes. This horse race carried the single largest purse in the U.S.
But rather than ride for the owner with whom he'd verbally contracted—millionaire breeder, John E. Madden–he essentially committed professional suicide. He accepted a $3,000 offer to ride for another owner instead.
Regardless of the outcome of the race, few owners would trust him. Especially none whose horses ran in major events.
Asia and Europe
In 1904, racial discrimination ran rampant across America. Winkfield left the US to accept a position with an American-owned stable operating in Poland and Russia.
In his very first season, Winkfield won the "Emperor's Purse" in Russia (which he won twice more), the "Tsarist Triple Crown" (the Moscow, St. Petersburg, and Warsaw Derbies), the "Russian Oaks" (which he won a total of five times), and the "Russian Derby" (which he won four times).
In 1904, Winkfield was named the Russian National Riding Champion.
Beginning in 1909, Winkfield rode in Austria and Germany for a Polish prince and a German baron (respectively). He won, among other titles, the 1909 "Grosser Preis von Baden" in Germany.
When he returned to Russia in 1913, Czar Nicholas awarded his success and dedication with a yearly compensation of 25,000 rubles plus 10% of all horse-riding prize money. At the peak of his Russian career, he was earning roughly 100,000 rubles (approx. $1300 US dollars today; nearly $50,000 in 1915 dollars) per year, and living in the lap of luxury.
Daring Escape to Poland
After the Bolshevik Revolution of 1917 in Russia (and subsequent assassination of Czar Nicholas), Winkfield relocated to Odessa, Russia, on the Black Sea. By 1919, however, the impact of the Russian Revolution reached Odessa when the Communist Party banned horse racing and all forms of gambling.
As a remedy, Winkfield, along with a Polish nobleman, led the southern Russian racing colony (which included 200 thoroughbred horses) on a daring and potentially hazardous escape to Poland.
France: Acquiring Celebrity Status
In 1920, at the behest of a wealthy Russian oil tycoon with ties to the horse-racing community, Winkfield relocated to Paris where he set out to reestablish his riding career.
He subsequently won the "Grand Prix de Deauville," the "Prix Eugène-Adam," and the "Prix du Président de la République" in short order. James Winkfield was now the most famous jockey in all of Europe and Asia and was treated as a celebrity.
Marriage, Family, and Retirement*
In 1922, Winkfield married an exiled Russian baroness named Lydie de Minkwitz. They bought a farm near Maisons-Laffitte, in the affluent outer suburbs of northwestern Paris. There he concentrated on breeding and training racehorses while continuing to win major events all over Europe.
Winkfield and Lydie had two children, Liliane (also Luiliane) and Robert. They eventually had one grandchild, Amy (who is believed to have become a veterinarian specializing in treating horses).
In 1930, at the age of 48, Winkfield retired from riding to focus his attention on breeding and training. At the time of retirement, Winkfield had won approximately 2600 races in the US, Russia, Germany, Austria, France, Italy, and Spain.
(*While it is generally believed that James Winkfield fathered three children by two wives, their names, birth dates, and other pertinent details vary greatly according to the source.)
The Coming of WWII
In 1939, the inevitability of war made it necessary for Winkfield to send his wife and daughter, Liliane, to Cincinnati, Ohio, to live with relatives. He and his son Robert stayed behind to oversee their stable.
By 1941, however, the Germans had occupied France and commandeered his estate. This left Winkfield no alternative but to abandon his farm and join his wife and daughter in America.
But like other African-American jockeys of the early 20th century, Winkfield and his accomplishments had been largely forgotten in the US. Though treated with great respect in Europe and Asia, segregation ruled American society—making him just another Black man.
This was a humbling experience for a man who'd achieved such fame and distinction abroad. He was reduced to a common stable hand in Ohio. He tended horses and mucked out stalls.
After the war, in the early 1950s, Winkfield returned to France with his wife and son (his daughter remaining in Cincinnati) to resume his training and breeding operation. When he returned, he discovered that in his absence, his name had lost much of its prestige. Just as it had in America.
The Kentucky Derby: One Last Hurrah
In the winter of 1960, Winkfield returned to the US to have a delicate operation performed. He stayed with his daughter and family in Cincinnati.
The following spring, at the age of 79, he decided to attend the "Kentucky Derby" one last time before returning to France; his second home.
As a prelude to the 1961 Derby, Sports Illustrated magazine invited Winkfield to attend the National Turf Writers Association dinner as their special guest at the Brown Hotel in downtown Louisville, Kentucky.
But when he arrived at the event, accompanied by his daughter, Liliane, management refused to allow them entrance through the front doors (Blacks could only use the service entrance). They had to wait until the magazine informed the management that Mr. Winkfield was an honored guest.
Days later, dressed in what commentators described as a "dapper pin-striped suit and sporty Fedora," Winkfield attended that year's "Kentucky Derby." This marked 60 years since his historic victories.
Returning to France
Upon returning to Maisons-Laffitte, Winkfield considered selling his estate and returning to the US. He wanted to live out his final years with his family but decided against it. (No reliable information regarding his son, Robert, is available.)
During his final days, Winkfield was forced to use two canes to get about. He was reportedly in constant pain, presumably from the many years of pushing his body to extremes.
James Winkfield died on his farm at Maisons-Laffitte on March 23, 1974, at nearly 92 years of age. He was buried in the town cemetery and was honored as a Frenchman of extraordinary accomplishment.
Accolades and Acknowledgments
In 2004, James Winkfield was inducted posthumously into the National Museum of Racing and Hall of Fame (following the induction of two far-less successful Black jockeys). The award was presented to his daughter, Liliane Winkfield (Casey).
In 2005, the "Jimmy Winkfield Stakes," an annual race first run at Aqueduct Racetrack in Queens, New York, was established in his honor.
Also in 2005, the US House of Representatives passed a resolution honoring Winkfield for his extraordinary achievements in horse racing.
References
Face2FaceAfrica.com., "James Winkfield: The last African-American jockey to win Kentucky Derbies back-to-back," James Winkfield: The last African-American jockey to win Kentucky Derbies back-to-back – Face2Face Africa
SamePassage.org., "James Winkfield," James Winkfield / SamePassage
Britannica.org., "James Winkfield, American Jockey," James Winkfield | American jockey | Britannica
BlackPast.org., "Jimmy Winkfield," Jimmy Winkfield (1882-1974) • (blackpast.org)
AmericaBestRacing.org., "The Epic Journey of James 'Wink' Winkfield," The Epic Journey of James 'Wink' Winkfield | America's Best Racing (americasbestracing.net)
Keeneland Library, "Kentucky Association Race Track," https://keenelandlibrary.omeka.net/exhibits/show/keenelandphototreasures/tracksgallery/kentuckyassociation
AfricanAmericanHorseStories.org., "Jimmy Winkfield," https://africanamericanhorsestories.org/research/people/jimmy-winkfield
CourierJournal.com., "The story of great African-American jockey," https://www.courier-journal.com/story/entertainment/events/kentucky-derby/2016/04/28/story-great-african-american-jockey/83496352/