Last updated on March 8th, 2023 at 05:41 am
Weddings are almost incomplete without the bride adorned in a beautiful wedding dress. The groom, family, friends, and guests look forward to being wowed by the appearance and style of the bride's dress.
The wedding dresses often take center stage in the ceremony and serve as a memory for years. Hence, many brides spend tons of money and time looking for the perfect wedding dress.
There are many colors to choose from when picking the preferred color for a wedding dress. However, almost every bride dreams of walking down the aisle in a flowing white wedding dress. White symbolizes purity, chastity, innocence, and virtue for many brides. While others follow the traditional norm of wearing white as a color of perfection for their special day.
White wedding dresses will always be a staple in today's bridal fashion. Yet, while we celebrate the importance of this special dress, not many know the history of wedding dresses.
If you are one of those who are unaware of this all-important history, you are about to gain some knowledge. Keep reading to learn about the history of the white wedding dress and why it became so popular.
Brides Did Not Always Wear White
In the medieval era, most marriages were contracted for reasons other than love. Some couples were joined together in matrimony to bind families and foster relationships for business purposes or political ambitions. Arranged marriages were the norm, particularly for those of noble blood and high social standing.
Thus, a bride was expected to dress in a manner that befitted her wealth and social status, as she wasn't only representing herself. They were free to wear their best dress regardless of color.
Many chose vibrant, rich colors, expensive furs, silks, and velvets, sparing no expense. Also, the size of the material in the wedding dress reflected the bride's social status.
For example, the longer the train and more elaborate the sleeves were, the richer the bride's family was perceived to be.
The average bride did not necessarily have to buy a new dress but wore the finest she owned. As a result, even brides considered the poorest wore their best church dress on their wedding day.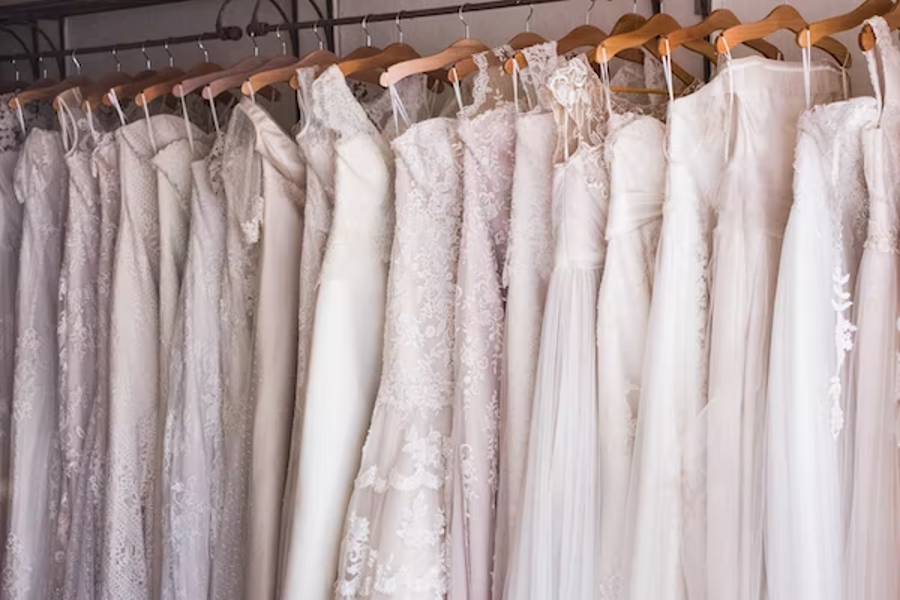 The History of the White Wedding Dress
It was not common for women to wear a white wedding dress, as many associated it with mourning. Many preferred luxurious fabrics in red, blue, gold, or other bright colors, heavily decorated with jewels, lace, frills, etc. However, there were a few exceptions.
The first recorded princess to wear a white wedding dress was Phillipa of England, daughter of King Henry IV. She married Eric of Pomerania in the year 1406.
On her royal wedding day, she was adorned in a tunic with a cloak of white silk. The white silk was bordered with squirrel fur and ermine.
Mary, Queen of Scots, also wore a white wedding dress when she married her first husband, Francis, the Dauphine of France, in 1559. She chose white because it was her favorite color, even though white was then the color for mourning for French queens. Even then, white wedding dresses were not a widespread trend.
However, white wedding dress history would not be complete without Queen Victoria. Queen Victoria made the western fashion trend of white wedding dresses popular in 1840. This was after her wedding to Prince Albert of Saxe-Coburg and Gotha.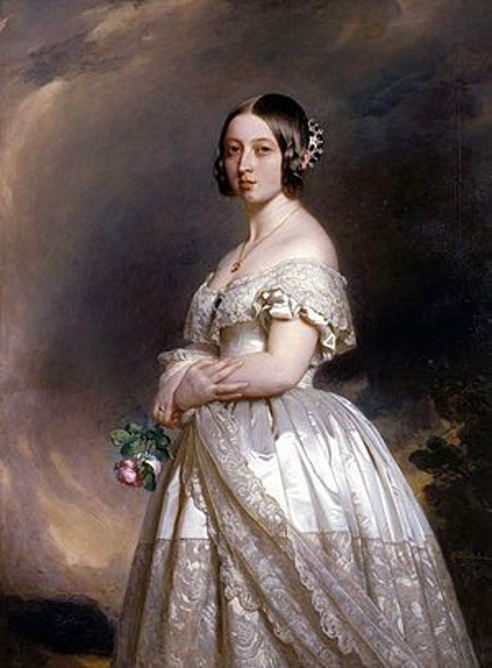 Royal brides before Queen Victoria wore red brocaded gowns with white and silver threads. But she stunned the world in the Royal Chapel of St James's Palace in London by wearing a white gown trimmed with Honiton lace accents.
Since white wasn't the ideal choice for elite brides, Queen Victoria's dress surprised many. However, the color white reflected her innocence, purity, and faithfulness.
Not only was the illustration of the dress largely published, but the dress also became a standard for stylish elite brides in the Victorian era.
By 1849, women's magazines claimed that white was the best and most appropriate choice for a wedding dress. As a result, the white wedding dress became a popular symbol that embodies innocence, purity, and the bride's virginity.
As such, white became the staple for weddings, with many brides — royals, elites, and common folks — choosing it as their preferred color. However, many bridal dresses were centered according to the couple's religion, culture, and society.
For example, the wedding Saris for brides in the Indian culture was mostly in the traditional red color, signifying good luck. Likewise, traditional Japanese brides wore different colored kimonos on their wedding day, mostly red for good luck.
Regardless, most western wedding dresses today are usually in white. Much so that it has become customary not to wear white to a wedding ceremony except you are the bride.
Also, the white wedding dress has become extravagant in style and design. Many feature lace details, frills, sequins, and elaborate ornaments.
Introducing this traditional wedding dress color has brought great importance to the wedding ceremony. So it's only right to say that Queen Victoria set this fashional trend for others to follow.
The Current Trend of Wedding Dresses
Modern-day brides are more daring regarding their wedding dress colors and style. For many women, their wedding dress is a statement piece that makes their day special.
They can choose their ideal dress regardless of color, style, fabric, or design. So whether custom-made, rented, or passed-down, today's bride aims to stand out as she walks down the aisle.
Traditional white wedding dresses are still a preferred choice for many in 2022. But still, not all brides follow the traditional trend of white wedding dresses.
There are many shades of white to choose from, ranging from cream, ivory, Ecru, blush pink, etc. However, white and cream remain the prevalent color.
The white wedding dress no longer represents affluence, royalty, wealth, or virginity like in the past. Instead, it's more attributed to the bride's style and preference. Now that you know the history of the white wedding dress, you can decide your preferred color and style.