The Empire State Building, located at West 34th Street, Manhattan, New York, is one of New Yorks's and even the world's most recognized landmarks.
However, while it is known for its record-breaking height of 1,454 feet (443.2m) tall, including its antenna, the building is also famous for its dark and wild history. From accidental plane crashes to successful and failed suicide attempts, this building has a lot of unexpected tragedies.
Also, if this renowned building could speak, it probably would have complained about the rate at which people attempted to jump off her. Unfortunately, because of the building's iconic status, it is a popular location for suicidal attempts.
Records of Suicide Attempts at the Empire State Building
Since the Empire State Building was constructed on March 17th, 1930, at least 36 people have died jumping off the 102-story skyscraper. 
The first recorded incident occurred on April 7th, 1931, before the completion of the building. This sad event was by a construction worker who was laid off during the building project.
He threw himself down an open elevator shaft. Sadly, this was only the first of many suicide attempts at the building.
One of the most famous suicidal incidents in this building was that of 23-year-old Evelyn McHale, whose 1947 plunge off the building resulted in the photo of the "world's most beautiful suicide."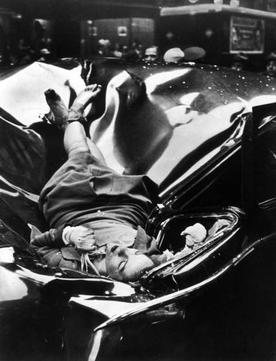 From the 86th-floor observation deck, the beautiful young woman adorned in petals and gloves leaped to her death, landing on top of a United Nations limousine parked at the curb.
With legs elegantly crossing her ankles, one would think she was only sleeping. Yet, surprisingly her body remained intact while the car's damaged metal folded around her like sheets framing her body.
A photography student snapped a picture of the McHales 1947 jump, which gained notoriety after appearing in Time Magazine and other publications.
While there were many successful suicidal attempts, there were two cases where jumpers miraculously survived. However, they only fell a few floors down. This was the case of a 29-year-old single mother, Elvita Adams.
The Survival of Elvita Adams: Luck or Miracle?
Elvita Adams was an ordinary black woman who came very close to her death after she jumped from the Empire State Building's 86th floor in 1879. Yet, miraculously she survived the fall.
The 86th floor is home to the famous observation deck where tourists go to admire New York.
It was reported that the Bronx resident was going through a depressing moment in her life as she lost her job, was on the verge of losing her home, and was living off $100 welfare checks that were insufficient to cater to her son and pay her rent. So life was extremely difficult for her and her son.
On December 2nd, 1979, driven by depression, Elvita Adam arrived at the Empire State Building to end everything. The depressed woman went to the 86th floor, climbed over the fence surrounding the platform, and then jumped.
But, unlike the many who jumped off the building and died, she had luck and nature on her side. Upon her fall, she landed instead on a ledge of the 85th floor.
Her suicide attempt was interrupted by the intense gust of wind that blew her body back to the 85th floor, leaving her alive with a mere broken hip. Reportedly, her groan from pain led Frank Clark, a police guard, to arrive at the floor's window. He found her lying on the skyscraper's ledge and pulled her in.

According to New York Times, four guards normally patrol the observation deck, which is surrounded by an eight-foot fence spiked with iron. This led to the swift response that contributed to saving her life. 
Elvita Adams couldn't understand what saved her from death or anyone else that night.
The Empire State Building staff theorized that the wind may have saved her. Although wind isn't typically miraculous, the gust swept Elvita Adam's body backward down one floor.
Elvita Adams was admitted to the Bellvue Hospital. She was in severe pain as she dealt with a fractured pelvis or hips. She was later put under psychiatric watch after her treatment.
At the hospital, Elvita Adams claimed she had traveled from the Bronx to Manhattan just to look at the city lights that were so pretty. Instead, she said she only wanted to reach out to touch them when she fell.
Although the police admitted they did not see when the woman jumped, they considered the incident an attempted suicide.
Regardless, recounting the many falls that had taken place at the building, it is safe to say that Elvita Adam's survival was more of a miracle than a coincidence.
Elvita Adams became the first to survive a fall from the Empire State Building. Her story has left many astonished as to how such a miracle managed to take place.
Where Is Elvita Adams Now?
Not much is known about Elvita Adams today. Following her close call with death on that fateful day, Elvita Adams lived her life in privacy, making it difficult for the media to keep track of her.
However, some claim she became a comedian in New York. In 2011, a one-woman play by Ashley Llyod Smith titled "I've Been Elvita Adams" was produced.
Hence, the speculation that Elvita Adams had adopted standup comedy as a profession. But we can't say for sure. Elvita Adams should be around 73 years old if she is still alive.
Additionally, one would think that her story would end these suicidal attempts at the Empire State Building.
Unfortunately, on April 25th, 2013, a man fell from the 86th-floor observation deck, but he landed alive on an 85th-floor ledge with only minor injuries. Security guards brought him inside, and the paramedics transferred him to a hospital for psychiatric evaluation.