The so-called "Summer of Love" took place in San Francisco, California in 1967.
It turned the San Francisco Bay area into a tourist destination for the curious and thrill-seeking; those wanting to witness the "Hippie" phenomenon for themselves. The newspapers made it sound like the media event of the year.
On February 6, 1967, Newsweek printed a four-page, four-color spread titled, "Dropouts on a Mission." On March 17, Time published, "Love on Haight" (a reference to the now-famous Haight-Ashbury District). Then on June 6, Newsweek hit the newsstands with, "The Hippies are Coming!"
Soon, the Hippie convergence in the city became not just a media spectacle, but a phenomenon some likened to a religious pilgrimage. Numbers eventually reached an estimated 100,000 kids, drug dealers, tourists, journalists, the homeless, and the purely inquisitive wanting to bear witness.
But for those curious enough to venture outside the "Haight," some found themselves confronted by an entirely different kind of spectacle. A pitch-black Victorian house standing in stark contrast to all the other houses around it. The house was used by Anton LaVey as the headquarters of his "Church of Satan."
It was in this ominous house that LaVey conducted Satanic seminars and rituals. Including one of the most notorious: the Satanic baptism of his daughter Zeena Schreck in 1967.
LaVey is quoted by those who attended the baptism as reciting, "Hail Zeena! Hail Satan!" over the nude body of a woman serving as the "Satanic Altar."
LaVey's Early Life
Howard Stanton LaVey was born on April 11, 1930, in Chicago, Illinois. His parents, Michael Joseph LaVey and Gertrude Augusta (née Coultron) were natives of Georgia and Ukraine (Russian Empire), respectively. They immigrated to Ohio in 1893.
Shortly after Howard was born, the couple relocated to San Francisco. This is where LaVey's father worked in real estate and sold auto parts, while his mother Gertrude was a homemaker.
By all indications, LaVey's childhood was rather unremarkable. Aside from developing an interest in playing the accordion, the organ (which he is said to have played in a Baptist church), and the oboe (which he played in the school band), few activities interested him.
By age 16, he knew traditional school was not for him and planned to quit to join the circus.
LaVey dropped out of Tamalpais High School in Mill Valley. He ran away and joined the Clyde Beatty Circus. Then later, he worked for various carnivals. First as a roustabout, then as a musician playing the calliope.
LaVey would later write that his experience working carnivals and tent-show revivals taught him more about human nature than anything else in his life:
"On Saturday night I would see men lusting after half-naked girls dancing at the carnival, and on Sunday morning . . . I would see these same men sitting in the pews with their wives and children, asking God to forgive them of carnal desires. And the next Saturday night they'd be back at the carnival or some other place of indulgence. I knew then that the Christian Church thrives on hypocrisy, and that man's carnal nature will out!" 

—The Satanic Bible, Anton Szandor LaVey

Truth and Deception
Only after LaVey's death in 1997 did those who met him as a young man realize that much of what they thought they knew was an exaggeration or pure fabrication. While much of LaVey's life has been documented, an unknown portion was apparently manufactured by LaVey himself.
What is known for a fact is that at about the age of 20, LaVey returned to San Francisco. He claimed to have worked as a lion tamer with the circus, made a living as a professional organist (in bars, lounges, and nightclubs), worked as a psychic, and slept with Marilyn Monroe—among other outlandish claims.
His self-aggrandizement caught the attention of 15-year-old Carole Lansing, whom he married the following year. The couple had their first child in 1952, Karla LaVey.
To avoid the Korean War draft, LaVey enrolled as a student at City College of San Francisco, where he studied criminology. There's no record of him completing his degree.
Nonetheless, he claimed to have landed a job as a photographer for the San Francisco Police Department, where he said he worked for three years. He also dabbled as a "psychic investigator." (Again, there is no proof LaVey worked a day for the SFPD.)
In 1960, LaVey and his wife Carole divorced. LaVey quickly became involved with self-described sorceress Diane Hegarty. Though the two never married, Hegarty remained his companion for 24 years and gave birth to LaVey's second daughter, Zeena Galatea Schreck (LaVey) in 1963.
Hegarty would go on to co-found the "Church of Satan" with LaVey. Their daughter, Zeena Galatea, would grow up in the world of ritual, magic(k), and Satanism.
Inventing LaVeyan Satanism
During the early 1960s, LaVey began cultivating his interest in the occult—as well as his outward persona.
He dressed in black and drove a coroner's hearse around San Francisco. He not only drew attention, he became a local celebrity known for what he termed his "paranormal research."
Meanwhile, he and his wife Diane began formulating a new "religion" based on atheism, ancient occultism, and esotericism.
Capitalizing on his growing notoriety, LaVey began hosting get-togethers at his home. These eventually drew such notables as anthropologist Michael Harner, Chester A. Arthur III, (grandson of President Arthur), science-fiction magazine editor Forrest Ackerman, horror/sci-fi writer Fritz Leiber, and filmmaker Kenneth Anger.
Within a few years, these get-togethers evolved into weekly discussions on the occult and rituals. By this point, LaVey had built a large enough following to form a group he called, the "Order of the Trapezoid."
At one such meeting, it was mentioned that the group had effectively created a new religion.
The Church of Satan
According to LaVey, on April 30, 1966, on Walpurgisnacht (the eve of the Christian feast day of Saint Walpurga), he ritualistically shaved his head "in the tradition of ancient executioners." He declared the founding of the "Church of Satan."
He proclaimed 1966 "Year One: the first year of the Age of Satan (Anno Satanas). Soon after, he changed his name to Anton Szandor LaVey and christened himself the "High Priest" of his new church.
It was later revealed that LaVey had actually shaved his head because he'd lost a bet. And he had made up the "ancient executioners" explanation years later.
To legitimize his new "church" and "religion," LaVey began conducting religious ceremonies. Although he had no authority to do so.
On February 1, 1967, LaVey officiated the Satanic wedding of journalist John Raymond to New York socialite Judith Case. This received media coverage from both the LA Times and San Francisco Chronicle, who referred to him as "The Black Pope."
LaVey performed Satanic baptisms (including the first known Satanic baptism in history for his three-year-old daughter Zeena; dedicating her to Satan and the "Left-Hand Path"). For these, he garnered worldwide publicity. The ceremony was recorded and released as an LP, The Satanic Mass.
He also officiated over Satanic funerals (including one for naval Machinist-Repairman Third-Class Edward Olsen, complete with a chrome-helmeted honor guard). Now a master of PR, LaVey had the attention, and religious legitimacy, that he sought.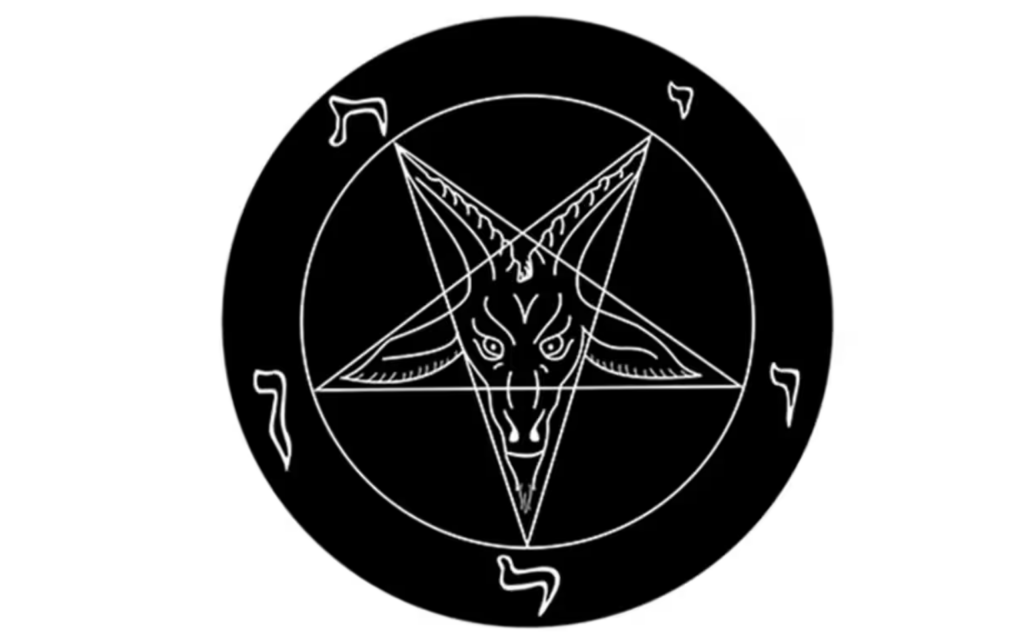 The Satanic Bible
In 1969, LaVey published The Satanic Bible. This was a collection of rituals, essays, and commentary, It was derived from the many evenings spent discussing the occult and other esoteric ideologies with the "Order of the Trapezoid" (though he alone is credited with writing the text).
The Bible is considered the foundation of LaVeyan Satanic philosophy and the primary text of LaVeyan Satanism.
The Satanic Bible is not considered "sacred scripture," the way the Christian Bible is regarded by Christians. But LaVeyan Satanists (there are other Satanic groups) nonetheless regard it as the authoritative text and have granted it scriptural status.
LaVeyan believers sometimes refer to themselves as "atheistic Satanists." This is because they believe that God and Satan are not external entities, but projections of an individual's personality.
They term them "benevolent and stabilizing forces in life." Thus the primary aim of the Bible is to promote the virtues of exploring one's own nature and instincts: essentially, finding one's own "inner Satan."
Divided into four primary sections (FIRE: the Book of Satan, AIR: the Book of Lucifer, EARTH: the Book of Belial, and WATER: Book of Leviathan), it is the NINE SATANIC STATEMENTS that perhaps best express the foundation of LaVeyan Satanism:
1. Satan represents indulgence, instead of abstinence!
2. Satan represents vital existence, instead of spiritual pipe dreams!
3. Satan represents undefiled wisdom, instead of hypocritical self-deceit!
4. Satan represents kindness to those who deserve it, instead of love wasted on ingrates!
5. Satan represents vengeance, instead of turning the other cheek!
6. Satan represents responsibility to the responsible, instead of concern for psychic
vampires!
7. Satan represents man as just another animal, sometimes better, more often worse than
those that walk on all-fours, who, because of his "divine spiritual and intellectual
development", has become the most vicious animal of all!
8. Satan represents all of the so-called sins, as they all lead to physical, mental, or
emotional gratification!
9. Satan has been the best friend the church has ever had, as he has kept it in business all these years!
It was these principles that adherents of LaVey's Church of Satan accepted as moral and religious truth.
Beyond The Satanic Bible
In the early 1970s, LaVey began melding other philosophical influences into the ideology and ritual practices of the Church of Satan.
This included German philosopher Friedrich Nietzsche, Russian-born writer/philosopher Ayn Rand, and the principles of Social Darwinism. The latter explored the biological relationship between natural selection and survival of the fittest.
He then wrote essays introducing reworked excerpts from Ragnar Redbeard's Might Is Right. This text advocates amorality, consequentialism, and psychological hedonism.
He also "Satanized" versions of 17th Century alchemist John Dee's Enochian Keys. This was an occult-constructed language said to have originated with the angels.
This resulted in two new books which dramatically changed LaVeyan Satanism: The Complete Witch and The Satanic Rituals. (Strangely, the latter book includes rituals derived from the work of fiction writer H. P. Lovecraft.)
Displeased with the unilateral doctrinal changes LaVey had instituted, in June of 1975, Michael Aquino, editor of the church's newsletter, resigned as one of the governors of the Church of Satan.
He then formed his own theistic (deity-based) group, the Temple of Set. He took an unknown number of previously-loyal dissenters with him.
Spinning Out of Control
In 1980, the FBI interviewed LaVey. This was because of a connection with an alleged plot to murder Senator Edward "Ted" Kennedy.
LaVey told agents that most of his church's followers were "fanatics, cultists, and weirdos." The agents reported that LaVey's "interest in the Church of Satan is strictly from a monetary point of view." They said that he spent "most of his time furnishing interviews, writing material, and lately has become interested in photography."
In July of 1984, Diane Hegarty had a restraining order issued against LaVey. Precisely why is unknown.
LaVey began his third and final relationship in the fall of 1984 with 23-year-old Blanche Barton (born Sharon Leigh Densley). On November 1, 1993, Barton gave birth to a son, Satan Xerxes Carnacki LaVey.
Death
On November 7, 1997, Karla LaVey held a press conference to announce the death of her father. Anton LaVey died on October 29 in St. Mary's Medical Center in San Francisco of pulmonary edema. (His death certificate, however, lists October 31, 1997, as the date of death.)
According to a family member, after LaVey's body was cremated, a secret Satanic funeral attended by invitation only was held in Colma, a small town in San Mateo County, California.
In late November of that year, "the church" announced that it would henceforth be run by two High Priestesses of joint rank. These would be Blanche Barton and LaVey's daughter, Karla LaVey.
Officially, Barton succeeded LaVey as the head of the church. But then in 2002, she relinquished that role to writer and church member Peter H. Gilmore.
Legacy
On February 2, 1998, LaVey's daughter Zeena Schreck and her husband Nikolas Schreck published a nine-page "fact sheet." In this, they claimed that many of LaVey's stories about his life had been fabricated.
Originally published in paperback by Avon in 1969, The Satanic Bible has had thirty printings. In 2015, William Morrow published a new hardcover edition of the book.
This combined the original text and The Satanic Rituals. It was marketed under a special arrangement by Rabid Crow Arts and Graphics. To date, the original Bible has sold over 1,000,000 copies.
In addition to The Satanic Bible, LaVey also published The Satanic Rituals (1972), The Satanic Witch (1989), The Devil's Notebook (1992), and Satan Speaks! (published after his death), and Letters From the Devil (also published after his death).
Today, there are dozens of off-shoots of the Church of Satan, with as many as 20,000 practicing LaVeyan Satanism. Although officially, the "church" no longer exists.
References
sfchronicle.com., "Tracing the Lineage of the Phrase 'Summer of Love,'" https://www.sfchronicle.com/music/article/Tracing-the-lineage-of-the-phrase-Summer-of-10987734.php
Britannica.com., "Anton LaVey," https://www.britannica.com/biography/Anton-LaVey
politico.com., "Satan, the FBI, the Mob—and the Forgotten Plot to Kill Ted Kennedy," https://www.politico.com/news/magazine/2020/01/12/fbi-satan-mobplot-kill-ted-kennedy-097180
archive.org., The Satanic Bible, https://archive.org/details/satanicbible00lave
sfgate.com., "Anton LaVey, Church of Satan founder," https://www.sfgate.com/news/article/Anton-LaVey-Church-of-Satan-founder-3309154.php
churchofsatan.com (website), https://www.churchofsatan.com/
Alfred, A. The Church of Satan. The New Religious Consciousness. Berkeley.
Washingtonpost.com., "ANTON S. LAVEY DIES AT 67," https://www.washingtonpost.com/archive/local/1997/11/09/anton-s-lavey-dies-at-67/c546b323-acb9-463e-ad96-7da298f9e4d8/