When people think of pirates, they immediately picture Captain Hook or Jack Sparrow. The image of a woman doesn't naturally come to mind.
However, Anne Bonny defied gender norms by becoming a woman pirate in the 18th century.
Who Is Anne Bonny?
Even if they're women, pirates aren't known as upstanding citizens. So it's no surprise that there are no definite records of their existence. Historians believe Anne was born in the late 1690s in Ireland.
Reports reveal that Anne was the illegitimate daughter of lawyer William Cormac and house servant Mary Brennan. While Cormac's wife got sick and had to be cared for in her mother's house, Cormac and Brennan started an affair.
The infidelity was later discovered and Cormac separated from his wife. He then started living with Brennan and Anne as a family. Cormac presented Anne as his legitimate daughter but society didn't readily accept her. Cormac lost clients because of the affair. He then took his illegitimate family to Charles Towne (now Charleston), South Carolina.
Unfortunately, Anne's mother died when her daughter was barely in her teens.
Romantic Liaisons
It was customary for fathers to give away their daughters' hand in marriage. In the olden days, fathers were also responsible for choosing their daughters' husbands, not just giving their blessing for the engagement.
Cormac betrothed Anne to a man from South Carolina when she was of age. But Anne was anything but conventional and she said no. She was considered a good catch because Cormac had properties.
Instead, Anne married a small-time sailor and pirate named James Bonny (John Bonny in some records) sometime between 1714 and 1718. James thought he would have control over Cormac's estate but Anne had been disowned. Cormac didn't approve of a small-time pirate marrying his daughter, illegitimate or not.
The Bonnys moved to Nassau on New Providence Island in the Bahamas. The area is known as a sanctuary for English pirates and was often called the Republic of Pirates. 
However, the adventure Anne thought she'd have with James didn't materialize. James had become an informant for Woodes Rogers, a privateer and sea captain who became the first governor of the Bahamas.
Anne didn't like the fact that James became a snitch for his fellow pirates and she hated Rogers with a passion. It was then that Anne found comfort in John "Calico Jack" Rackham, one of the most famous pirates during the Golden Age of Piracy (1620-1726). He was also credited for creating the common pirate flag that consisted of a skull and crossbones on a black cloth.
Anne and Rackham became lovers. In 1720, the informant's wife became Calico Jack's lover and a pirate in her own right. Rackham offered to pay James to divorce Anne, a practice that was quite common at that time. But James refused.
That didn't stop Anne from having adventures with Rackham and his crew on the stolen sloop called William.
The Adventures of Anne Bonny, the Pirate
It was unusual for Anne to be on the ship as it was considered bad luck to have women onboard. It didn't help that Anne joined not long after Rackham's piracy ended.
It was a common superstition around that time that the sea gods would get angry when a woman was onboard a boat. The gods would cause violent storms and strong winds to spite vessels that carried women.
For those who are more logically inclined, the presence of a woman in an all-male boat would be a distraction. It could also be dangerous for the lone woman. 
But Rackham wasn't worried about Anne because the crew heard stories of Anne beating an attempted rapist so badly that he ended up in the hospital. Rackham thought Anne could hold her own with the crew.
Rackham also brought onboard another famous female pirate: Mary Read. However, Rackham brought her in as Mark Read, not knowing that she was a woman.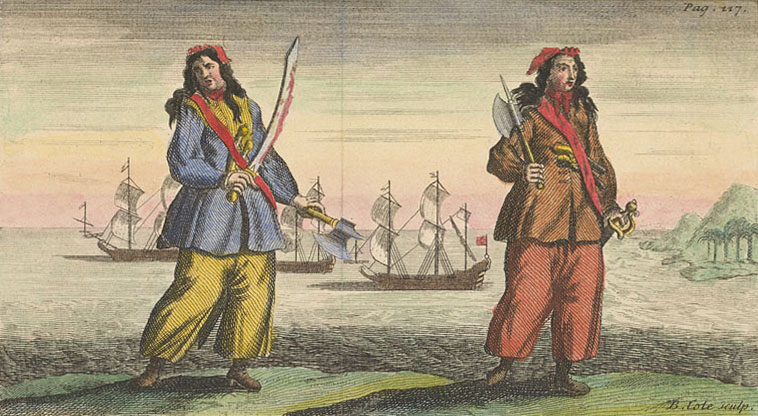 Since it wasn't common for women to be pirates, Anne would often dress as a man when they were raiding ships. She didn't hide her identity or gender onboard their pirate ship.
Read, for her part, had an alter ego, Mark Read. Some reports claim that Anne was attracted to Mark so Mary had to reveal her true identity to Anne. To assuage Rackham's jealousy, Anne also revealed Read's true identity to her lover.
Rackham, Anne, and the crew pirated merchant vessels along the coast of Jamaica.
The End of Anne's Pirate Life
One day in October 1720, presumably after a successful pillaging, the William crew drank to their hearts' content. It was the perfect time for Jamaican governor Nicholas Lawes to order an attack on the crew because Rackham and his band of pirates put up little resistance to the arrest.
The crew was sentenced to death by hanging. Anne and Read pleaded and asked for mercy because they were both pregnant. Anne was carrying Rackham's baby. The plea was granted.
Anne was given a chance to say goodbye to Rackham. Instead of crying and sharing kisses like most women would, Anne was hard on Rackham. She reportedly said: "Had you fought like a man, you need not have been hanged like a dog."
Anne and Read were given a temporary stay of execution until they gave birth. Read died from a fever in prison in 1721.
But little is known of what happened to Anne. In the book General History of the Robberies & Murders of the Most Notorious Pirates, Captain Charles Johnson wrote of Anne: "She was continued in Prison, to the Time of her lying in, and afterward reprieved from Time to Time; but what is become of her since we cannot tell; only this we know, that she was not executed."
What Happened to Anne Bonny?
Nobody knows for certain what happened to Anne. Many accounts say that Cormac used his wealth and influence to get her out of prison and take her back to Charles Town.
She reportedly gave birth to Rackham's baby and lived the remainder of her life in South Carolina. Anne reportedly died on April 25, 1782.