Last updated on January 27th, 2023 at 08:00 pm
Vincent Gigante, also known as "The Chin" or "The Oddfather," was arguably one of the most powerful crime bosses in American crime history. His reign was highlighted by guile and ruthlessness. 
By day he appeared to be an unassuming and unkempt elderly man shuffling around the streets of New York's Little Italy in a bathrobe and slippers.
In reality, he was a powerful mob boss, the head of one of the city's most notorious crime families. He was a master of deception, using his disheveled appearance and eccentric behavior to obscure his true identity as the head of the Genovese crime family.
Vincent Gigante's journey is unforgettable, from his humble beginnings in the Lower East Side of New York to his rise to power in the mafia.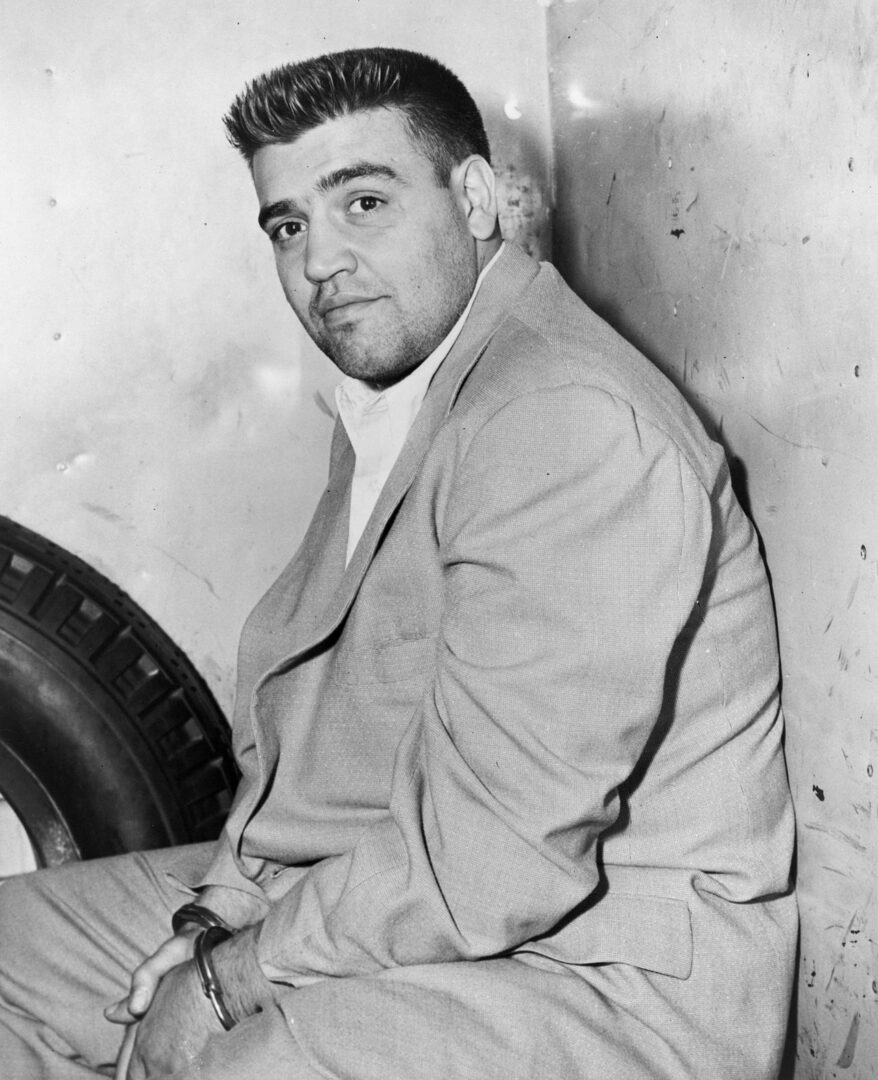 Early Life And Criminal Career
Vincent Gigante was born in 1928 in the Lower East Side of New York. His father, Salvatore Gigante, and mother, Yolanda Gigante, were Italian immigrants. He was the youngest of five children and grew up in a poor but close-knit family.
Gigante's father was a laborer, and the family lived in a tenement building. Despite their poverty, Gigante's father, like your typical Italian father at the time, instilled the value of hard work and the importance of education in all his sons, Vincent included.
Gigante attended Catholic school and was a good student. However, he had a rebellious streak and often got into trouble.
Eventually, Gigante quit high school when he turned 16 to start a career as a boxer.
Between 1944 and 1947, Gigante competed as a professional light heavyweight boxer under the moniker "The Chin." His mother's thick Italian accent pronouncing his name — as in Chinzenzo — gave him the nickname "The Chin."
Despite his short career, he was able to make something for himself winning 21 of 25 matches. But, in the end, his battles away from the spotlight eventually became his legacy.
Gigante and Vito Genovese
Young Gigante became involved with Vito Genovese, a reputable mafia boss, and later became the latter's protégée. Genovese won the youngster's love when he paid for a medical procedure for his mother.
Gigante soon began to hang out with street gangs and got involved in illegal activities, including robberies and break-ins.
From the long streak of petty and ruthless crimes committed, it was apparent he was passionate about his mob apprenticeship. By 25, Gigante had already stacked up no less than seven arrests. Somehow, he managed to avoid facing serious charges during this period.
Come his late 20s, Gigante was no longer a foot soldier. Instead, he had amassed enough notoriety to earn himself a place as an enforcer in the family. His criminal career was on the up and up. 
Costello Murder Attempt
Despite carrying the surname of Vito Genovese, the Genovese crime family wasn't founded by him. Instead, the criminal outfit was built by Charles "Lucky" Luciano.
Before Luciano could fully reap the fruits of his labor, he ran out of luck and was charged with 62 charges of compulsory prostitution. After his release, he was deported to Italy.
With Luciano unable to run point properly from across the world in Italy, he had to appoint a new boss of the family. One would think he'd naturally pick Genovese as his replacement due to their history. However, to Genovese's and everyone's dismay, Luciano appointed Frank Costello as the boss.
Genovese might have been loyal, but loyalty only goes so far for an ambitious man. And as you can imagine, he was livid at Luciano's decision to pass over him.
Genovese would not take this lying down. He decided to eliminate Costello. Even though it would take almost ten years, he decided to eliminate Costello and commissioned Gigante for the hit. 
On April 7th, 1957, Frank Costello was the victim of a near-fatal shooting in Manhattan. Costello was leaving the lobby of the apartment building when two men emerged from a nearby staircase and opened fire. 
Costello was hit with three .32 caliber bullets, one of which lodged in his scalp. Miraculously, he survived and was released from the hospital only days later. 
When police interrogated Costello about his assailants, he insisted he never saw the would-be assassins and even denied hearing the gunfire.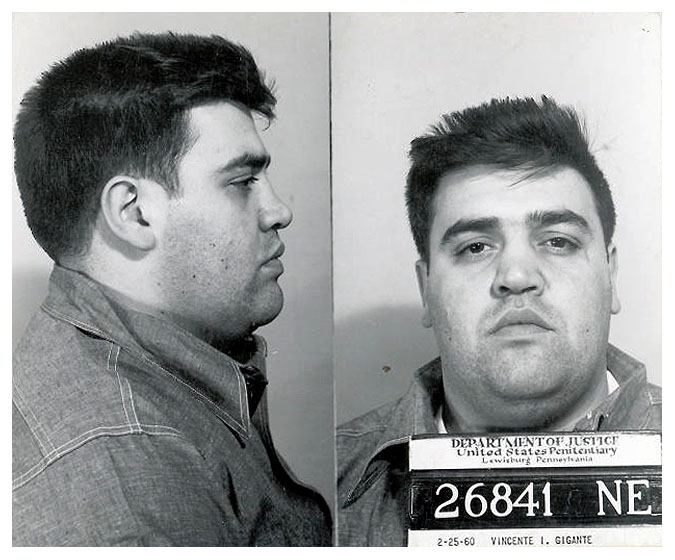 The doorman, however, proved to be more helpful with the investigation. He was able to provide a detailed description of one of the assailants.
Sixty-six investigators from the NYPD were assigned to the investigation. A few days later, the doorman picked out Gigante in a line-up, confirming the detectives' initial suspicion.
The charges were eventually dropped due to a lack of evidence. However, the incident was enough to force Costello into retirement. He was never seen in public again and died of natural causes in 1973.
Following his acquittal, Gigante thanked Costello for his loyalty. Costello got the message and retired shortly after, making Genovese the unquestioned head of the family.
Vincent Gigante — "The Oddfather"
Despite avoiding incarceration two years prior in 1957, Gigante and his mentor, Genevese, were later convicted in 1959. Both men were arraigned on counts of heroin peddling and sentenced to serve seven and fourteen years in prison.
Five years after his incarceration, Gigante got out on parole. His mentor, however, wasn't as lucky as he would pass on in prison in 1969.
In the meantime, Gigante's criminal career kept progressing. In the years after he got out, he was promoted from a foot soldier to a capo or captain. 
The promotion, however, wasn't all good news to Gigante. His position as a capo now meant he had been bumped higher on law enforcement's priority list — he had now become a bigger fish in a smaller pond. 
Aware of all these, Gigante began to hatch an elaborate plan to get the cops off his back so he could perform his duties in the family without any hassle. 
1969 was when it all began, the same year Genovese passed away in prison. Law enforcement secured an arrest warrant that indicted Gigante in a bribery conspiracy where police officers from the police precinct in Old Tappan tipped him off in exchange for regular payoffs.
Gigante went above and beyond to avoid prosecution with his plan to fake mental illness and insanity.
Overnight, Gigante became a person with a mental health condition suffering from paranoid schizophrenia. Gigante was very thorough with his ruse. His lawyers could present an official diagnosis from practicing psychiatrists at the court, which was enough for the judge to deem him unfit for trial. He was subsequently cleared of all allegations.
Going Above and Beyond
According to mafia informants, Vincent had championed a peaceful transition into power after the early retirement of Philip Lombardo, the previous family head.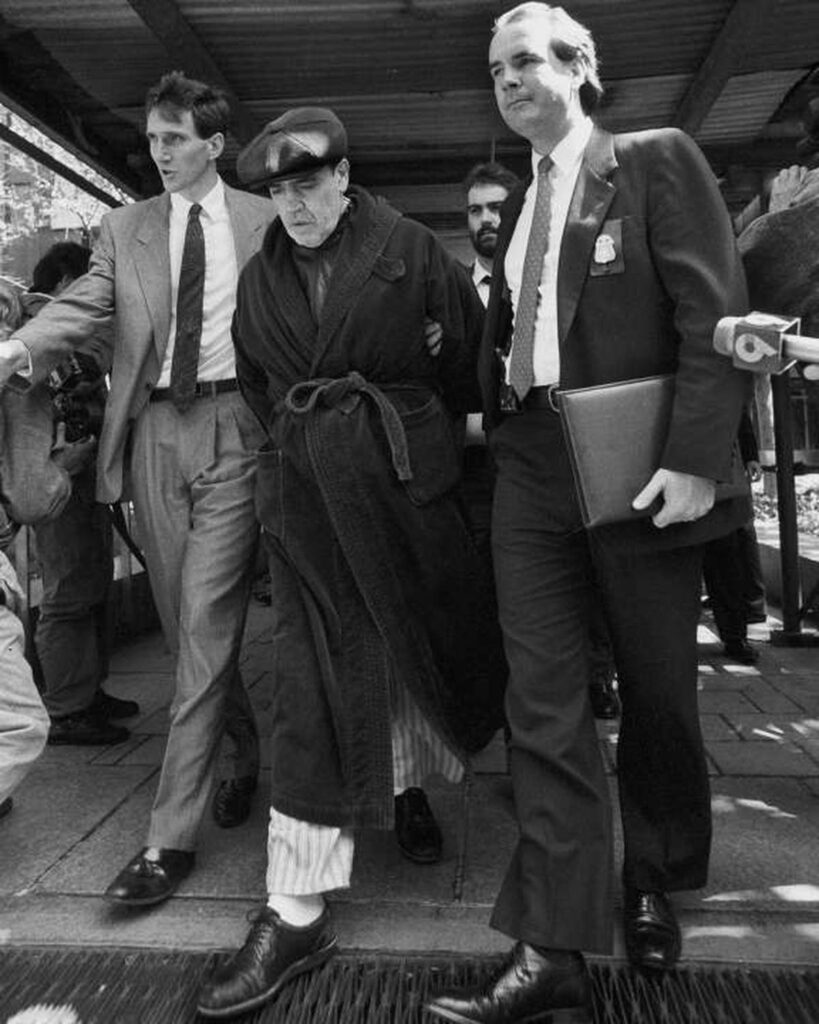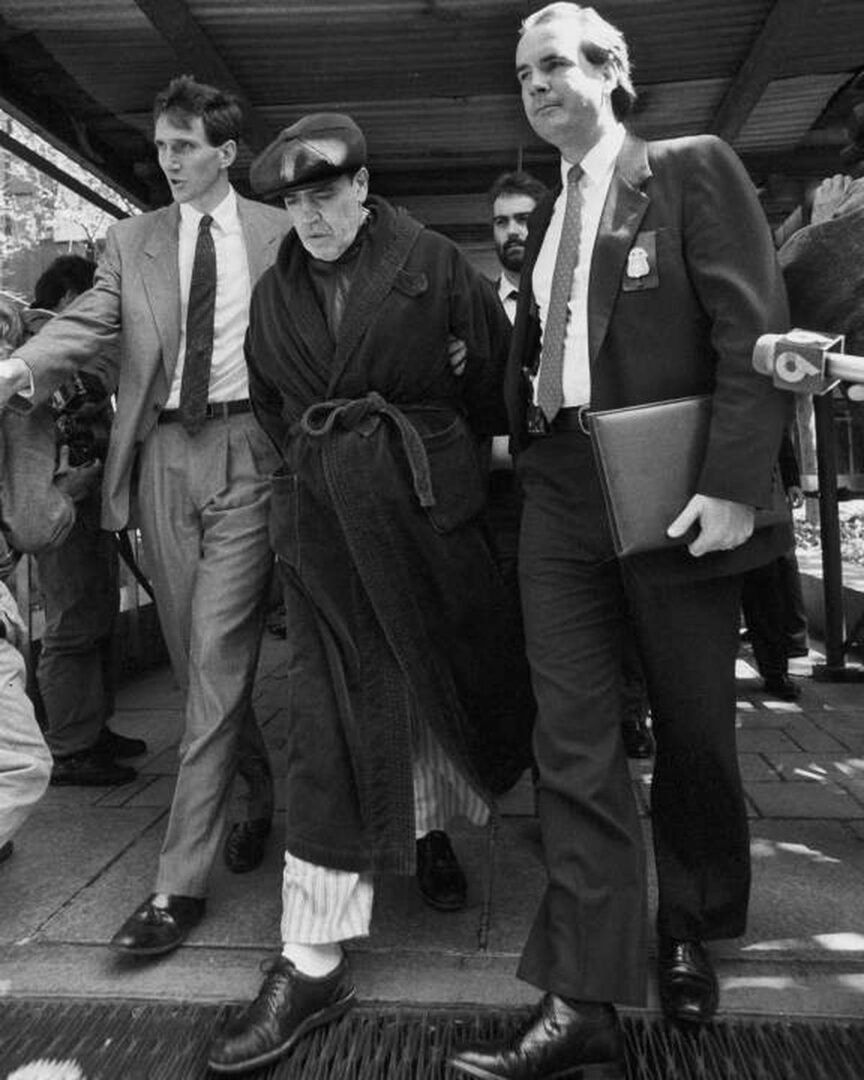 As soon as he took the reins of power, Gigante beefed up internal security procedures. If someone needed to refer to him, they were to mention his name under no circumstance. They could either form a "C" using hand signs or squeeze their chin. 
All of a sudden, he became invisible in the mafia world. Law enforcement couldn't get any dirt on him when they never heard his name.
Gigante didn't stop at that. He also upped his public display of health issues. He walked the streets of his neighborhood, Greenwich Village, half naked in only a bathrobe and nightgown, conversed one-sidedly with stationary objects and even started peeing publicly. His infamous nickname — the Oddfather — originated from his overarching antics back then.
Gigante's family heavily underscored the hoax that would go on for decades to come, especially with Gigante's younger brother, Louis, who was also a Catholic priest, staunchly backing his story. Priest Louis swore that Gigante had used multiple medications to cure his crippling ailments since 1968.
Gigante was genuinely committed to his act. Between 1969 and 1995, he was committed to different psychiatric hospitals on no less than twenty-four instances. He didn't even have to forge psychiatric reports. The many doctors and nurses that attended to him through these years were more than enough alibi for him.
In the meantime, Gigante was busy expanding the Genovese crime family behind the scenes while he played dumb with law enforcement. Before long, the Genovese crime family had grown into one of the country's largest Mafia organizations. Gigante broadened the family's operations in loan sharking, extortion, bookmaking, and bid-rigging for infrastructure projects in New York City.
At its peak, the Genovese criminal organization, under Gigante's direction, made almost $100 million annually.
Things Fall Apart
In 1990 when he and 14 other defendants were indicted on federal charges in Brooklyn for a bid-rigging scheme, Vincent Gigante's elaborate act of insanity was put to the ultimate test.
Four of the five New York crime families, including the Genovese family, had manipulated bids for 75% of the $191 million in window contracts that the New York City Housing Authority granted between 1978 and 1990.
Following these accusations, Gigante was indicted in 1993 on suspicion of conspiring to murder several mob figures and three further counts of a murder conspiracy. One of which was commissioned a mob hit on John Gotti, the Gambino family patriarch.
For years during these trials, Gigante's attorneys offered fabricated proof of his ineptitude. The charade went on for years, with one insanity hearing after another derailing the trial. Finally, after a back-and-forth that lasted for half a decade, the presiding judge eventually ruled against Gigante's insanity plea.
In July 1997, the court served Vincent Gigante with a 12-year prison term after the jury found him guilty of racketeering and conspiracy to murder.
Gigante allegedly managed the Genovese family while he was incarcerated up until 2003.
In an exciting turn of events, Gigante eventually, after more than four decades of pretense, admitted to fabricating his mental illness. This happened when he was presented with a plea deal to reduce his sentence. In the end, It didn't matter.
Gigante died in 2005 while still serving his time. He passed away at the age of 77, leaving a powerful legacy that will forever be remembered in the history of organized crime.
In Pop Culture
As you've learned, Vincent Gigante was a notorious and enigmatic figure in American organized crime known for his eccentric behavior and style. Through the years, his eccentricity and formidability have been featured in several films, television shows, and other media.
In the popular HBO series The Sopranos, Gigante is referenced several times and is seen as a powerful and feared mob boss.
In Martin Scorsese's hit movie Goodfellas, Gigante is portrayed by actor Frank Vincent, who provides an unforgettable performance. Finally, in the popular Netflix series Ozark, Gigante is mentioned as a powerful and feared mob boss in the first season.
Gigante's influence has also been featured in music, including the popular rap song "Gigante" by the Wu-Tang Clan. He is also mentioned in the song "Ain't No Love" by the Notorious BIG.
Vincent Gigante's influence on pop culture is undeniable. His mysterious and intimidating persona has been featured in some of the most famous works of popular culture. His legacy as one of the most powerful mob bosses in American history will live on for years.