Many known Tim Allen from the Santa Claus movies and as the voice of Buzz Lightyear in the Toy Story films. But did you know that he had a dark past? Allen was once arrested for carrying over a pound of cocaine in his bag.
His mugshot continues to hound him to this day, even when he has vowed to forget his past. The good thing is most people don't even know about his drug arrest, as his success in Hollywood has since overshadowed it.
And while this article may be new information to many, it holds an important lesson that people can change for the better.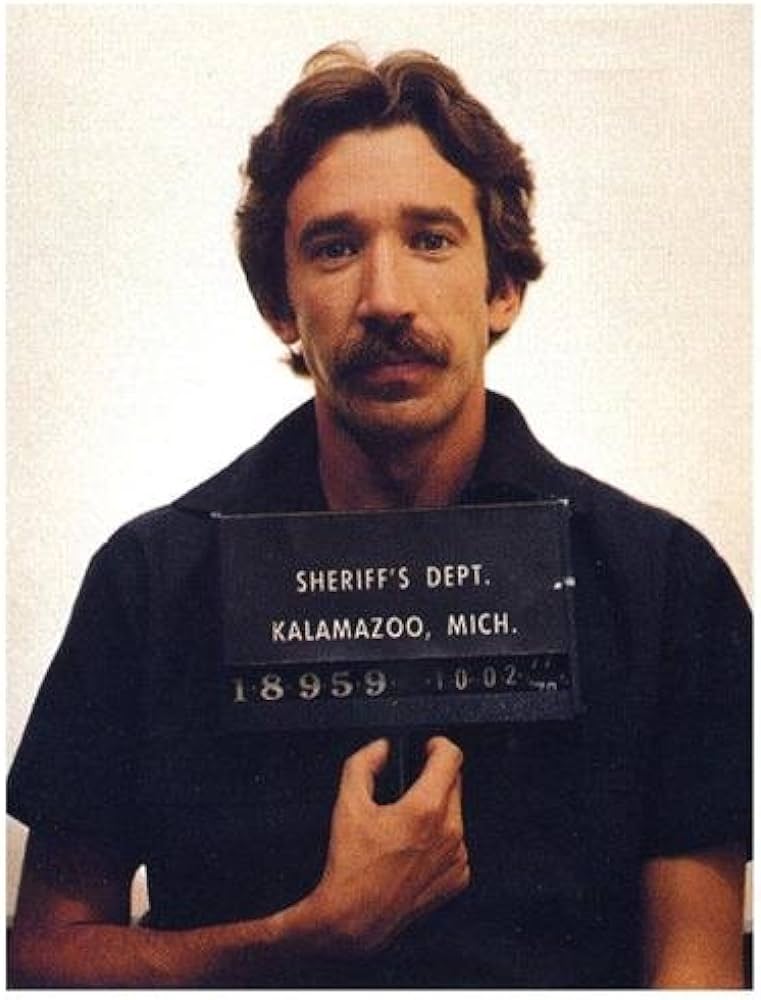 The Early Years
Allen was born Timothy Alan Dick on June 13, 1953, in Denver, Colorado. He was the third of six children born to real estate agent Gerald M. Dick and community service worker Martha Katherine Dick.
Unfortunately, his father died when Allen was only 11 years old after a collision with a drunk driver.
"After my old man died, I really just played games with people and told adults what they want to hear and then stole their booze," Allen said in an interview on the podcast WTF With Marc Maron.
Allen's love for performing started in high school, where he was active in theater and music. He worked at a student radio station at Western Michigan University in college. He graduated in 1976 with a degree in communications, specializing in radio and television production. He had a minor in philosophy and design.
His major came in handy when he starred in one of his most famous roles, Tim Taylor, the witty and flippant patriarch in Home Improvement, which ran from 1991 to 1998. But before Allen became a major TV star, he had an addiction that was quite common among Hollywood celebrities.
It could have thwarted his career, but Hollywood loves second chances.
Allen's Drug Arrest
Allen always had a knack for making people laugh. One of his friends dared him to bring his comedic chops on stage. Allen debuted as a standup comic at Detroit's Comedy Castle in 1975, just a year shy of his graduation. His first few minutes bombed but it didn't take long before Allen found his footing as a comedian.
The comic's career began to blossom. After graduation, he worked at an advertising company during the day and did standup at night. His career was on the up and up but he was also forming bad habits.
In 1978, Allen was arrested at the Kalamazoo/Battle Creek International Airport in Michigan after he was found with more than a pound of cocaine in his luggage. He was 23 years old and it wasn't his only arrest.
He could have faced life imprisonment had he not pled guilty to felony drug trafficking charges. Allen also had to snitch to get a sentence of three to seven years in prison. Allen was behind bars for two years and four months.
According to reports, the arrest was due to a sting operation that had been going on for months. Allen wasn't just a user, he also dealt drugs. On October 2, 1978, he just happened to give a bag filled with cocaine to an undercover policeman.
After eight months in prison, Allen adapted to his new living situation. He learned a valuable lesson too which was to just shut up. "I just shut up and did what I was told. It was the first time ever I did what I was told and played the game. I learned literally how to live day by day. And I learned how to shut up. You definitely want to learn how to shut up," Allen said on the podcast.
Finally, Allen was released from prison in 1981.
A Second Chance
The Colorado native wasted no time in going back to his first love: standup comedy. He was a regular at The Comedy Store in West Hollywood, California.
In 1988, Allen made his film debut in a minor role as a baggage handler in the 1988 American drama Tropical Snow, starring David Carradine and Madeleine Stowe.
But it wasn't until 1991 that he became a household name as the star of Home Improvement which ran for eight seasons. The show also helped launch the careers of Patricia Richardson, Pamela Anderson, Jonathan Taylor Thomas, and Zachary Ty Bryan.
The series was one of the highest-rated sitcoms of the 1990s. It received plenty of nominations and awards. Allen received five Golden Globe nominations for his role as Tim Taylor and won an award. He also received one Emmy nomination.
His TV success opened more opportunities, including many successful films starting with The Santa Clause in 1994 which went on to have two sequels and a Disney series in 2022. Allen also voiced Buzz Lightyear in eight films and two TV specials.
Allen also filmed standup specials and authored two books, Don't Stand Too Close to a Naked Man and I'm Not Really Here.
Another Blip in a Successful Career
In the middle of his success as a film and TV actor, Allen got in trouble with authorities a second time. He was arrested for driving under the influence (DUI) on May 24, 1997, in Bloomfield Hills, Michigan. It was reportedly the last time he drank alcohol.
The Santa Claus actor was sentenced to one-year probation for the DUI and entered rehab as part of the court order.
Allen is married to actress Jane Hajduk, his co-star in Joe Somebody (2001), The Shaggy Dog (2006), and Zoom (2006). They have a daughter, Elizabeth, who was born in 2009. Allen also has an older daughter, Katherine, born in 1989, from his first wife and college sweetheart Laura Deibel.
Sometimes, the people who seem to be overflowing with happiness and have the capacity to make others laugh are those who hide dark secrets. Comedian Robin Williams battled mental health issues and ultimately died by suicide in 2014. Cris Farley of Saturday Night Live struggled with addiction throughout his career. He died of a drug overdose in 1997. Pete Davidson and John Mulaney have also been open about their addiction problems.
Like them, Allen struggled with his own inner demons. The price was a prison term of more than two years. Fortunately, he was able to turn his life around. His success has been so unequivocal that most people remember Allen for his talent, not his drug-addled days.