Last updated on January 31st, 2023 at 06:17 pm
Do you love Popeye the Sailor Man? If so, you're not alone; this iconic cartoon character has entertained people for generations. But you may not know that Popeye was based on a real person.
This article will discuss Popeye's history and his real-life inspirations. We will also explore his popularity and how he has become a pop culture icon.
So, sit back and enjoy learning about the fascinating story of Popeye the Sailor Man.
Who Created Popeye?
Popeye's creator, Elzie Crisler Segar, was born in Chester, Illinois, in 1894. Segar was a newspaper cartoonist who first introduced Popeye in his comic strip, "Thimble Theatre," in 1929. 
The character of Popeye was inspired by a real-life sailor named Frank "Rocky" Fiegel. Fiegel was a rough-and-tumble man whom E.C. knew from his hometown and who worked in a local saloon. 
Segar based the character of Popeye on Fiegel because he wanted his comic strip to be realistic.
In all honesty, Popeye wasn't supposed to be the main character, but he quickly became popular with readers. A "people pleaser" and a daydreamer at heart, E.C. pursued his lifelong dream of being a famous cartoonist and took a leap of faith. It's likely he didn't realize just how popular the sailor would become, yet he took the chance anyway.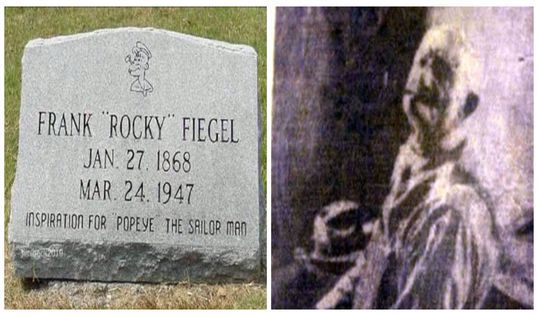 Frank "Rocky" Fiegel
Segar's comic strip was originally about a cast of characters, including Olive Oyl, Ham Gravy, and Castor Oyl. The Thimble Theatre was featured in the New York Journal on December 19, 1919. It wasn't an instant hit. 
Like many publications, it took years to build a steady following. E.C. took inspiration from people in his hometown and brought them to life in his comic strip. But it was Popeye who stole the show and captured people's hearts.
Frank Fiegel was born in 1868 and migrated from Poland, with his family, to America when he was young. When E.C. met Fiegel, he was a retired sailor contracted by the Wiebusch's Tavern in Chester, Illinois. His job was to clean the place and act as a bouncer.
As a result, he was always getting into fights. The punches he took resulted in a deformed eye, leading to people calling him "Popeye." He'd won so many fights that he became a local legend. 
And because he constantly smoked his pipe, he would speak out of one side of his mouth. So, Popeye's appearance didn't come from E.C.'s imagination either.
Fiegel often smoked like a chimney and wore striped sailor's t-shirts and his trademark cap daily. He also had a strong chin and thick, muscular arms. 
When he was with children, he held the pipe with the corner of his mouth and told them about foolish things he did when younger – often boasting of his physical strength and loudly claiming that spinach was what made him invincible.
Like all the other children, E.C. grew up listening to Frank's stories, turning them into elaborate adventures in his mind. E.C. said that Fiegel was known for fighting, but he was also known for playing with children and telling stories. 
Ultimately, Fiegel's gentler traits are what inspired E.C. to create his character in Thimble Theatre.
A Brief History of Popeye
Popeye first appeared in the comics on January 17, 1929, and spoke his famous first line, "'Ja think I'm a cowboy!?"
On August 27, Olive Oyl mistakenly kisses Popeye on the cheek, instantly winning over the sailor's heart and beginning their on-page love affair.
The character was an instant success and has appeared in comics, cartoons, movies, and TV shows ever since.
Over the years, Popeye and his adventures have undergone some changes, starting in 1933 when Bluto entered the picture as Popeye's nemesis and Olive's love interest.
On July 14, 1933, a Betty Boop cartoon titled Popeye the Sailor was produced by Fleischer Studios and distributed by Paramount Pictures.
William Costello initially voiced Popeye, but later, Jack Mercer took over. During his animated appearance, he also earned his own theme song. The show also coined one of Popeye's most famous lines, "I'm strong to da finish 'cause I eats my spinach."
Later that month, on July 24, Popeye finds Swee'Pea the "infink" on his doorstep and decides to adopt him.
Throughout the rest of 1933 and 1942, Popeye got a cartoon series produced by Fleischer Studios and distributed by Paramount Pictures. He became one of the most popular cartoons from the 1930s to the 1960s.
He even had short 15-minute episodes on the radio. Then, in 1942, Popeye received his first color adaptation from Famous Studios. From then on, Popeye would influence young generations worldwide.
The character would achieve TV syndications and magazines and be featured in art. In 1980, a live-action film was released with Robin Williams as Popeye and Shelley Duvall as Olive Oyl.
Popeye would also be commemorated on an official stamp from the U.S. Postal Service in its "American Comic Classics" collection around 1995. Later, in 1998, Hanna-Barbera ran a new series starring the sailor.
How Did Popeye Become So Popular?
Generations of children have watched Popeye the Sailor Man cartoons and read the comics, but how did this lovable character become so popular in the first place?
Frank Fiegel had the tough guy persona and often tackled terrific feats and succeeded – just like Popeye does in the cartoons. 
In addition, Fiegel's stories about his younger years and physical strength inspired E.C. to create Popeye as a tough guy who consistently beats the odds – primarily because he eats spinach.
Of course, there are other reasons for Popeye's popularity. For one, he's relatable. Many people see a bit of themselves in Popeye – whether it's his determination, sense of humor, or love for Olive Oyl.
In addition, Popeye is always ready for a fight, and people admire that about him. He's also unafraid to stand up for himself and those he loves, which is another quality many people want to have.
Ultimately, it was FIegel's gentler traits that inspired Popeye the most. He may be tough on the outside, but he's a big softie on the inside. He loves children and always has time for a good story. 
These qualities have made Popeye the lovable character we all know and love today. But no matter how the story has changed, one thing has remained the same: Popeye is still the little guy who always manages to come out on top, which is something we can all root for.