Richard Kuklinski was an American criminal known as the Iceman, an apt nickname for the cold-blooded murderer he was. Though he was convicted of four out of five counts of murder, he claimed to have killed between 100 and 200 men for which authorities couldn't find proof.
Many also dismissed Richard's claims because he was often seen as fanciful. He even said that he was one of four men who had been responsible for the disappearance of Jimmy Hoffa, a labor union leader.
Richard said the team kidnapped and murdered Hoffa in 1975. Authorities eventually declared Hoffa dead but they called Richard's claim a hoax.
One thing is for certain, Richard had a temper. Half the time his family dealt with "Bad Richie," a violent husband and father. But if they were lucky, they also experienced time with "Good Richie," a hard-working patriarch and affectionate husband and father.
Unfortunately for five people—or maybe more—they met the Iceman.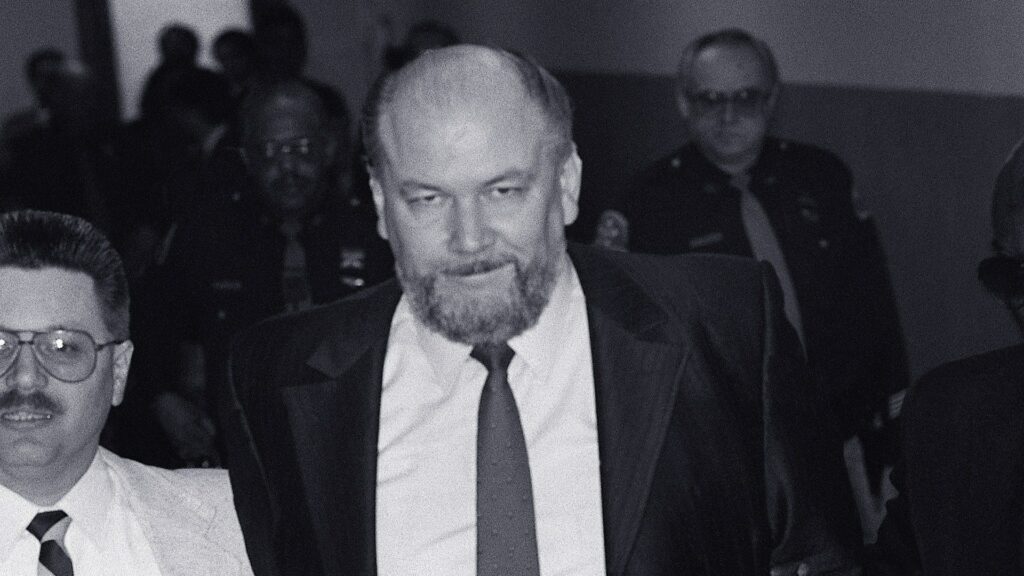 Like Father, Like Sons
Richard was born on April 11, 1935, in Jersey City, New Jersey to Polish immigrant Stanley Kuklinski and Irish-American Anna Cecilia McNally. He was the second of four children.
He claimed to have a difficult childhood with an abusive mother and father. Richard had a younger brother, Joseph Kuklinski, who was convicted of raping and murdering 12-year-old Pamela Dial.
One day in 1970, Joseph lured Pamela to the roof of a five-story building by stealing her dog and making her believe that he saved her pet. After raping and murdering Pamela, Joseph threw her body and the dog from the roof. The dog survived and alerted people in the vicinity of the crime.
When Richard was asked about Joseph's crimes, the Iceman reportedly replied: "We come from the same father."
Stanley was reportedly a raging alcoholic who often beat his children and sometimes his wife Anna Cecilia. But Richard said alcohol was not the trigger for Stanley's violent nature. In a documentary interview, Richard said this about Stanley: "To Stanley, it doesn't matter if he was drinking or not. He was a nasty son of a b***h until the day he died."
The Kuklinski patriarch left a mark on his kids, literally. But it was the eldest of the Kuklinski children who got the worst of it. Florian Kuklinski was only seven years old when he died due to extensive beatings from his father.
However, the Kuklinski couple hid the real cause of death from the authorities. They claimed that Florian fell down a flight of stairs.
Richard inherited his rage from his father. However, what was different about him was that he didn't physically abuse his children. "There is nothing I wouldn't do for my children. Nothing. I'd kill everybody in this room," Richard said in the same interview.
He had five children from two marriages. He first married Linda and had two sons with her, Richard Jr. and David. He cheated on Linda with Barbara Pedrici whom he married after divorcing Linda. They had three children together, daughters Merrick and Christin, and son Dwayne.
Richard may not have laid a hand on his children but he was still emotionally abusive because of his rage. The wives were a different story. He once stabbed Barbara in the back because she confessed that she wanted to see other people.
Barbara said that Richard was a good provider. She never asked where Richard got his money. She only knew him as a wholesale distributor. She feared that if she asked Richard why they had more money than they should based on his profession, the Iceman might throw a tantrum and become violent.
The Beginnings of a Murderous Existence
According to Murderpedia, Richard's first kill was when he was just 13 years old. He beat to death his bully, Charley Lane, a leader of a small gang of teenagers.
Richard claimed that he had been badly beaten by Lane and his gang, so when he was well enough, he found a piece of wood and beat the gang leader until his last breath. Richard dumped Lane's body off a bridge in South Jersey, never to be found.
It wasn't enough of a revenge as Richard sought out the other members of the gang with a metal pole. Many of them were beaten within an inch of their lives. It was then that Richard discovered the power of violence. He said it was better to give than to receive.
People weren't the only victims of his wrath. Richard said he tortured and killed cats and dogs too.
Richard's motivation for killing people changed when he was older and had started a family. He then started killing people for money. 
George Malliband
In the 1960s, Richard worked at a film laboratory. As a side hustle, he would make bootleg copies of Disney films and pornography and sell them to people.
In 1980, he met George William Malliband Jr. because of his videotape business. Richard shot Malliband five times, stole his $27,000, and stuffed his body inside a barrel.
Louis Masgay
Richard met Louis Magsay for another videotape deal in 1981, the last time the latter was seen alive. Masgay reportedly had $95,000 during his death.
His body was found 15 months later with ice crystals in his body's tissues that indicated the body was frozen before being dumped. It was then that Richard got his moniker, the Iceman.
Paul Hoffman
By the 1980s, Richard was wearing many hats. He had a video piracy business and a robbery gang, while also selling drugs and working as a hitman for several crime families.
Paul Hoffman was a pharmacist who wanted to resell Richard's supply of Tagamet. They met in 1982. But Richard beat him to death with a tire iron and got Hoffman's $25,000, which was supposed to be his Tagamet payment.
Gary Smith
Gary Smith and Daniel Deppner were Richard's cohorts in the burglary business. As the gang was under investigation by the police, Richard and Deppner suspected that Smith wanted to become an informant. Before he could talk to the authorities, Richard and Deppner fed Smith a cyanide-laced hamburger while Smith was strangled. 
Daniel Deppner
Richard also used cyanide to kill Deppner and then strangled him after. Deppner's body was dumped in the woods but was found in 1983 surrounded by vultures.
The Iceman was charged with the murder of Malliband, Masgay, Hoffman, Smith, and Deppner. In 1988, Richard was found guilty of killing Smith and Deppner but jurors didn't think he was a cold-blooded murderer who deserved the death penalty.
He was sentenced to 60 years in prison instead. Richard pleaded guilty to killing Malliband and Masgay and was sentenced to two life imprisonments.
Since he was already destined to live the rest of his life behind bars, prosecutors no longer pursued the Hoffman murder even with Richard's confession.
Public Interest for the Iceman
While incarcerated, Richard granted a series of interviews to journalists, psychiatrists, criminologists, and writers. Some of his interviews were featured in documentaries:
The Iceman Tapes: Conversations With a Killer (1992)
The Iceman: The True Story of a Cold-Blooded Killer (1993)
The Iceman Confesses: Secrets of a Mafia Hitman (2001)
Writers Anthony Bruno and Philip Carlo also wrote biographies, The Iceman: The True Story of a Cold-Blooded Killer (1993) and The Ice Man: Confessions of  Mafia Contract Killer (2006), respectively.
Then in 2012, a crime film, The Iceman, loosely based on Richard's life was released. Michael Shannon played Richard and the supporting cast included Winona Ryder, Chris Evans, Ray Liotta, and James Franco.
During his media blitz, Richard claimed to have killed between 100 and 200 people. Cyanide poisoning was his favorite killing method but he also used guns, grenades, bombs, crossbows, and ice picks. 
Dozens of his kills were reportedly for the Mafia. He named the Five Families of New York City—Bonanno, Colombo, Gambino, Genovese, Lucchese, and the DeCavalcante family of New Jersey—as some of his bosses.
Some of the big names he claimed to have murdered were Carmine Galante of the Bonanno family, Paul Castellano of the Gambino family, Castellano's bodyguard Thomas Bilotti, and Mafia member John Favara.
Was he an assassin? Richard didn't think so, saying: "Assassin sounds so exotic. I was just a murderer."
But authorities were dubious of his Mafia account. Retired special agent Dominick Polifrone, who helped arrest Richard, did not believe the Iceman's body count was that high.
"He liked to boast about all the sh*t he was doing, but I don't believe he killed 200 people. I don't believe he killed 100 people. I'll go as high as 15, maybe. I can document five. You want to add a few here and there? Okay. Still, he was the type of guy who, when he took on something or you caused something with his family, you were dead," Polifrone told A&E publication.
Richard died of cardiac arrest on March 5, 2006. He was 70 and had been in prison for around 19 years.
Conclusion
Richard Kuklinski loved to brag that he killed around 200 people. Authorities didn't corroborate this claim but the truth is still horrifying. Richard was convicted of four murders and charged with five.
There was also a bully he claimed to have killed when he was a mere teenager and whose body was never found. It seemed right that he became known as the Iceman because of his history of cold-blooded murder.