The quiet town of Cheshire, Connecticut – a tranquil, close-knit community – is one of the last places one would imagine an unthinkable, harrowing tragedy unfolding.
The Cheshire murders were a chilling home invasion that took place on a fateful summer night in 2007. It left the nation in shock and mourning. Within the walls of a seemingly idyllic suburban home, the lives of Dr. William Petit and the Petit family were forever changed by the hands of merciless intruders.
As we delve deeper into the haunting crime, many questions naturally arise.
How did a peaceful neighborhood become the stage for such unfathomable brutality? What drove the perpetrators to commit such brutal, evil acts? And what lessons can we draw from this tragedy as we also remember the victims?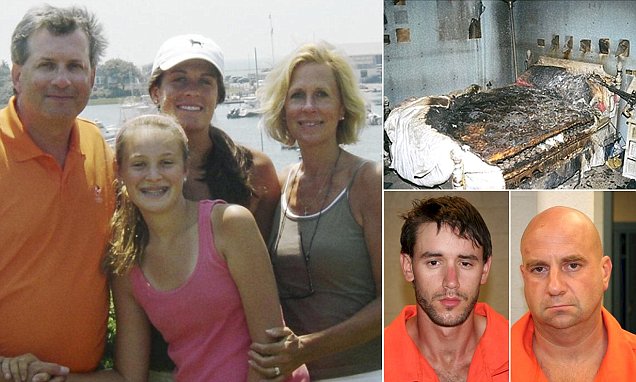 The Perpetrators
Before getting into the chilling specifics of what happened that night, let's briefly linger on the two individuals that would be charged for the heinous crimes.
Steven Hayes and Joshua Komisarjevsky both had troubled pasts marked by a long history of criminal behavior.
Steven Joseph Hayes had a criminal record dating back to his teenage years. He had arrests and incarcerations for various offenses. His criminal activities continued up to the fateful night of the home invasion.
Joshua Komisarjevsky faced numerous charges throughout his life as well. He was convicted of sexually assaulting his own sister and later committed multiple burglaries. He took perverse pleasure in invading people's homes.
Both individuals had taken part in criminal acts before. So, upon meeting one another at the Silliman halfway house in Connecticut, the friendship they struck up was a recipe for further crime.
On the night of the home invasion, the duo targeted the Petit family after watching Jennifer Hawke-Petit and her daughter, 11-year-old Michaela Petit, at a local grocery store. Their motivation seemed to be fueled by a mix of financial gain and an unsettling interest in Michaela.
The chilling texts exchanged between Hayes and Komisarjevsky before the crime reveal their cold-blooded intentions.
Together, they committed unspeakable atrocities in the Petit home. This crime resulted in the tragic loss of innocent lives and left a dark stain on the community forever.
The Home Invasion and Grisly Murders
The home invasion that unfolded in Cheshire, Connecticut, on the night of July 23, 2007, was an unimaginable nightmare for the Petit family.
Steven Hayes and Joshua Komisarjevsky were driven by their criminal pasts and dark intentions. They planned to rob the Petit family home discreetly and leave the family unharmed.
However, upon discovering the father, William Petit Jr., asleep on a couch in the sunroom, their sinister plans took a horrifying turn.
Komisarjevsky entered the basement and armed himself with a baseball bat, which he used to strike William multiple times. Hayes and Komisarjevsky then bound William and the rest of the family, gagging them with pillowcases over their heads.
Their initial intent was to steal money, but they found a check register containing a significant sum. The perpetrators then forced Jennifer Hawke-Petit to withdraw $15,000 from the bank. This allowed her an opportunity to alert the authorities. But tragically, their heinous acts were far from over.
In the midst of their criminal spree, Komisarjevsky sexually assaulted 11-year-old Michaela Petit. He photographed the horrifying act on his phone. While this torment unfolded, William Petit managed to escape, seeking help from a neighbor.
The situation escalated as Hayes strangled Hawke-Petit to death. The house was set ablaze with the two daughters, Hayley and Michaela, inside. The young girls tragically lost their lives to smoke inhalation.
The seven-hour ordeal finally came to an end when Komisarjevsky and Hayes were arrested after crashing the Petit family car during a police pursuit. Both perpetrators confessed to the murders.
Aftermath and Trial
The aftermath of the Cheshire murders saw the two perpetrators, Steven Hayes (now Linda Hayes) and Joshua Komisarjevsky, face separate trials for their heinous crimes.
Hayes's trial began on September 13, 2010. The jurors deliberated for about five hours before eventually delivering guilty verdicts on October 5. It then took 17 hours of deliberation before they finally recommended a death penalty sentence on each of the capital felony counts.
On December 2, 2010, Judge Jon Blue formally imposed six death sentences. He also charged them along with 106 years for other crimes committed during the home invasion. However, Connecticut's death penalty was abolished in 2015, converting Hayes's sentence to life imprisonment.
Similarly, Komisarjevsky faced trial starting on September 19, 2011. On October 13, he was found guilty, and on December 9, the jury recommended the death penalty. During the sentencing hearing, Komisarjevsky expressed remorse for the pain he caused.
He claimed he did not intend for anyone to die but acknowledged taking part in the crime. On July 20, 2012, Judge Blue set his execution date.
Like Linda Hayes, however, Komisarjevsky's death sentence was converted to life in prison. Years later, the Connecticut Supreme Court would reject his appeal.
In the end, the trials brought a sense of closure to the community, but the pain and loss of the Petit family remained and could never be undone.
Remembering the Victims
It's important to remember the victims of such a heinous event. The Cheshire murders tragically claimed the lives of three innocent and beloved individuals, leaving a void in the hearts of all who knew them.
Jennifer Hawke-Petit was a devoted nurse. She was known for her compassionate and caring nature. She met her husband, Dr. William Petit, during her early days as an oncology nurse. They married in 1985.
Their elder daughter, Hayley Petit, was a star student who excelled academically and athletically. She was also deeply committed to supporting multiple sclerosis research, raising funds for the cause her mother battled.
Michaela, their younger daughter, had dreams of continuing her sister's legacy. She also had a passion for cooking. She often prepared meals for her family, like she had that night.
William Petit, the only survivor, endured unspeakable trauma. Following the tragedy, Dr. Petit channeled his efforts into foundations honoring his family's memory, including the Petit Family Foundation.
The victims of the Cheshire murders were more than just names; they were individuals full of life, love, and promise. Their loss was a devastating blow to the community, and their memory lives on in all who knew them.
References
"The Cheshire Murders." HBO, 2013. https://www.hbo.com/movies/the-cheshire-murders.
Collins, Dave. "Cheshire, Connecticut, Home Invasion Murders, 10 Years Later." USA Today, July 17, 2017. https://www.usatoday.com/story/news/2017/07/17/cheshire-connecticut-home-invasion-murders-10-years-later/483863001/.
Gendreau, LeAnne. "Steven Hayes Found Guilty on 16 of 17 Charges." NBC Connecticut, December 2, 2010. https://www.nbcconnecticut.com/local/charges-against-steven-hayes/2059089/?amp=1.